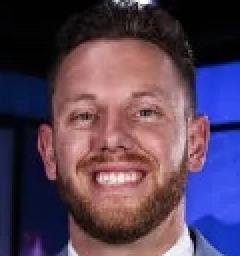 Colin Deaver is the Sports Director at KTSM-TV in El Paso, TX. He has covered both UTEP and New Mexico State since 2018. As a 2013 graduate of the University of Oregon, he will forever believe that Michael Dyer was down. He would be wrong. You can follow him on X/Twitter at @ColinDeaverTV.

1. What are New Mexico State fans first thoughts of Auburn football right now?
Certainly I would assume there's a lot of respect for Auburn by NMSU fans given the Tigers' rich history in college football. Even at 6-4, an SEC team is still an SEC team and while I'm sure there's some optimism among Aggie fans that NMSU can extend its six-game winning streak, I think the majority of folks would be happy to take the $1.8 million payout and leave without any big injuries. It's strange to say, but NMSU has much bigger games coming up than a mid-November road trip to Auburn.
2. What's the vibe like in Las Cruces for this 8-3 team?
This is my sixth season covering New Mexico State and I've never seen the fan base this excited about the football program. You can make a legitimate argument that NMSU has historically been the worst team in college football when Jerry Kill took over before the 2022 season. The Aggies had been to just one bowl game since 1960 before he took over; in 24 months, Kill has gotten NMSU to back-to-back bowls for the first time since 1959-60 and has secured only the fifth winning season in school history. In their first season in Conference USA, they'll have a shot to win their first conference championship since 1978 (Missouri Valley Conference) on Dec. 1 in the CUSA title game vs. Liberty.
3. Is there any expectation by fans to beat Auburn this weekend?
The last time New Mexico State played a team coached by Hugh Freeze, the Aggies eviscerated Liberty 49-14 in Lynchburg, Va., in Freeze's final game with the Flames before coming to Auburn. There's some optimism among NMSU fans that they could repeat the Freeze feat again at Jordan-Hare, but I think pretty much everyone understands what this weekend is likely to be.
4. Who are your two most favorite Auburn Tigers of all time and why?
Number 1 is Charles Barkley. I feel like that's self-explanatory.
Number 2 is Octavia Spencer. Always been a fan of her work as an actress.
5. Name two unheralded Aggies that Auburn fans should lookout for.
NMSU has a bunch of talented skill players, so it seems like there's been different players stepping up every single game during this six-game winning streak. I'll say running back Monte Watkins first, even though he's their second-leading rusher. He's a former four-star recruit that runs a 10.4 100 meter dash. NMSU waxes and wanes on giving him the ball so you never know game-to-game his big of a factor he'll be. Defensively, give me linebacker Buddha Peleti. He leads the team with 4.5 sacks.
6. Name two Auburn Tigers that scare you the most.
Cam Newton and Michael Dyer still give me nightmares from the 2011 National Championship Game (I'm an Oregon grad and I'll say it again: Dyer was down).
7. Where do you see each team having an advantage over the other?
Auburn will have a physical advantage at pretty much every single position and that will probably be enough to win. NMSU is incredibly mentally tough, though, and has had a penchant for clawing back into games from early deficits, executing better down the stretch than their opponents. We'll see if they're able to hang around long enough for that to matter, though.
8. What's your analysis and score prediction for this game?
NMSU has gotten good quarterback play from Diego Pavia basically every game since mid-September. He's the key to every game NMSU plays, for both the Aggies and their opponent. He's injured, though, and it seems like he'll be day-to-day.
Given everything NMSU still has to play for, it wouldn't be surprising to see them sit him for this game. They also run the ball well and play pretty good defense, all three of which are a typical formula for pulling a big upset. I'm not sure if they'll be able to do those things against Auburn the way they have against CUSA teams, though. Give me Auburn 45-21.
9. Where do you see Auburn and New Mexico State ending up this season?
Auburn's going to be in a bowl game that their fans are upset about because it means they didn't meet expectations. NMSU will play Liberty for the CUSA title on Dec. 1, then be ecstatic about going to a bowl on a similar tier as the one Auburn is selected for.
10. Auburn beat UMass 59-14, UMass beat New Mexico State 41-30, so that means Auburn will beat New Mexico State by 56. That's how this works, right?
The transitive property is undefeated, but maybe this is the weekend the winning streak comes to an end.