First off, I'd like to tip my really sweet new hat to the Auburn faithful that filled FirstBank Stadium on Saturday. It's not every day that you get homefield advantage at an away game, but we pulled it off. Auburn scored first, never gave up the lead and our boys won a game that they were supposed to win.
It wasn't a perfect game. We still did some dumb stuff. But we finally, officially have a QB1 and we played a football game with the same quarterback from start to finish, no rotation necessary. Without fail, each week I had angrily/anxiously awaited the inevitable and underwhelming quarterback swap and now it was all over. I could finally sort of relax.
But like I said, the game wasn't exactly perfect. There was growth, but we had some "opportunities".
Let's start with the good…
1. That was definitely one of the more balanced offensive performances we've had this season. We had 14 first downs, 6 rushing, 7 passing and 1 from the refs. There were two rushing and two passing touchdowns, something we hadn't accomplished since playing Samford in week 3. We also recorded both our longest reception (Rivaldo Fairweather, 53 yards) and longest run (Jarquez Hunter, 67 yards) of the season  I think the game plan was executed extremely well and hope to see a similarly balanced attack against Arkansas this week.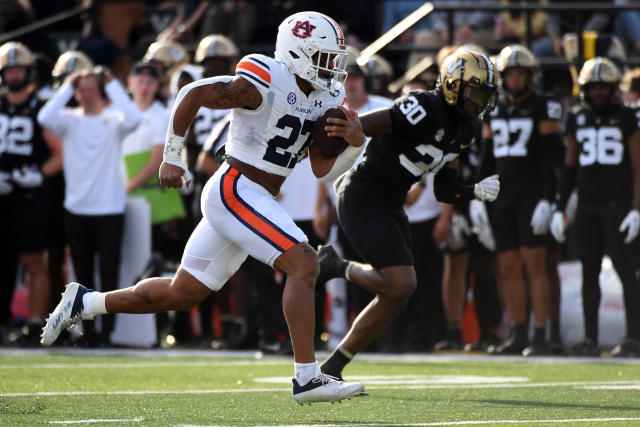 2. Our defensive unit was overpowering when it mattered, allowing zero redzone scores and holding Vanderbilt to 2 of 14 on third down and 1 of 3 on fourth down conversion attempts. We tallied five sacks, one interception and rarely allowed their offense to gain any kind of meaningful momentum.
3. Jarquez Hunter has finally found his form and it's impressive. He recorded season-high stats in rushing yards and longest rush while tying his highest touch count. The man had a 67 AND a 56 yard touchdown, while also scoring two more that were called back for penalties. He's been gaining momentum over the past few games and he seemed to be much more patient behind the line on Saturday, allowing the plays to develop and capitalizing on his opportunities.
And now for the bad…
1. Our inability to capitalize on turnover opportunities was frustrating to watch. Vanderbilt fumbled the ball three times and our boys looked like they were playing hot potato every single time. There was one fumble that I swear I witnessed half of our defense touch before Vandy somehow recovered it. Pritchett did have that nice interception but aside from that, I was less than impressed. I know it didn't really matter on Saturday, but we can't waste opportunities like that against better teams.
2. The penalties on Saturday were just dumb. There may have only been five of them, but our guys really know how to make them count. The only thing more frustrating than losing a touchdown due to a penalty is losing two touchdowns because of penalties. Also, being called for kick catch interference is stupid. I don't know how you screw that up, but we did. Listen, we all know the SEC only hires the smartest and brightest to wear the stripes. We know what to expect from them each week and it ain't much so please, for the love of God, do better.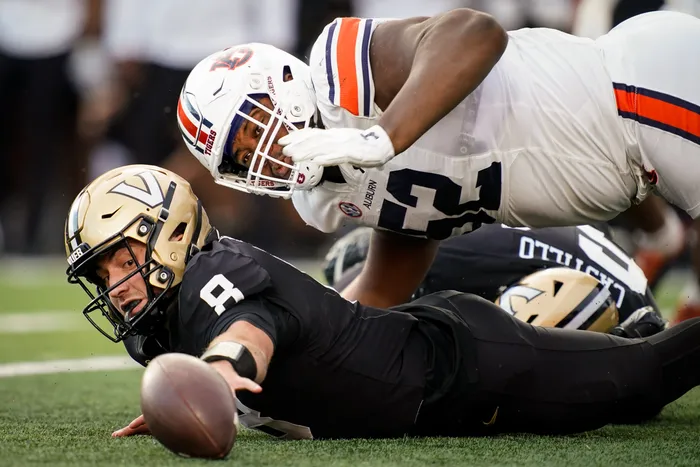 3. There are two statistical categories that are concerning to me. I've harped on one almost every week but the other is a newly realized concern. 3rd down efficiency and Time of Possession(ToP). We've been slightly better than awful on third down all year and going 4 for 15 on Saturday was no different. Although, we did notch a 4th down conversion so that that was cool. But now that I've noticed these ToP stats, I can't un-see them. How do we finish with a 6 minute and 42 second ToP deficiency to a team like Vanderbilt? And what's worse is it's happened in six of nine games this year, including the last four. Upon further review, I find it even more strange that we won four of those six games and yet lost two of the three that we were positive in ToP. Does it mean something? Is it an anomaly? Am I digging too deep, taking things too far? Who knows.
Looking ahead…
We have a 5-4 record and can clinch a bowl appearance with a win at Arkansas on Saturday. Do that, then win the following week at home vs. New Mexico State and we will have ourselves a 4 game win streak with a 7-4 record headed into the Iron Bowl.
But we can't look past Arkansas. They've been a little bipolar this season and it's hard to know which team will show up. Will it be the team that lost to BYU and teamed up with Mississippi State for a 7-3 baseball score? Or will it be the team that narrowly lost to three current top-18 teams by a combined 13 points and just beat Florida in the swamp? You're guess is as good as mine, but if we continue on our current trajectory and minimize the mistakes then I think we can sneak away with the win.