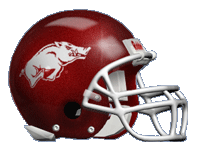 I can not remember the last time I went into an Auburn-Arkansas game and felt 100% confident that the Tigers would come out with a win. It has nothing to do with the talent or the way the teams are playing at that point in the season. It doesn't have anything to do with the coaching staffs. It has everything to do with the fact that Arkansas has generally given Auburn fits since they joined the SEC almost 20 years ago. I still have nightmares of Fred Talley and Reggie Fish.
Arkansas is always good enough to beat anybody, but not good enough to make you feel like it was a good loss if they do beat your team. They always have an explosive offense, but just the defense to make you think you can outscore them. They are basically just an annoying little gnat.
I don't mean that to be offensive, but that's just what they are. I think Arkansas fans would agree. You can't argue with the fact that they have been a good team for most of the last decade, but they've never been able to move up to the top of the ladder. But they sure as h-e-double-hockeysticks ruin your season in a heartbeat. This year, however, they come in as a pretty heavy favorite over the "comeback kings," as ESPN has billed Auburn in the latest commercial for this game.
They had a pretty impressive comeback win over Texas A&M last week, outscoring the Aggies 25-3 in the second half to win 42-38. Of course, the Aggies collapsed in the second half a week before against Oklahoma State as well. So was the Razorbacks comeback impressive, or does Texas A&M not realize a football game has two halves? That's a mystery.
Arkansas returns a bevy of NFL-caliber receivers (or that's what you're supposed to say about the Razorbacks), as well as Tyler Wilson, who Auburn fans will remember as the latest version of "backup that plays like a Heisman candidate against Auburn" from a last season. The injury of running back Knile Davis in preseason practice has left Arkansas with almost no running game, as they rank near the bottom in the league in rushing.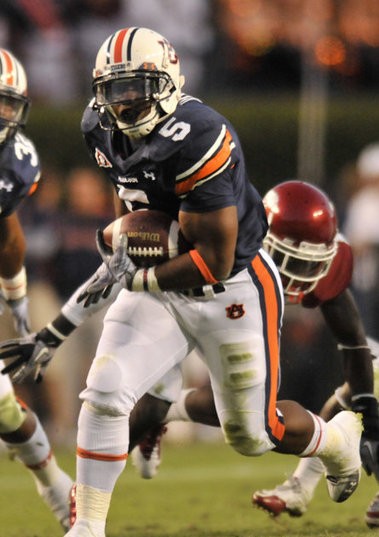 The Arkansas defense is nothing special, and especially nothing special against the run. Enter Arkansas native, Michael Dyer, who proved last week that as long as nobody is twisting his ankle under the pile, he is certainly willing and able to run the ball on almost every play. Arkansas, of course knows this now, but will they be able to stop it even though they are prepared for it? South Carolina certainly was unable to do so.
Arkansas leads the SEC in scoring offense and passing. Auburn pulls up the rear in scoring defense and overall defense. That doesn't sound too promising does it? Let's hope last weekend's performance against the Gamecocks wasn't just a fluke. They were able to take away the run which gave them the opportunity to focus on Garcia and Jeffrey. With almost no run game to worry about, they can do the same this week.
If Auburn can control the game like they did last week with long drives and precision punting, they will keep the Arkansas offense where they want them: on the sideline or inside their own 20-yard line. A quick start to quiet the crowd and some long, boring, statement-making drives fueled by Dyer left, Dyer right, Trotter pass, Frazier run is exactly what the Tigers will need to do to pull off their second consecutive top-10 road win.
They saw what it took last week. They will do it again this week. The Arkansas boys (Dyer, Frazier, Malzahn) will make sure of it.
Auburn 42, Arkansas 35