The slate for week 1 was much like the SEC's cupcake schedule. Easy games equal easy pickin'. And then you have stupid games like Miami-LSU and Virginia Tech-Florida State that mess it all up.
Last week: 13-3 (81.3%)
This week: 10-4 (71.4%)
Overall: 23-7 (76.7%)
Auburn and Alabama stepped and played somebody last week. Some of the rest of the conference is finally stepping up and doing the same. There are some weird games this week, though. Nevada? Wyoming? AT Colorado State? The rest of the national slate is woof.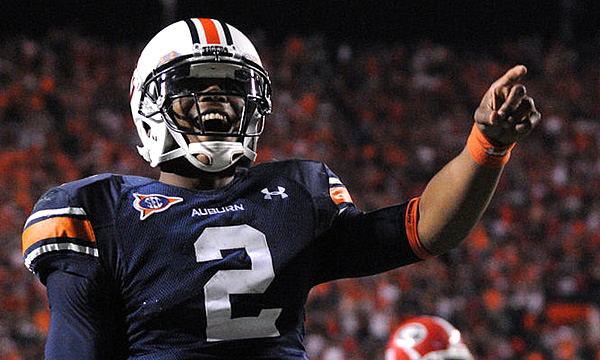 9/8
Mississippi State vs. Kansas State – Kansas State struggled with South Dakota last week. Otherwise, I would say this one could be scary for the Maroons. It still may be. I've been there. It's scary… because they almost thank you for beating them as you leave the stadium.
Mississippi State 34, Kansas State 10
Mississippi State 31, Kansas State 10 – SUCCESS!
Nevada at Vanderbilt – What is this game? Is Colin Kaepernick walking through that door? Nah. But they did score 72 points last week… on Portland State. Ehh… I'll go with Vandy.
Vanderbilt 31, Nevada 28
Vanderbilt 41, Nevada 10 – SUCCESS!
Georgia at South Carolina – I honestly have no idea how good Georgia is this year. I still contend that they feasted on a weak schedule, got blown out in their only tough regular season game, and won a de facto home game rematch to get in the playoffs. South Carolina is on the way up, but is it enough? At home, I think it is.
South Carolina 28, Georgia 24
Georgia 41, South Carolina 17 – FAILURE
Arkansas State at Alabama – This game is on ESPN2 at 2:30. What are we doing? How many times is Nick Saban asked about Tua/Jalen? Whatever it is, I promise it will be less times than the commentators award Tua the Heisman trophy on the first drive.
Alabama 48, Arkansas State 7
Alabama 57, Arkansas State 7 – SUCCESS!
Southern Illinois at Ole Miss – Ok, you got a decent win against Texas Tech last week. I guess you can get your week off.
Ole Miss 55, Southern Illinois 10
Ole Miss 76, Southern Illinois 41 – SUCCESS!
ETSU at Tennessee – Tennessee joins the win column after losing 4 straight dating back to last November, and against such a tough opponent.
Tennessee 30, ETSU 10
Tennessee 59, ETSU 3 – SUCCESS!
Clemson at Texas A&M – This is a weird one. Clemson and Texas A&M have played 4 times before. Clemson is 1-3 against the Aggies, and the lone victory was by one point in 2005. Texas A&M is a huge unknown this season. What does Jimbo have? That's a mystery. But we know what Clemson has and it's better than what most teams have. But it's on the road and that's a weird place to go for the first time…. Hmm… I'm going to regret this, but Gig Dabo.
Texas A&M 21, Clemson 17
Clemson 28, Texas A&M 26 – FAILURE
Southeast Louisiana at LSU – I bet Southeast Louisiana gives LSU a tougher time than that team from Miami did last week.
LSU 42, Southeast Louisiana 17
LSU 31, Southeast Louisiana 0 – SUCCESS!
Wyoming at Missouri – Before the season, there was a graphic floating around that had Wyoming's defense among the best. Before the season, there were tweets going around claiming Missouri QB Drew Lock as the bestest in all the land. I guess something will have to give and sadly it will be the defense that was formerly coached by Pat Dye.
Missouri 38, Wyoming 13
Missouri 40, Wyoming 13 – SUCCESS!
Arkansas at Colorado State – This is almost like that time Mississippi State went to South Alabama. I guess it's not that bad, but what are you doing, Hawgs? Don't come back to this side a' the country with a loss to the Mountain West, ya hear?
Arkansas 27, Colorado State 21
Colorado State 34, Arkansas 27 – FAILURE
Kentucky at Florida – Kentucky hasn't beaten Florida since 1986, but 3 of the last 4 meetings have been really close. Kentucky should've won at least 2 of those. Florida got really excited about beating Charleston Southern last week. Kentucky had a semi-tough time with Central Michigan. I don't know, I guess I'll go with the trend.
Florida 17, Kentucky 6
Kentucky 27, Florida 16 – FAILURE
Alabama State at Auburn – Check back tomorrow for Auburn Einstein's prediction in the game preview, but SPOILER ALERT: some R&R.
Auburn 59, Alabama State 0
Auburn 63, Alabama State 9 – SUCCESS!
Other Games of Note
UCLA at Oklahoma – UCLA, led by Chip Kelly, lost to Cincinnati last weekend, and apparently they are terrible. Oklahoma is not terrible. This game is only here because of the names. That's how bad the national slate is this week.
Oklahoma 45, UCLA 13
Oklahoma 49, UCLA 21 – SUCCESS!
USC at Stanford – Both of these are ranked, but they aren't getting into the Top 10. They'll both be fighting to for 2nd place under Washington. (Do you see how I'm making Auburn's win look really good here?) Stanford has been pretty solid for a while. USC is still sort of trying to get back to the cheating days, but they aren't there yet.
Stanford 23, USC 14
Stanford 17, USC 3 – SUCCESS!
Now that you know who will win, head on over to the 2018 War Blogle Pick 'em and get your picks in. There will be weekly prizes and an overall winner at the end of the season. It's easy. Do it.