After a holiday weekend family trip to Gatlinburg, and the longest drought in blogling over the last year and a half, I return with the new favorite post on the Blogle, the Tuesday (or whatever day it is that I post it) Mailbag. Welcome back, I know you missed me as much as I missed you, which is actually not that much. Sorry.
One of my unposted resolutions for 2012 was to do more blogling about basketball and baseball. Since I haven't done so yet, Michael all but forces me to in the first question of this week's mailbag.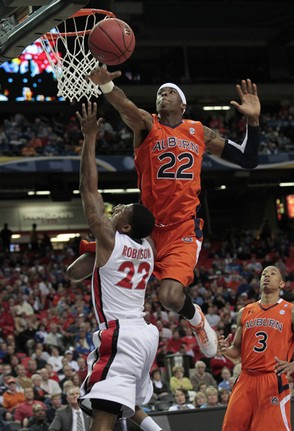 I haven't seen much about Auburn basketball and you want to branch out more from football season so here are a few basketball related questions:
1) What do you think about Kenny Gabriel having the first triple-double in school history by recording 24 points, 13 rebounds, and 10 blocks?
Aside from being the best dunker on an Auburn basketball team since Chris Porter, Kenny Gabriel is also my favorite Auburn basketball player in some time. He's right up there with Kyle Davis and Marquis Daniels. Gabriel is something that Auburn has lacked for a long time: he's tall and lanky, which helps with the aforementioned dunking, but can still pop a three in your face.
He's the closest thing to an NBA basketball player that Auburn has had in a while. He doesn't play scared and stupid. He takes charge and plays like he wants to win, not like he knows he plays on a team that has struggled mightily for most of the past decade. He's just a fun player to watch because he knows what he's doing.
2) Do you think that playing Kentucky close (4 points) until the last 5 minutes was a fluke or a sign of things to come?
It's hard to tell. Auburn always seems to play Kentucky close at home, so it wasn't too surprising to me. It was sort of a shock to see them play with the #2 team for most of the game after back-to-back 30-point losses. It did prove that Auburn can play with anybody on any night, which only makes the nights they don't play up to that level more infuriating. But that pretty much speaks to how the game of basketball goes. Anybody can beat anybody.
All that being said, I think it showed promise, with their followup win over Ole Miss helping solidify that fact. We'll see how they do tonight and if it can transfer on the road at LSU. If it's an embarrassing loss, I don't think the Kentucky game proved anything other than the fact that Auburn plays well in front of a home crowd, which is for another blogle at another time.
---
Casey wants to talk about Auburn's recent addition to the coaching staff, and that guy that most would call the ultimate Auburn man.
Unlike everyone else, I'm won't go the obvious route and make a mustache or Uncle Rico joke. I'm excited about BVG cause he looks like he could stomp your a$$ into the ground. That's what we need in a coach. What are your thoughts?
I'll be honest. It took me a day or so to get over the fact that VanGorder spent a lot of his time on a Georgia sideline. But just like Trooper Taylor, who was at Tennessee, and Will Muschamp, who was at LSU, I got over it pretty quickly. Once they signed up to coach at Auburn, they were my best friends. I have also been an Atlanta Falcons fan for most of my life, so the fact that VanGorder had been their defensive coordinator for the past few years helped me get over his UGA days.
He is exactly what Auburn needs. All of his UGA defenses were successful and ranked in or near the Top 10 every year. He's hard-nosed, his players seem to like him, and he knows his role. He's a guy that wants to coach defense and that's it.
And what's not to love about a guy who sticks to what he knows? For example, he's had that hair and mustache since 1972. He knows what works and he knows what he likes. I like that.
Also, how bout Kodi Burns getting a coaching gig? Awesome for him. How long till we build him a statue? He deserves one.
Of course I wish Kodi was coaching as a GA at Auburn, but it just wasn't in the cards. He gets to go back home, coach under a guy he already knows, and get graduate school credit while doing it. Who would turn that down?
I'm sure he wishes he was playing in the NFL right now, but this has to be his next best option. He will always be an Auburn guy, and like Gus, is getting his feet wet at a school that won't threaten or probably even play Auburn anytime soon. He's got my full support.
---
Jake wants to know what the trash-tweetin', early enrollin', football slangin', Pike from the bluegrass means for Auburn's quarterback situation next season.
So with Zeke Pike coming into the picture, do you think that Kiehl Frazier will take on a role similar to what Kodi Burns did? Why or why not?
I'm guessing by your question that you mean Pike would come in and start and Frazier would be the running quarterback. To that I say there's no chance that happens. Unless there is some major offensive overhaul, I believe wholeheartedly that Frazier will start at quarterback next season. Zeke Pike will be able to go through Winter workouts and Spring practice, but as we saw last year with Frazier, it's very tough for a freshman to come in and just take over.
This year, although not much was done with him, Frazier gained tons of experience. It just all depends on what offense will be run next year. It's rumored that Chizik is looking for an offensive coordinator who uses more of a pro-style/spread combo, but I still think that fits in with Frazier's ability.
With Trotter leaving, it does give Pike more of a shot, but it will most definitely be Moseley or Frazier getting the majority of the snaps next season. I just think Frazier will and should get more, if not all of them.