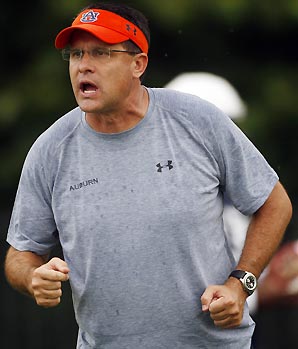 Update #7: Malzahn signs multi-year deal with Auburn worth $1.3 million a year.
Update #6: Charles Goldberg reports that Malzahn said "no" to Vanderbilt.
Update #5: Chris Low of ESPN is reporting that Malzahn will remain at Auburn.
Update #4: You have to pay to read it, but AuburnSports.com is reporting that multiple sources fully expect Malzahn to turn down the Vanderbilt offer.
Update #3: The initial report has more details. This is nothing new. It is simply more information.
Update #2: Charles Goldberg reports that Malzhan will make a decision tonight or tomorrow morning.
Update #1: As expected, this isn't a done deal yet. The report that Gus had accepted the job was "premature" according to a Vanderbilt official. It could still happen, but hasn't happened yet. I've seen in a few places that Auburn has offered Malzahn $1.3 million. More from Dennis Dodd here.
---
The Washington Post is reporting that Gus Malzahn has accepted the head coaching job at Vanderbilt. I'm guessing that since the second guy being considered for the job was Maryland's offensive coordinator, then he was probably their source.
I'll wait until I hear it straight from Vanderbilt or Auburn before I believe it. Given the way the coaching rumors have swirled this season, I wouldn't be surprised at all if the Malzahn camp issues a denial of the report pretty soon. I'll keep you updated.
Here's the full report from Terrapins Insider (Washington Post):
Posted at 5:10 PM ET, 12/12/2010
Gus Malzahn accepts Vanderbilt head coaching offer
By Matt Bonesteel
The Post's Eric Prisbell has been told that Auburn offensive coordinator Gus Malzahn has accepted Vanderbilt's offer to become the Commodores' next football coach.
Maryland offensive coordinator James Franklin was a candidate for the Vanderbilt job, and was seen as the Commodores' second choice after Malzahn.
Eric will have more on this later.