It was the first night game of the 2023 season. Given the new field-level seating, and the fact that the top corners of the upper decks were actually full (unlike the UMass game), it might've actually been the largest crowd ever to watch a football game at Jordan-Hare Stadium. Either way, it was overcast, extremely comfortable, and the crowd was ready to see an easy win.
As Auburn drove down the field with pass after pass, it looked that was going to happen. Thorne was dropping dimes all over the place as Auburn got inside the 5-yard line. Then when it looked like an obvious situation to run it in, Hugh and Co. did what we all do when we know we're going to win. Why not throw the ball here and just play around, and give Texas A&M something to think about?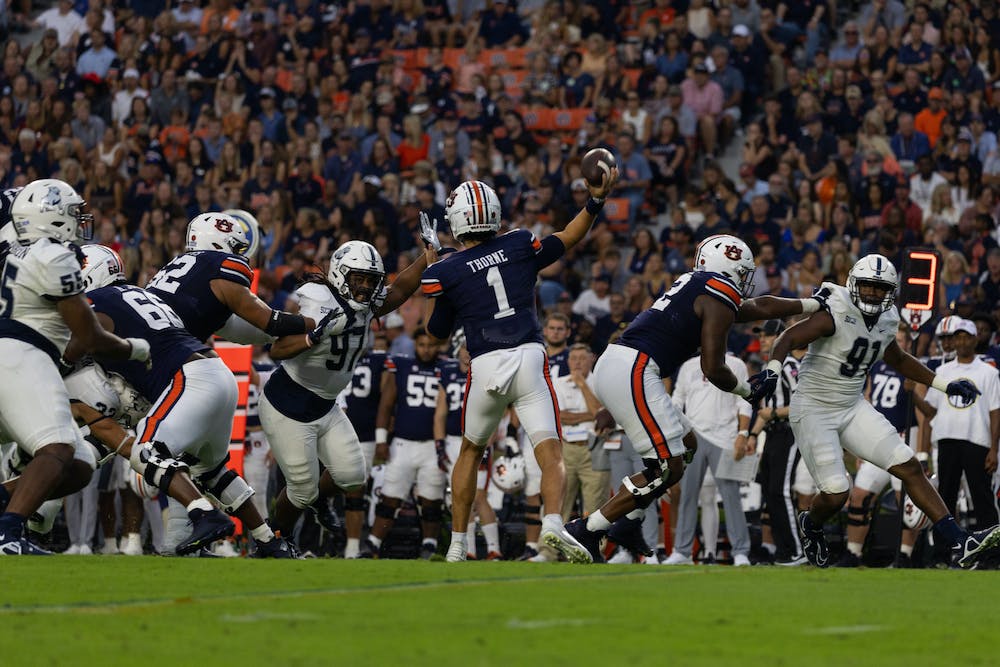 The first two passes didn't work and then the third bounced off a receiver's hands and was intercepted. Dang.
The Auburn defense held and Auburn got the ball back again, but the Tigers were stuffed on 4th down. Dang. After the 1st quarter, the score was 0-0… with Samford. Imagine the excitement in SEC stadiums. Double Dang.
Then Thorne completed two passes for 72 total yards for Auburn's first touchdown. Whew.
Two plays and a Samford interception later, the Tigers were in business for the easy blowout. But wait, after a few positive plays, with a little bit of that "we're playing Samford" hubris, Thorne chunked one up 40 yards downfield in the endzone and Samford took it out of the air. Ugh.
Two plays and a Samford interception later (not that's not a typo), Auburn decided it was time to run the ball. The drive ended with Payton Thorne's first of two (three) rushing touchdowns. We knew he could run, but did we know he could shake and bake and outrun guys? We do now.
You saw the rest. Samford scored on sort of a busted play, then again on mostly backups. But Payton Thorne had a day. Nearly 300 yards passing, over 100 yards rushing. Two passing touchdowns. Two rushing touchdowns.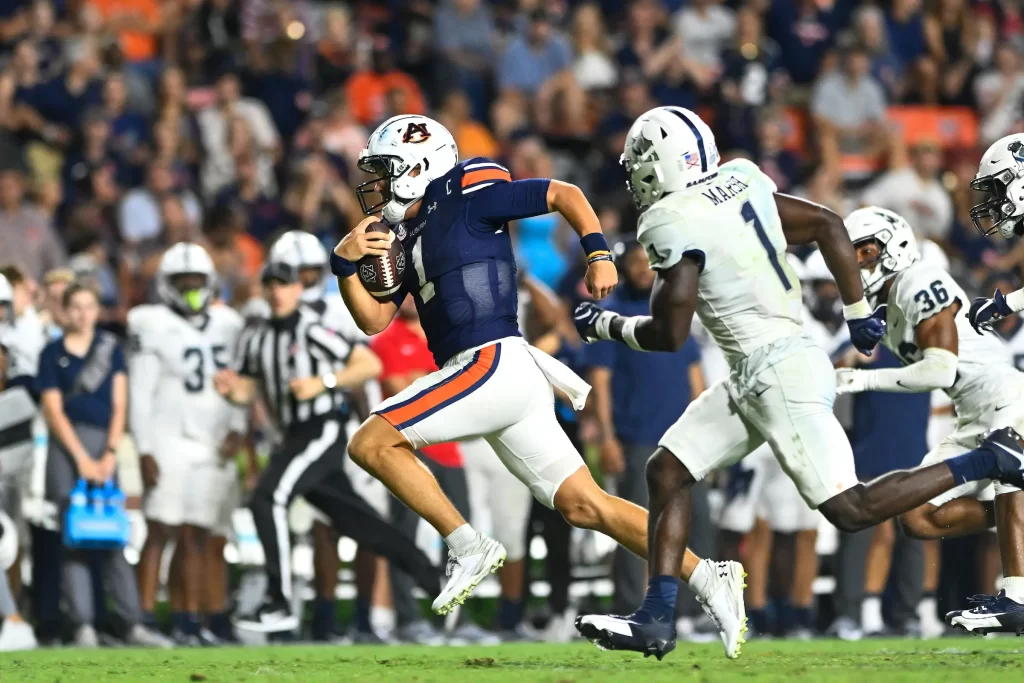 It was obvious the game plan was to get the passing game, that had been limited and/or not great the first two games, some playing time. Some would say it wasn't needed and we didn't need to show Texas A&M it could be done. Wrong, it showed a 2nd wrinkle in being able to sling it, and also a third wrinkle in Thorne being able to run it. He was literally a dual threat. Yes, it was Samford, but bruh had moves.
A few punt returns were fumbled by non-starters. It's best to get those out of the way in a game you know you're going to win. Stuff like that doesn't persist throughout the season because those guys are pulled quickly. Worst case, they just stop catching it.
45 is one less score than I expected. 13 is one more score than I expected. It could've been worse, but Auburn was going with the most non-Auburn gameplan than I've seen in a long time. There were kinks, but there was more success.
Regardless, Texas A&M has now seen Auburn sling it, Payton and Robby run it, and the running backs run it (at times). The defense has been lock down most of the year when the offense hasn't put them in bad spots. Auburn has only had to kick two field goals all year, and made both.
It was a good, comfortable day. It was a good, comfortable win. Bring on the Aggies.