I honestly don't know how some people get out of bed in the morning. I can't exactly put my finger on what it is. Is it PTSD from the last two seasons under Harsin, or does the "woe is me," constant negativity run deeper? Auburn played a great football game yesterday and we'll get into that, but first we need to talk about a few of these horrible takes some of you have. It's time to start fighting stupid with logic.
Let's debunk the first putrid take. I could post tweets, screenshot Discord posts, and really expose a few idiots, but we aren't about that here. I am shocked at the number of people that will look you dead in the face and try to tell you that Peyton Thorne played poorly. (10-17 141yds 1 TD) doesn't jump off the stat sheet and is completely irrelevant. He had seven incompletions and of those seven only two of them were inaccurate throws. The two that stick out were when Fromm got turned around on what would have been a wide-open touchdown and when he missed Camden Brown in the endzone.
The other five incompletions were 50/50 back shoulder balls where the receiver just didn't come down with it. They are called 50/50 balls for a reason folks and they were thrown in a place where only the receiver could come down with it. For you non-football folks, that's exactly what you want to see as far as ball placement.
Thorne looked great in the pocket. He's not the fastest guy on the field by any means but was very elusive and made a Bo Nix type play after avoiding multiple pass rushers. I'm not exactly sure what the haters were looking for, but if two inaccurate balls are all we have to cry about I think we're in a good spot.
Since we are on the quarterback train, let's just keep it rolling. I for one thought Robby Ashford's usage Saturday was perfect. He brings an entirely different dynamic down in the redzone. Does that mean that the coaching staff doesn't trust Thorne in the redzone? You would laugh at the number of times I read where "Freeze clearly doesn't trust Thorne in the red zone." Thorne is more than capable of scoring down there I can assure you.
Tell me if you've heard this at any point over the weekend. "I sure would like to see Robby throw the ball." "Robby won't be able to do this against SEC defenses, they'll just stack the box and pin their ears back." Why would you need to see Robby throw the ball if all he has to do to score is run? Why would this offensive staff show anything they didn't have to? Do people really think Robby won't throw the ball in these red zone packages? I for one, along with our play caller, hope that defenses load the box against him thinking he can't throw.  I'm not sure how people don't see that.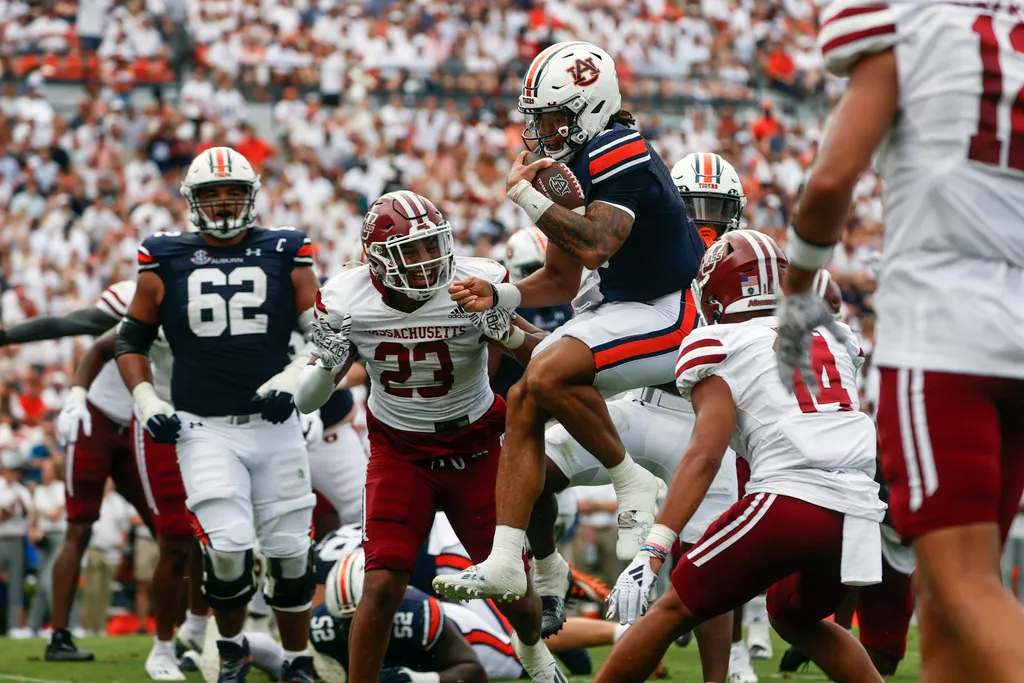 Also, this isn't a two-quarterback system. This isn't a quarterback carousel, and there definitely isn't a quarterback controversy. Robby Ashford has red zone packages. That's it. It is a PACKAGE you people, not a two-quarterback system. He is basically a glorified Wildcat back down there so quit calling it something it isn't for the love of all things Holy.
Ok, that's enough about quarterbacks I'm getting all flustered. I'm watching the replay as I write this and it's identical to what I just said, but let's humbly proceed. The Vegas betting line came out at Auburn -40. UMass played in week zero and beat a New Mexico State team that has been to a bowl game the last two seasons. With a plethora of portal additions, you could tell this wasn't the bottom feeder UMass program it has been for the last couple of seasons.
The line went from -40 to -35 at kickoff. If you are the gambling type, you know that is significant line movement. For those of you that aren't following, that means the overwhelming majority of bets were on UMass. What I'm getting at is, the betting public was saying no way Auburn wins by 40+ points. Auburn covered the spread with ease, but the loud minority of Auburn fans acted like they didn't like what they saw. Give me a damn break.
Lastly, we might as well go ahead and debunk my final, and probably my favorite idiotic hot take. I've seen a lot of negativity towards the defense. "I just can't trust this defense." "Man, our defense makes me nervous when we play a real team." What did you need to see? UMass put together a great scripted first drive for a touchdown. They didn't even sniff scoring again until the backups had a busted coverage with 8:50 remaining in the fourth quarter.
I guess in order for people to be happy we should have shut them out and beat them 70-0 with twelve sacks and seven interceptions. I wouldn't let one scripted opening drive scare me that much but that's just me.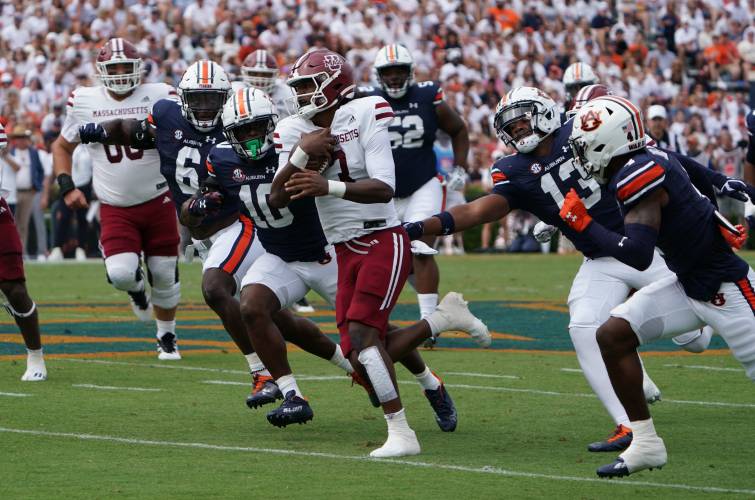 Auburn played very well Saturday. Again, I'm not sure what some of you were looking for or expecting. Auburn had almost 500 yards of offense, did not turn the ball over, punted just twice, and only had four penalties for 40 yards. No, UMass isn't a very strong football team, and nobody is saying that.
All you can do is execute against who you're lined up against and I thought Auburn looked about as crisp as possible. With all of the new players, staff members, and playing against a team with a game under their belt already, I'm not sure how anyone could be upset with what they saw.
If you're choosing to let two inaccurate throws or one scripted opening drive dictate your thoughts on how the season Is going to play out, then you're an idiot and that's a YOU problem. The old saying "the good outweighed the bad" wouldn't even apply here because there was so little bad.
The general consensus is that this team will win between six and eight games. What on earth did you see Saturday that would make you think Auburn can't do at least that? If anything, they looked like they could potentially win more. Get over yourselves and watch us Kick California's ass next week.