After a week off, let's get back into the rewatch portion of the review, shall we? To be honest, I didn't want to. It wasn't really a fun game in person. How could it be better on tv? Auburn somewhat struggled, but was still good enough to win by 28 points. There were some big plays that made me say "yeah" but in the end it was a win over Louisiana Tech. But since the responses for these re-watches have been astronmical, I'll do this again. For you. Lehgo.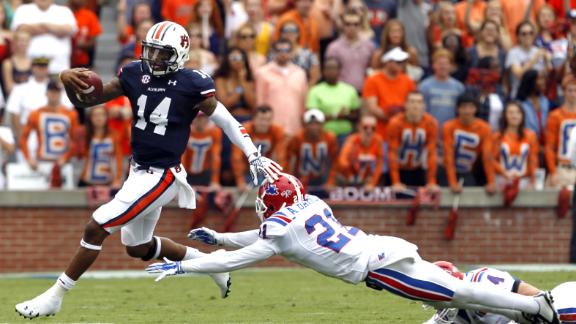 Pregame
I really don't understand how ESPN talked Musburger into calling these caliber games. I get Jesse Palmer, but Musburger went from the Saturday night prime time games to the Jefferson-Pilot game.
It appears Roc Thomas has scary teeth on his mouthpiece. My new favorite player.
1st quarter
Corey Grant running out the opening kickoff from 9 yards deep in the endzone ended up losing him 3 yards. But returning a kick 9 yards deep in the endzone has turned out pretty well before.
Corey Grant around the end is probably my favorite play because I love Corey Grant, but I have visions of it not working an awful lot this season. That's what happens when the receivers don't block on the outside. The first drive ends with Ricardo whiffing on his block, and somehow directing his defender and himself directly into Corey.
Jesse Palmer calls the first drive a 3-and-out. It was not. The first play was a 1st down, dummy.
DaVonte Lambert is becoming a force, or as I like to say "when did Courtney Taylor come back to Auburn and play defense?" (He wears #86)
Jesse Palmer says Auburn got dominated in Manhattan, KS. Those anti-pass catching machines were dominant.
But yeah, this offense had a little funk going on in the first two drives. Running up the middle ain't working.
I really like this defense. They hit hard, they tackle, and FAT GUY ALMOST TOUCHDOWN, AMIRITE?! Dang, I wanted Monty to score but some little white kid hawked him down. Kris Frost and a ref ending up getting hurt on the interception return.
Both quarterbacks are in… I don't know why. It worked, though. Cameron Artis-Payne scores. I really hope this two-QB setup ends up resulting in some awesome double pass play later in the season.
Wait, what did Brent just say during the extra point? Something about Auburn doing a good job at Special Teams and the Crimson Tide doesn't? Anybody get that? 7-0 Auburn.
Melvin Ray has checked in. And where has he been exactly?
Nick Marshall is starting to run away from people and gain major yardage when people are covered down field. And it makes the passing game work. This drive is real.
As I say that, Nick Marshall then throws the surest interception I've ever seen. But the guy drops it. Really cool play-action, though, and it could've been the first of 4 touchdowns for Quan Bray.
Kinda hard for Melvin Ray to make a difference when he's been defensively held!
Daniel Carlson misses a FG making what seemed like a great drive turn into the worst thing in the world.
Hello Mr. President. Gimel with a huge hit behind the line. This defensive line is real.
Quan Bray is as good a punt returner that Brent Musburger has seen… and he's really old, so that says a lot. Corey Grant blocked two guys, and it set up a big return. Not the biggest return of the day, though.
But another 3-and-out…. the sky is falling.
And that's the end of the 1st quarter, where the only score came after a interception down inside the 5. Do I sound mad?
2nd quarter
I really like Auburn's defense, but Frost and Monty need to be there. Both are on the sideline with injuries at this point.
You can see an emphasis on getting Grant outside since the inside ain't working.
Then Marshall keeps it and the offense works.
Then Corey Grant goes up the middle for nothing. There's a trend.
Then a draw on 3rd-and three? This isn't all execution at this point. I think there's a little bit of over-thinking going on.
Oh that's right, Manny Diaz who "shutdown" Cam Newton as Mississippi State's defensive coordinator in 2010 is at La. Tech now. That can be my excuse. He's the anti-Gus.
Carlson makes a close field goal as Brent tries to create some right hash/left hash issue.
10-0 Auburn.
Have I said that the defensive line (plus Therezie) is really good? Big sack on 1st down.
And then I forgot that small white running backs and receivers have this defense's number. Seriously. Put Tre Smith or Hicks Poor against us, and we're done.
But Auburn turns on their anti-field goal machine and it's NO GOOD from the Bulldogs. Skip Holtz yells "Great Drive!" to his team.
Auburn intent on running the ball all the way down the field. Literally looking like they refuse to pass. Maybe wearing down the defense?
And again… in the red zone… Jeremy Johnson comes in to join Marshall and it's a give to Grant around the end. Not sure why.
Marshall then throws a ball that's tipped, and somehow disappears in thin air and then shows up in one of Duke Williams's hands in the endzone. Seriously, the crowd was dumbfounded. Nobody even really cheered until they saw the replay. 17-0 Auburn.


And Monty is back in the game and recovers a fumble. Keep it, young man, it's your game ball. (Musburger voice)
Gah, how many 3rd-and-longs is the offense gonna be in??? Ne'ermind, perfect pass from Marshall to Bray for his first score of the day. 24-0 Auburn.
Oh, I forgot about this on the kickoff. They called the worst late hit I've ever seen. There was no outrage. No response. Nothing. And it gave La Tech the ball near midfield and a chance to get their only score of the 1st half. Yeah, the score really came off of a decent pass play and then a tiny white guy making a one-handed catch down at the 10-yard line, but still a terrible call.
And why exactly was the the stadium music guy playing the Limbo song during the timeout?
Good defense forces a field goal in the red zone to end the half. 24-3 Auburn.
Halftime
That's probably the most country I've ever heard Gus Malzahn sound… and I love it.
3rd quarter
Musburger says Kris Frost and Patrick Miller are out for the game right as Cassanova is basically dragged off the field after getting kicked in the chin and suffering a concussion.
Tre Williams misses an interception right in his hands. Probably would've been returned to the house. You know what they say… if he could catch, he'd be… whatever. Say it to his face.
Dang, this defense tackles well. Jay Jones makes a one-on-one, open field tackle that would have been a 20 yard gain two years ago.
And Bruce Pearl is in the booth. Musburger is a pro. Calling plays while asking basketball recruiting questions.
The entire offensive line freezes as Dismukes snaps the ball when a defender jumps across the line. How was that not called offsides? The entire offensive line saw it.
My favorite thing is watching Gus Malzahn keep his nice guy attitude while wanting to cuss out of a referee.
Oh, but they'll call that offsides against Blackson…
ESPN jinxes Auburn by showing graphic that says the Tigers haven't given up a 3rd quarter touchdown all season. So naturally… La Tech scores a 3rd quarter touchdown… because they missed that offsides call. 24-10 Auburn.
So yeah, like, nothing happened in the 3rd quarter at all. Let's forget about it.
4th quarter
BUT WOW, Nick Marshall runs all around the entire La Tech defense then throws a strike on the run to Quan Bray in the end-zone. Who needs a normal, sustained drive? Chunk that mug! 31-10 Auburn.
Then a ho-hum three-and-out by La Tech. Let's just run the clock ou…. WOW QUAN BRAY returns the punt untouched. Quickest back-to-back scores in the history of football? Probably pretty close. 38-10 Auburn.
4th-and-1, looks like an obvious run up the middle, but La Tech slips a TE out who was wide open towards the endzone, until #otownkilla freshman Stephen Roberts hawks him down and causes a fumble, but it goes out of bounds.
Same setup around the 10-yard line results in a touchdown run. Dang it. 38-17 Auburn.
Jesse Palmer really called Foy during the game to get the answer to the Aflac trivia question? And on an iPhone 6? No way!
Jeremy Johnson is sent in the game with 10:30 left, and that shows you exactly what Gus Malzahn thinks about style points and Jeremy Johnson. I mean, it was only a 21-point lead. Sure it was over, but there was almost an entire quarter to go.
Then Duke Williams gets a little hurt (great), then CAP busts one outside and finally gains some major yardage on the ground.
Then Jeremy Johnson does his Nick Marshall impression, running around the defense and throwing the ball to CJ Uzomah who drops one pinky toe into the end zone. 45-17 Auburn.
As the clock winds down, Brent Musburger tells us that Auburn and Arkansas are headed to OT. Guess I missed that one.
Peyton Barber tripped himself up on a sure touchdown run. It would've given Auburn 52 points, which is what I predicted. Thanks, Peyton. You made me look stupid.
Final: 45-17 Auburn.
---
I'd be lying if I said the offensive performances of the last two weeks didn't bother me a little. Yes, Auburn won by a lot this week, but the bread and butter of the offense is hurting. There is no running up the middle, and then end-around that complements that is hurting, too.
Luckily, the passing game is slightly positive, and the defense is locking opponents down. I hate the old "if we play this against so-and-so…" saying because Auburn will play harder against LSU, Georgia, Alabama, etc, but it is somewhat true. If smaller, slower defenses can slow down the offense, what will a big, fast defense do?
I'm not in panic mode by any means. I still think Auburn can win every single game on their schedule. We've just been spoiled to see Auburn's offense as a well-oiled machine, and right now it's vanilla and misfiring in cases where it's usually charging down the field. Then again, what is Gus really going to show against Louisiana Tech?
It will be fixed. Gus Malzahn is a genius. He wakes up with new variations of the buck sweep bouncing around his head. He doesn't count sheep at night because he doesn't sleep. He's too busy figuring out ways to outrun the sheep.
But really, Auburn is 4-0 and real football starts this week. The corndogs are coming, and they can't stop the run. We'll see how Gus handles that on Saturday.