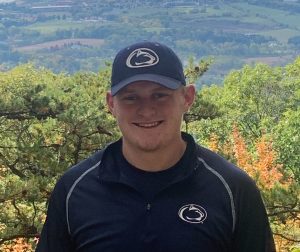 Nick Kreiser (@nkreiser04) is a co-editor and co-site expert for Fansided's Penn State site, Victory Bell Rings (@victorybellring). He will have some pieces out throughout the week such as reasons for concern and reasons for optimism for Penn State as they take on Auburn, as well as some keys to success for the Nittany Lions and key players in this matchup. Check the site out to learn more about what Auburn can expect from the Nittany Lions.

1. What are a Penn State fan's thoughts about Auburn football right now?
For me personally, it's not much different than last year for the Tigers. They're obviously a good team and a program with the tools to be great once again, but in such a tough division and conference, it's hard to imagine them building anything truly special over the next handful of seasons.
2. What's the vibe like in the Nittany Lion fanbase after that exciting win over Purdue and moving in to the Top 25 this week?
I have to laugh when I read this question, because depending on which Penn State fan you ask, the answers will be very different. Prior to the season, I saw some very pessimistic 3-9 and 4-8 projections, just as a sheer overreaction to how last season finished, but there were plenty of optimistic projections too that had the Nittany Lions winning double digit games.
Through two weeks, some answers may have changed, but it would definitely still vary quite a bit depending on who you ask. After a 2-0 start, I would definitely say the vibes are more positive than they were a few weeks ago. Right now, the fanbase is obviously hoping for a win in Jordan-Hare in a tough road test, because if they get through this one, it's very likely they'll carry an undefeated record into The Big House next month with a chance to knock off the defending Big Ten Champions.
3. Compared to last year, is Auburn worse/better right now? Same question for Penn State.
I think Auburn may have regressed slightly from a year ago, but all-in-all, they're about the same.
Penn State definitely feels improved from a year ago, especially on offense. The quarterback situation is much better and Sean Clifford finally has the same offensive coordinator in consecutive seasons for the first time in his career.
The running game finally has life and despite losing Jahan Dotson, the wideout room is better (top to bottom) than in 2021. The defense may have taken a small step backward, mostly on the second level with losing a pair of linebackers to the NFL, and also at defensive end with Arnold Ebiketie gone as well. The secondary should be just as good though.
4. Which two Nittany Lions should Auburn fans look out for and why?
Offensively, keep an eye on true freshman running back: Nick Singleton. He was the top-rated running back in the 2022 recruiting class and he brings something to the table that Penn State has lacked the past few years: explosiveness. He was quiet in week one at Purdue (as were all of Penn State's backs), but he broke out last week against Ohio. The quality of the opponent certainly needs to be taken into consideration, but he rushed for 179 yards and a pair of touchdowns on just 10 carries. Right now, he leads the nation with 10.5 yards per carry. Penn State rotated their backs a lot at Purdue, so nobody had a chance to get into a rhythm, but Singleton has now solidified himself as the bell cow and will get a bulk of the carries.
Defensively, Auburn fans already got a glimpse of PJ Mustipher (DT), Joey Porter Jr. (CB), and Ji'Ayir Brown (S) last season, so I'll go with a new face to the Penn State program and someone who has shown a lot of good things through two weeks and who I think is ready to break out: Chop Robinson. Robinson is a former high four star edge rusher who transferred in from Maryland this past offseason. Statistically he's been quiet so far with just two tackles and no sacks, but by watching you can tell he's ready to make a big impact. He's winning a lot of battles out on the edge, he just hasn't been able to get home quite yet—though he did get a solid hit in on Aidan O'Connell as he was releasing the ball in the final play of the Purdue game.
5. In which positional matchup do you see Penn State excelling against the Tigers?
To me the biggest matchup advantage for Penn State in this one is their secondary against TJ Finley and Auburn's pass-catchers. Penn State's secondary has been as-advertised through two weeks, led by Joey Porter Jr. at cornerback. The Nittany Lions' defensive backfield is talented and deep, and will be tough for almost any team to throw against. Plus, with Finley already throwing three interceptions through two games and making some questionable decisions, I think the Nittany Lions can really take advantage of those mistakes. The throwing windows will be tight, and Finley is going to have to play his best ball for Auburn to have a chance.
6. Where will Penn State struggle against Auburn?
This one is a no brainer. I hope I'm wrong, but I think the Nittany Lions will struggle to slow down Auburn's running game. Linebacker was a major concern for Penn State heading into the season, with a lack of both depth and experience at the second level. There was certainly a noticeable improvement in the unit from week one to week two as they got more reps, but they have yet to truly be tested against the run as both Purdue and Ohio were pass-happy offenses. Curtis Jacobs is Penn State's top linebacker and PJ Mustipher is their top interior defensive lineman, but overall, I think the Nittany Lions' front seven will struggle to slow down one of the best 1-2 punches at running back in the sport.
7. What matchup determine the game?
I'll go with Auburn's pass rush against Penn State's offensive line. Things looked promising after week one as Sean Clifford was sacked just once at Purdue, but Ohio got home for five sacks against the Nittany Lions in week two. Auburn doesn't seem to have a dominant pass rush, but it seems plenty good enough to be a difference maker in this one if Penn State's front doesn't bring their A game.
The Tigers sat back a lot last season and gave Clifford a ton of time to throw, and as a result, he had one of his best games of his career. I anticipate Auburn to learn from that mistake and to try to bring some more pressure this time around in an attempt to force Penn State's veteran QB into some mistakes.
Offensive coordinator Mike Yurcich likes to get the ball out of Clifford's hands quick with a lot of short, high percentage throws, which hopefully should prevent Auburn's pass rush from making much of a difference. However, what will happen when Clifford does have to drop back and try to push the ball downfield? Left tackle Olu Fashanu has been excellent in pass protection so far for the Nittany Lions—he is the highest rated LT in the Big Ten so far—but the line as a whole is a question mark, partly due to some rotation at left guard and right tackle to try to find the right combination.
If Clifford can be protected, Penn State should be able to win this game, but if he's hit a few times and begins to speed up his decision-making process and gets spooked in the pocket, he could end up making some costly mistakes.
8. What's your prediction/analysis of the game?
Similar to last season, this will be a back-and-forth game that comes down to the wire. Offensively for Penn State, I think Nick Singleton will build on last week's breakout performance and hit on some big runs. Sean Clifford will make a few minor mistakes, but nothing too costly and will ultimately play well enough to move the ball and score points with some assistance from Penn State's deep and talented receiving corps.
For Auburn, I think Bigsby and Hunter have success on the ground, as well as Robby Ashford when he's in there, but to me the difference will be a couple costly interceptions thrown by TJ Finley against Penn State's outstanding secondary. I picked the Nittany Lions to cover a seven-point spread last season, and they did so with an eight-point victory. As I'm writing this, the spread of this year's game is Penn State by three. I'll take them to cover once again this season and sweep this non-conference series. Nittany Lions by six.
9. Where will Auburn and Penn State end up this season?
Like I mentioned earlier, I think Auburn is a good football team, but ultimately their schedule is just too difficult playing in the SEC West. They'll have to pull off a few upsets to reach the postseason, and quite honestly, I'm not sure if they can. I hate to do this, but I'll pencil them in for a 5-7 season, though they're a much better team than their record will suggest and would be bowl eligible in probably any other division in the sport.
Prior to the season, I had the Nittany Lions at around a 9-3 or 10-2 regular season, and so far, nothing I've seen so far has changed that one way or the other. Their two toughest tests will obviously be Michigan and Ohio State, with some other tough ones along the way (this being one of them). I'll stick with that 9-3/10-2 prediction for right now with possibly a Citrus Bowl appearance or maybe a New Years Six bowl bid if they can reach that 10-2 mark.
10. Do you think Penn State will melt or actually burst into flame when they feel the Southern heat of a 1000 suns, and how will it affect their performance?
I'm not totally sure about the players, but I know I personally won't be too fond of the heat. On a serious note, I think the team should not be affected by the weather, as it seems like the temperature should be in the mid-80s on Saturday afternoon. Luckily it wasn't a noon kickoff in week one, or it may be a different story. Hopefully the team is hydrated and there are no cramping issues.
I only wish that last year's game could have been played in mid-November on a brisk 30 or 40-degree afternoon in central Pennsylvania. Then is would have been a true home and home series, as Auburn's players and fans would have had to brave the cold temperatures. The players may have been too distracted by being able to see their breath, and it would have taken awhile for parking lots to clear postgame as Auburn fans tried to figure out how to de-frost their windshields.