Well, that pretty much went as expected. The talent gap between Auburn and Georgia was on full display this past Saturday on the Plains. All those 5-stars in Athens just imposed their will against the Tigers in just about every facet of the game. There was nothing the poor old Auburn Tigers could do to stay in the game, and we should feel honored that Georgia even blessed us with their presence in Jordan Hare this weekend. Now Auburn has no chance to even sniff making it to Atlanta…. Oh wait.
Yes, Georgia is a better football team than Auburn right now. Are they 24 points better than Auburn? Absolutely not. Let's put our Auburn glasses on for a minute and look into what could have been Saturday.
Eight.
Eight drops recorded by Auburn receivers Saturday afternoon. One of which was an opening drive touchdown that would have REALLY set the tone. Instead, we settle for a field goal. On third and short, Nix hits Shivers on a flare out of the backfield both hands. Instead of a 1st down, it's an interception that spotted Georgia three points.
The next big one that comes to mind would be an all too familiar face. Shedrick Jackson drops what would have been 3rd and long conversion that would have put Auburn in field goal range. Instead, it results in a punt.
You'll never hear me complain about officiating. At the end of the day bad calls typically work out about 50/50 at seasons end. With that said, Capers was definitely interfered with in the end zone on 4th down before the half.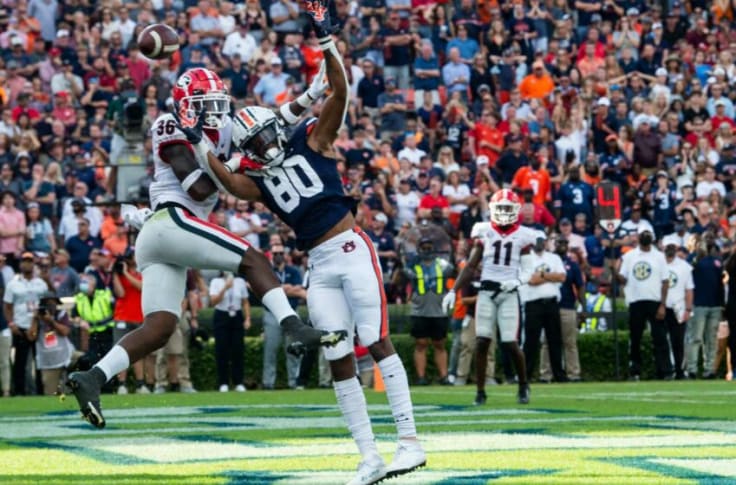 By my count that was FOUR drives in the first half that directly took points off the board. You simply can't do that against the best team in the country.
Late in the 3rd quarter, Georgia started imposing their will. No, I will not talk about how Pritchett got absolutely cooked three times. If everything went like it was supposed to those three plays wouldn't have been the death knell they ended up being. I'm talking about the run heavy, will imposing last two drives that the media will drool over. You could see the defense had no fight left in them.
Do they look defeated if our offense had made the plays they were supposed to make? Absolutely not. A familiar theme the past few years it seems. Auburn's defense plays good enough to win, but eventually sees the writing on the wall.
With all of this said, Georgia is not 24 points better than Auburn. Auburn still controls its own destiny. It will be of utmost importance that Harsin and crew flush this loss, fix the little mistakes, (catch the football) and get ready for yet another ranked opponent next Saturday.
This is a big game folks, bigger than the Georgia game if you ask me. You travel to Fayetteville and then get a bye week before playing Ole Miss at home. Arkansas is coming off two big losses on the road and are back home in what they are calling a revenge game from last year's spike debacle. If Auburn can win in Fayetteville they will be sitting pretty. On the other hand, a loss would put them in dire straights and things could get sideways pretty quick.
Flush it and move on. It is imperative we go 1-0 THIS week. It's all still right there for the taking.