WHERE TO WATCH
Kickoff – 8:00 PM CT, September 25th, 2021
Watch –  ESPN
Listen – Auburn Website
Gamecast – ESPN
TEAM HISTORY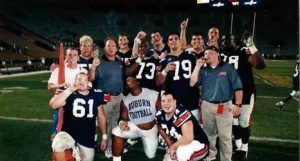 LSU man. I'll tell you what, they are an enigma. 820 all time wins, 4 national championships and 16conference championships is seriously good football. LSU has Louisiana all to them selves and they share a border with Texas which should've fashioned as a pipeline historically. So why isn't this team as dominant as the rest of the blue bloods? Because they're dumb cajuns.
SERIES HISTORY
Another Auburn rivalry, another rivalry won by the wrong team more often than not. LSU has a 31-23 lead in the overall series, thanks in large part to winning 7 of the last 10. Of Auburn 3 main rivals, LSU is the only team not performing far above their historical average, but they did have the outlier in 2019. This team has the talent to beat any team in the country, but they constantly get in their own way. This isn't even factoring in the cajun magic that is definitely real and caused John Vaughn to miss a zillion field goals. It's the cajun magic that caused Auburn to blow a 20 point lead in 2017. You can blame the head coach at the time all you want, but it was cajun magic.
WHAT TO WATCH
Is Auburn's defense going to make Max Johnson look like Joe Burrow? Who will be Auburn's QB? Will Auburn finally get a win in Death Valley?
Honestly, I'm thinking that Bryan Harsin firing Corn and benching Bo was to serve as a wake up call to the rest of the team. This is Bryan Harsin's team. Watch for how the team responds? If Auburn looks like a normal competitive team that has some similance of understanding what is happening; then regardless of the out come, the rest of the season should pan out better. If Auburn comes out like they did against Georgia State, then prepare for the sky to fall.
Think about it, if Auburn comes out and executes and plays solid football and doesn't make dumb mistakes and just gets beat, you're gonna be upset that they lost, but the loss will sit better than a team that just looks lost. The optics are everything.
So what Auburn shows up? I've always been a sunshine pumper, so i'm going to continue that and say that Bryan Harsin has the teams attention. I think mistakes will be made, but I think that Auburn will emerge victorious 34-31.