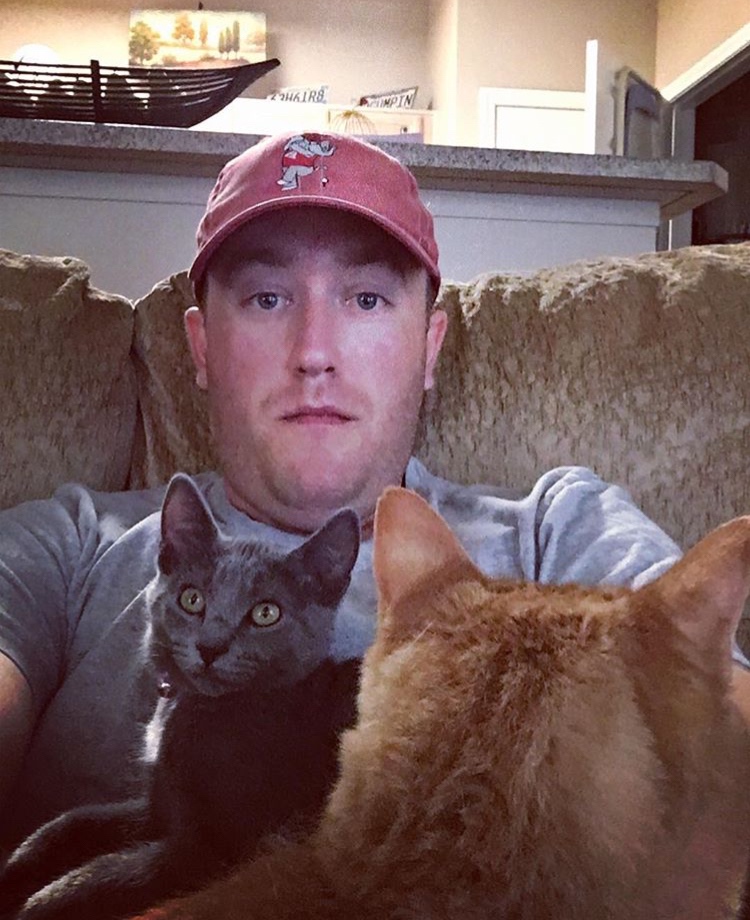 Hunter L. Johnson (@HunterLJohnson) is what I would be if I was an Alabama fan, liked cats, didn't accept reality, and was a whole lot dumber. But really, he's a good Alabama troll that has collected a few minions along the way, and just knows how to play the game. This is his 3rd time on the Blogle, so I'm not sure if that makes him a regular. But I am sure he's an idiot.

1. What is an Alabama fan's first thought of Auburn football right now?
Your season has gone about like I figured it would. With all that Auburn lost on defense, I figured two or three losses before The Iron Bowl.
2. Why do you like Alabama?
Well to keep a long answer short, I grew up around it. Grew up in Tuscaloosa with both of my parents working at UA and I went to school there. Doesn't mean my Barner uncle didn't try though.
https://twitter.com/HunterLJohnson/status/696756019813359616?s=20
3. Which backup will play a prominent role in this year's game only to be the sole reason for the loss (according to Alabama fans) before being named to all Heisman lists before next season?
This seems like a loaded question, pal. We've been pretty healthy this season. The only answer here would be Slade Bolden.
4. Which positional matchup are you most interested in watching this weekend?
Our OL vs. your DL. I think that we can run the ball on y'all. I thought Tennessee was doing it pretty well early until they went away from it for some unknown reason. And if we can run the ball on y'all, it will definitely open up our play-action game.
5. Who are two Tiders that aren't big names that Auburn fans should look out for?
Malachi Moore has really stepped up for our secondary and has made some big plays. On offense, Jahleel Billingsley has looked good replacing a dinged up Miller Forristal. He's not the blocker that Forristal is, but dude is a very athletic tight end.
6. Which two Tigers scare you the most?
Bo Nix – while he hasn't really had the year that most expected from him this year, dude is talented. He played great against us last year and I thought last week might have been his best performance of the season.
7. Who is your least favorite Auburn coach and player of all time and why?
Smh, I feel like you're just begging me to hate on Coach Dye here so you can get all uppity and appalled by it, but I am going to go with Tuberville here. In addition to all the "Fear The Thumb!" foolishness he put us through, I now have to deal with that idiot being our Senior US Senator when Shelby retires.
8. What's your prediction/analysis of the game?
I think it will be a lot like the last Iron Bowl in Tuscaloosa. Y'all play it relatively close for the first half. Gus has his script. Our fans get a little frustrated. Y'all will get a few Carlson FGs every time y'all cross the 40 to keep y'all in it. A bunch of "here we go again" amongst Bammers at halftime. Then we pull away in the second half and it becomes a forgettable Iron Bowl.
9. Where will Auburn and Alabama end up this season?
Alabama will end up in The College Football Playoff(that's where the top four teams go, not that Auburn would know anything about it). Hoping we draw Notre Dame or Cincinnati there. Then probably a rematch with Clemson. Auburn will end up in The Citrus Bowl, which is actually a step up from last year's Outback Bowl appearance. Definitely something for Barners to be proud of. Gus should probably get an extension.
10. Did you start the Jarrett Stidham has a tail or Bo Nix is a bad father rumors, and why would you do that?
Lol, I did not do this. But if I did, do you really think I would tail you? (just KIDing)
BONUS QUESTION
11. What does Saban being out mean to the game, and will Sark use this as a job interview?
Pete Golding, freed from the shackles of having to call a million complicated defensive adjustments between when the ball is spotted and snapped 3 seconds later, will soar this weekend. I'm predicting a shutout. Bama by 100.