8. Auburn 43 vs. Georgia 38 – Nov. 16, 2013
Note: This game was not in the 2010 edition of this list because it was played in 2013, but was #8 in the 2015 edition of this list.

How I Remember It: Auburn was setup to go into the Iron Bowl to determine the West, and all they had to do was get past an underachieving Georgia with a few losses on their resume. I remember Auburn having a two touchdown lead for most the game, and having the game won well into the 4th quarter. Then I remember Aaron Murray leading three consecutive scoring drives to come back and take a lead. But about that…
I remember Aaron Murray being stopped at the goal-line by Jake Holland, but being awarded a touchdown to give Georgia the late lead. I remember feeling like the season was lost. The Iron Bowl wasn't going to be as big. It was over.
But then, on 4th-and-long, Nick Marshall chunked one into triple coverage. The ball was tipped and landed right in the hands of Ricardo Louis. It was caught on the opposite end of my seats, so it took me a second to digest what had happened, but then I let loose and about busted every vein in my body with the amount of volume I was letting out of my lungs.
Even after all of that, Aaron Murray diced up Auburn's secondary and got his team down around the 30 with one play to go, but then Dee Ford came in like a wrecking ball.
What Really Happened: Auburn came into this renewal of the Deep South's Oldest Rivalry with a 10-1 (6-1 SEC) record and was ranked #7. Georgia was 6-4 (4-3 SEC) and ranked #25.
Auburn took an early 13-0 lead early in the 2nd quarter after scoring on their three first possessions, but Murray and Todd Gurley were finally able to put something together and bring the score a little closer (13-7) midway through the 2nd quarter. But before the half was over, Auburn was able to tack on 14 more (while even missing a FG) with to the help of an interception. At the half Auburn led 27-7. It was over, right?
Well, Georgia scored first in the 3rd quarter, but Auburn came right back and scored on their first possession, too. Still a 20-point lead. Then after Auburn held Georgia to another punt and failed 4th down conversion, the Tigers added another field goal. 23 points in the 4th quarter? Gravy.
But this is what the next five drives looked like: Georgia – Passing Touchdown, Auburn – Punt, Georgia – Passing Touchdown, Auburn – Punt, Georgia – Rushing Touchdown (Murray's aforementioned non-touchdown). So in about 7 minutes of game time, in five short drives, Georgia had erased a 23-point deficit and seemingly ended Auburn's championship hopes with a one point victory.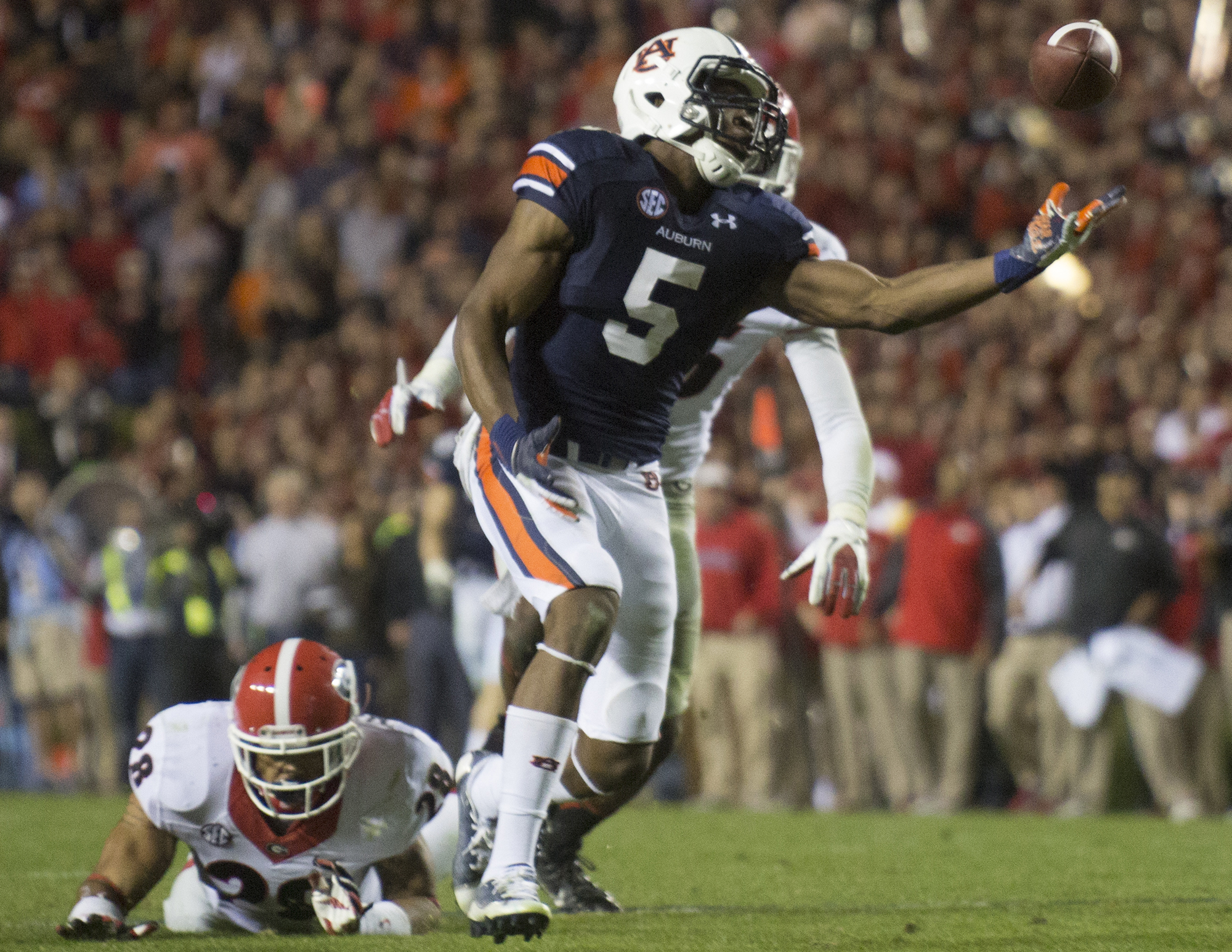 Auburn had one last shot with about a minute to play. After one first down, some dropped passes, and a sack, Auburn was down to a 4th-and-15. There was still time to dink and dunk down the field if the Tigers could just pick up 15 yards, but Ricardo Louis wanted more.
The play was supposedly designed to go to Sammie Coates, who was wide open, but before the play Ricardo told Nick to throw it to him. Nick did that, to the tune of a huge, 50-yard heave. What happened next is basically the reason this game is here. The ball was tipped up and landed in the hands of Ricardo Louis. He scored and Auburn had kept their magical season alive.
BUT WAIT…
Auburn went for two, didn't get it, and only led by 5 points. There were 25 seconds left, and Aaron Murray had the field to attempt a 4th consecutive scoring drive. After methodically passing down the field, the Dawgs had one more shot from the 20-yard line. Just as Murray passed the pall, Dee Ford introduced his helmet to Murray's ear and the ball fell incomplete. It was over.
Why did I pick this game? It's easy to remember this game for the "Miracle in Jordan-Hare," but the game, especially the 4th quarter, was absolutely crazy. I hated every second of it, but it was crazy.
Fun Fact: This win gave Auburn a one-game advantage in the series (55-54-8).
Play of the Game: Cody Parkey's field goal in the 1st quar…. sorry I couldn't finish that. Ricardo's catch.
Player of the Game: Tre Mason had 115 yards rushing and a TD. Nick Marshall had 89 yards rushing with two TDs and 219 passing yards with one TD, but I mean, Ricardo kinda made an unbelievable catch to win the game, so yeah… him.
Quote of the Game: "I couldn't believe it. It just landed right into my hands. I saw it once it got over my shoulder. It got tipped, I lost track of it … but when I looked over my shoulders, it was right there." – Ricardo Louis
Game Story: ESPN
The Miracle at Jordan-Hare (w/ radio call): 
You can view the rest of the 2020 edition of this list here.