Has the start of college football felt like a preseason in the NFL without the SEC playing or is it just me? After longer than normal, actual meaningful college football is starting this Saturday and I'm here for all of it. Instead the normal powers Auburn is accustomed to starting the season with, they're relegated to SEC cupcake Kentucky; who, to me, have put up the biggest facade of success in recent history. 
"BUT EINSTEIN" you say, "KENTUCKY WON 8 GAMES LAST YEAR!!!" Sure, Kentucky did win 8 games last year, however, they only went 3-5 in the SEC last year, AND their SEC wins were Arkansas, Missouri, and Vanderbilt. Amazing resume. 
"BUT EINSTEIN", you continue, "KENTUCKY ALMOST BEAT FLORIDA AT HOME – THEY LOST BY 8!" Kentucky almost lost at home to Arkansas, which more than washes out a competitive game with Florida.
It's time to dive into the First Look at Auburn's match-up against Kentucky.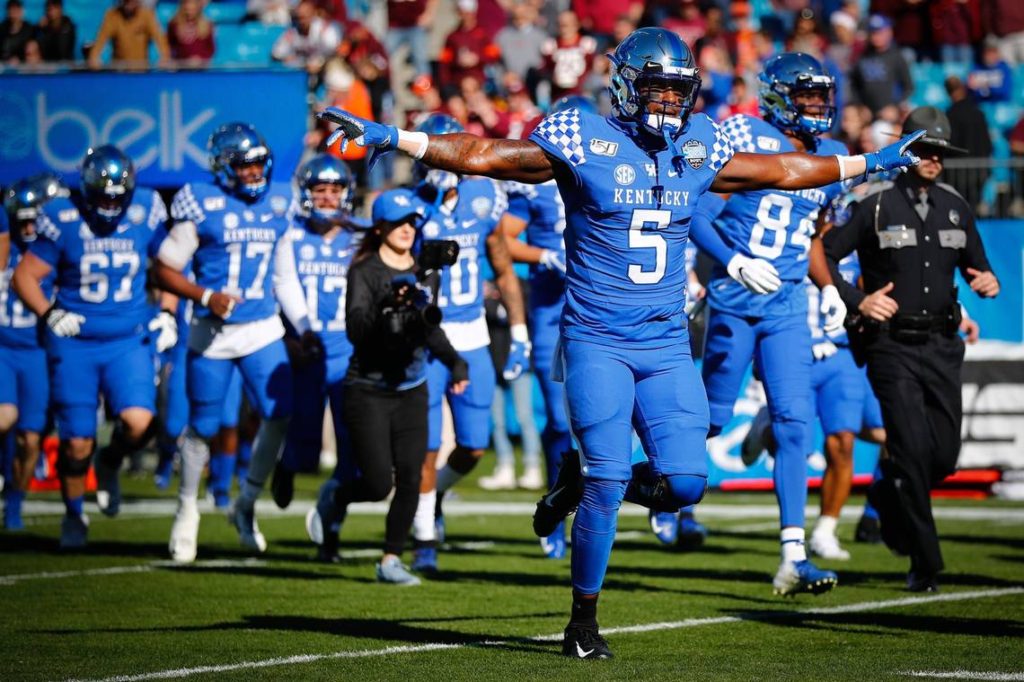 OFFENSE (2019 Rankings)
Scoring Offense – Kentucky – (76th) 27.2 PPG – Auburn (28th) 33.2 PPG
Rushing Offense – Kentucky – (4th) 278.77 YPG – Auburn (33rd) 199.08 YPG
Passing Offense – Kentucky – (127th) 113.7 YPG – Auburn (87th) 207.5 YPG
Total Offense – Kentucky – (76th) 392.5 YPG – Auburn (64th) 406.5 YPG
Terry Wilson, a QB, is starting at Quarterback this season. Wilson replaces the dynamic Lynn Bowden, a WR, as the Wildcat's signal caller. Now, I am not knocking QBs that move from other positions because Nick Marshall is one of the greatest QBs in Auburn history. Wilson is no slouch. In fact, he threw for over 1,800 yards in Kentucky's 10 win 2018 season. Wilson has Josh Ali to throw the ball to. However, Kentucky's success on offense came from the run game.
Auburn's linebackers will be tested as Kentucky has a solid line that could cause problems for Auburn as they break in a new defensive line after replacing Derrick Brown and Marlon Davidson. Auburn has to control the run game and trust their improved secondary to put the clamps on Kentucky's passing game. Do-able.
DEFENSE (2019 Rankings)
Scoring Defense – Kentucky (14th) 19.3 PPG – Auburn (17th) 19.5 PPG
Rushing Defense – Kentucky (62nd) 154.31 YPG – Auburn (25th) 123.15 YPG
Passing Defense – Kentucky (2nd) 167.8 YPG – Auburn (47th) 213.8 YPG
Total Defense – Kentucky (20th) 322.2 YPG – Auburn (28th) 337.0 YPG
Auburn's defense got a ton of notoriety last year, deservedly so. Auburn has a lot to replace on defense, but Kevin Steele says reload no rebuild and I dare not question that man.

Kentucky's was sneaky good on defense last season and that's probably why they won as many games as they did. Auburn has the weapons to win this game. The name of the game is establishing the run on offense and then allowing the playmakers to make plays. Schwartz is the fastest player on whatever football field he steps on. If Auburn can use him similarly to how the Chiefs use Tyreek Hill, Auburn's offense just needs to execute the plays that are called. One thing that is interesting to watch is if Auburn uses the Tight Ends (did I spell that correctly, it's a new position for me) like they've been hyping them this pre-season. 
@AuburnEinstein's PREDICTION
Do we believe the hype the offense has been putting out this season? Do we believe that Kevin Steele reloads on defense? UNEQUIVOCALLY YES. I'm ready to get hurt. Auburn has some rust to knock off and some running backs to break in, but they win 27-21. A late interception seals the win and it's on to UGA.