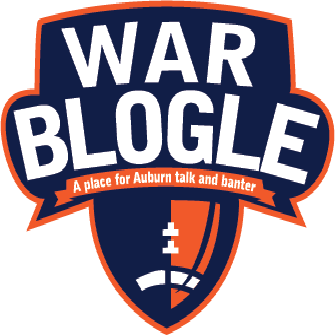 When I got my brand new iPhone 5 last week, I checked to make sure Auburn would have 4G LTE service. The AT&T coverage map says it does. It is a liar. I had standard old 3G service all day, which means as game time approached the ability to get a tweet out dwindled. Oh well, you wouldn't have wanted to read my thoughts anyway. At least the tailgate was awesome. Follow me.
The first words out of @BabyBlogle's mouth this morning as he raised his head off the pillow: "I'm ready to go to the game." My kid. #auburn
What's the over/under on the number of Arkansas fans that make the trip today. I say 30. #auburn #hawghate
Tailgate is set up. We have pork rinds. Bacon and BBQ pork on the way. Come by. #auburn #wareagle #hawghate
Josh Holsey's family has taken over the @WarBlogle tailgate. #auburn http://twitpic.com/b1lowc
Hey @AUChief, if you're still at the tailgate, get the gasoline for the generator and start dousing everything with it.
Well there's a small victory… #Holsey'd
Y'all better get to the tailgate. These 5 cases of @tailgatebeer is exactly what you need. No talking about football though. #auburn
Kiehl Frazier and Clint Moseley, leaving the stadium together, stopped to take a picture with @BabyBlogle. http://twitpic.com/b1okp8
Good to see @evil_cam_newton at the @WarBlogle tailgate. Dude is HATEful.
Just leaving the 'gate. At least @WarBlogle won something today.
Good to see all the Holseys. WE @MarilynAU_ALLin: enjoyed hanging out with @WarBlogle today! Thanks for the invite.
Today's game was my 90th straight in Jordan-Hare. What a great one to pass that milestone…. #auburn #wareagleanyway
Heard it. WE @wareaglepooh: @WarBlogle I yelled War Damn Blogle at u when leaving today. Blue Expedition.
…and stole the remote. WE @evil_cam_newton: Today I ate all of @WarBlogle's bacon, turned his TV to Honey Boo Boo, then split.
But really, how bad is LA-Monroe?
Alabama 1999. Been to all since 2000. WE @JamesMJonesJr: .@WarBlogle last one i missed was LATech 2001. Yours?
Given what Auburn did today and then against LSU, lemme tell you… that HUGE Florida win tonight means THEY ARE BACK!!!!
The ESPN announcer for the Oregon game pretty much just said it's ideal that Alabama has a bye week due to Talladega being this weekend.
It wasn't me. o_O WE @FullyLoadedMagg Last person to see me before the accident. Doesn't that make him prime suspect? http://bit.ly/TfIFS2
Dude drove 14 hrs from OK. WE @SeanRisinger Thanks @WarBlogle for the southern hospitality today! Good to meet the man behind the tweets!