Happy Friday. I know I say this every time, but Interesting Tidbits are back and ready to inform you of every bit of news you need to know. I'm sure all three of our readers were aimlessly wandering the Twitter universe for the past month trying to figure out what to read. Fear no more – Bits is back. Enjoy.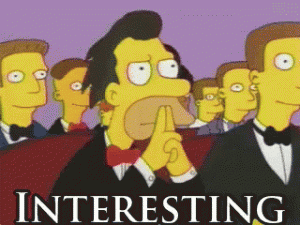 – Since Auburn Basketball is officially back, we'll start there. Here are the most recent AP and Coaches Poll rankings. If you're into the NET rankings, here are those.
– If you missed it or want to relive it, here are highlights from the win over Alabama. The obvious downside to the win was the injury to Isaac Okoro. He's officially questionable for the next game.
– Here is a projection of what Auburn could do the rest of the season, and the most recent bracketology. What seed do you want Auburn to end up at?
– The Iron Bowl Trophy ceremony occurred at halftime of Basketball's home game against Alabama. Is this a good tradition or a terrible one? I vote terrible.
– For a good Friday rage, meet the AP voter that refuses to rank Auburn in the top 20. He's even been attacked by other pollsters for his "method".
– For a good Friday laugh, check out this guy that thinks Nate Oats is the new Coach K and this guy that thinks he's outperforming Bruce.
– Auburn's 2020 Football recruiting class is final now that NSD is over. Meet the new players that will hoist a national championship trophy alongside Bo Nix. And will Gus fill his last spot?!
– See where "smart" people think Auburn will be ranked heading into the Fall.
– Also, will Auburn's pass distribution look like the Baltimore Raven's next year? Speaking of Auburn TE's, need some fresh swag??
– Auburn in the NFL update: Tigers at the NFL Combine.
– Baseball hopes to create an identity on opening day today. The pitching staff has certainly taken on a new identity already. I'm tired of talking about identity, but Plainsman Park also got a new identity.
– Maybe it's just a side effect of being an #EverythingSchool, but can the Baseball team feed off of the Basketball team's success?
Lastly, my favorite Auburn sport and Auburn team – Equestrian picked up wins at #3 Georgia and #4 Fresno State in the past few weeks. They are literally the horse version of mid-2010's UCONN Women's Basketball.
Let me know if I missed anything in the comments below.