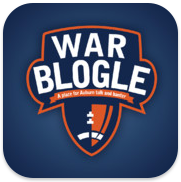 You may think that the big story of the day for iPhone fans is the release of iOS 6, but that is not so. Today, after much hard work from Dave Cowart, I can officially announce the launch of the WarBlogle app for iOS. It's a banner day for the 'Blogle.
The app will serve as a central hub for all things WarBlogle from around the webz, with a tab for all posts (blogles), tweets, wallpapers, etc.
The most unique may be the "Blogle Me" tab which will allow you to become a member of the Blogle family by taking a picture, or choosing from your camera roll, and add the WarBlogle logo over your face, as all pictures of me somehow do automatically. There is also a "More" tab that includes links to the WarBlogle Facebook page, Instagram, YouTube channel, etc.
The app is free and can be downloaded for any version of iOS on any Apple device that runs on iOS. You can get the app here, or just by searching "warblogle" in the App Store.
We already have a few extra features and enhancements in the works for version 2.0 of the app, but feel free to leave suggestions in the comments section. I want this to be an app for the Blogle people, by the Blogle people.
Here are a few screenshots if you're one of those Androiders that would just like to see what it looks like. If you're wondering when the Android version of the app is coming out, I would just go ahead and buy an iPhone. Get off that Apple-sheep soapboax, and be yourself. Buy the iPhone. Tim Cook is an Auburn grad. You now have no excuse.