I usually try to begin these articles with a brief overview of what happened this week in Auburn Basketball. But this week is going to be different. With the death of Kobe Bryant on Sunday, I thought I would take this opportunity to share what Kobe means to me.
Growing up in Alabama, every kid I knew wanted to play either Football or Baseball. But not me, all I wanted was to play basketball. Basketball has always meant more to me than any other sport. Why? I'm not sure, it just hits my soul different while dribbling a ball on a court.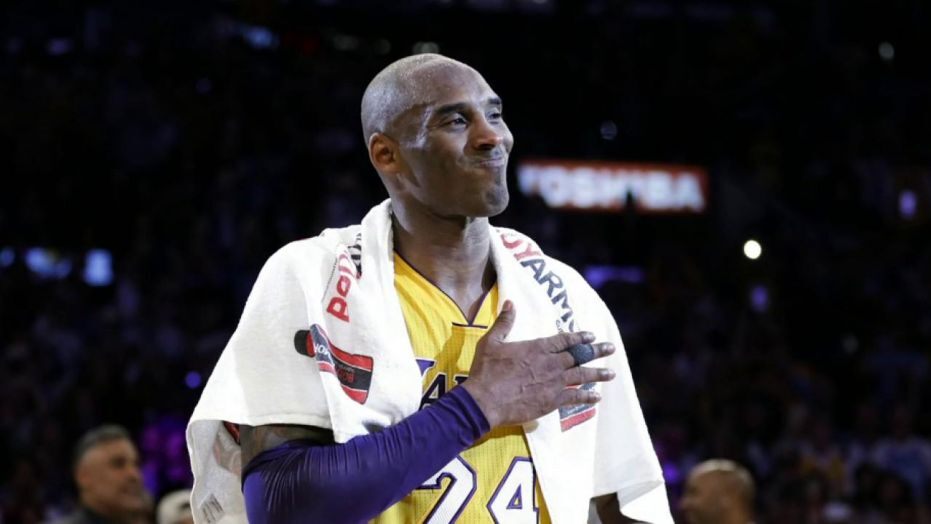 As a lifelong Miami Heat fan, I didn't grow up a fan of Kobe's. I grew up watching Dywane Wade and wanting him to surpass Kobe as the second greatest shooting guard ever, behind Michael of course. But Kobe always had my respect. My fondest memory of Kobe was the 2008 Olympics and the 2010 Finals against the Orlando Magic. I was too young to remember #8 Kobe and the three peat, but my dad would always tell me stories about how fun it was to watch Kobe and Shaq play together.
My generation grew up idolizing Kobe, to this day I still crinkle up a piece of trash and shoot it in the bin while yelling, "KOBE". As great of a playing career as Kobe had, what he was doing in his retirement was shaping up to being even better. Mentoring younger players in the NBA, his role with growing the NBA brand in Asia, and supporting women in College Basketball and the WNBA were just the tip of the iceberg. This doesn't even mention his role as a husband, father, and aspiring film maker.
Was Kobe perfect? No, but that's what made him special. We as a people got to see Kobe change and become truly one of humanities greats. At 41, Kobe still had a second life ahead of him. I feel for his family, and I hope they will be able to overcome this tragedy, especially with the loss of Gianna. No one's thoughts and prayers can bring Kobe back. All we can do now is remember the man he was, and how we can be better because of Kobe's legacy.
Game 18 vs South Carolina
After a losing streak that seemed to last more than just a week, Auburn got back in the win column with a hard-fought victory against South Carolina. I've always disliked playing against Frank Martin's squad because they have been Bruce's kryptonite over the past few seasons. Auburn got the best of Frank Martin's squad tonight, shooting almost 40% from three as a team and over 85% from the free throw line! The Tigers also won the rebound and turnover battle, which usually indicates that they will win the game.
I don't usually try to bash the Auburn beat writers, because I get that their job can be very difficult. However, I hate when they post a picture of the arena before a weekday game and comment that the crowd hasn't shown up yet. It's pretty tough to make a weekday game with a 6pm tip when most people get off work at 5pm and live out of town. If I live two hours away, of course I'm going to be late. Rant over, the crowd has been great the past couple of years, with or without long winning streaks.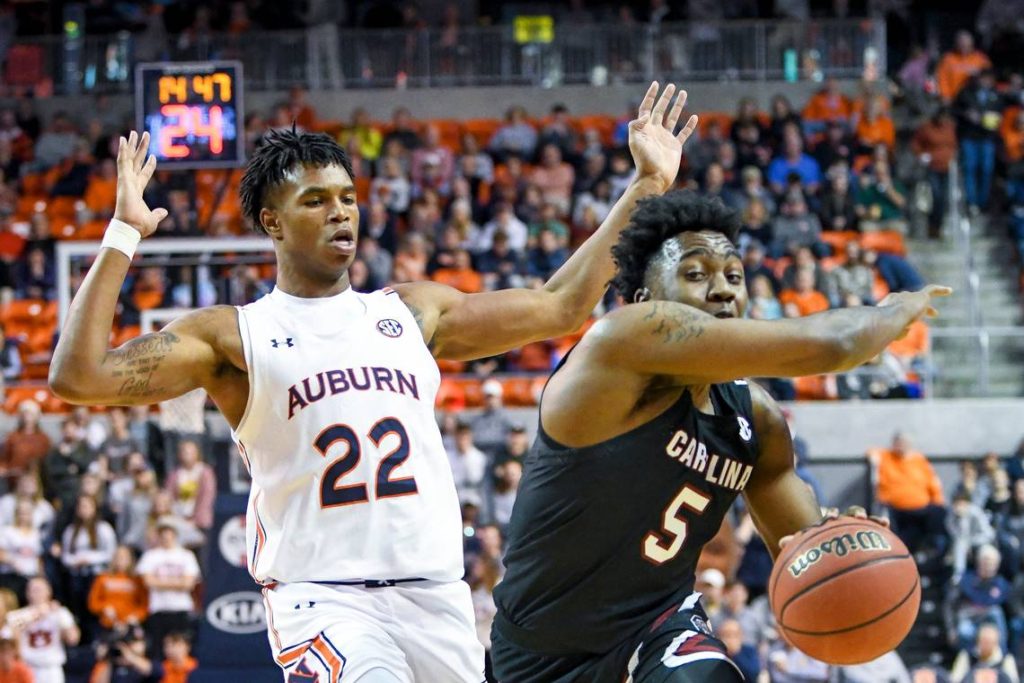 Remember when I said last week that the bench can help us win at home? Well Devin Cambridge really took that to heart and practically beat the Gamecocks by himself. With a career high 26 points in only 21 minutes of playing time, Devin essentially doused himself in gasoline and lit a match. Out of Auburn's 10 three pointers, Devin had 6 of them. Most of Devin's threes were heavily contested, but it just didn't matter. The only question now is where do we want the Devin Cambridge statue?
It was also a nice bounce back game for J'Von McCormick. After struggling in Auburn's two blowout losses a couple weeks ago, J'Von poured in 13 points and 5 assists to go along with just 2 turnovers. McCormick looked more like himself on Wednesday night, playing with more poise and a sense of calmness. When he's at his best, J'Von is so good at getting other people involved on offense.
Game 19 vs Iowa State
You want to know what I call a sizable lead that almost turns into a disaster? A typical Auburn game. After being up by as much as 18, the Tigers went on to beat Iowa State by 4 in the first game of the Big 12/ SEC showdown. 11 representatives from NBA teams were at the matchup on Saturday to see potential lottery picks Isaac Okoro and Tyrese Hailiburton. What they saw was Isaac getting the upper hand.
In his best game of the season so far, Isaac Okoro put Auburn on his back and scored 19 points on 7-11 shooting. It was even more dominating to watch because Okoro was getting whatever look he wanted on offense. When Isaac gets to the rim constantly, there's no limit to what he can do in a game. The shooting will come, his stroke already looks better than it did at the beginning of the year. Teams are going to give Okoro that 3-point shot, and he should take it when he can.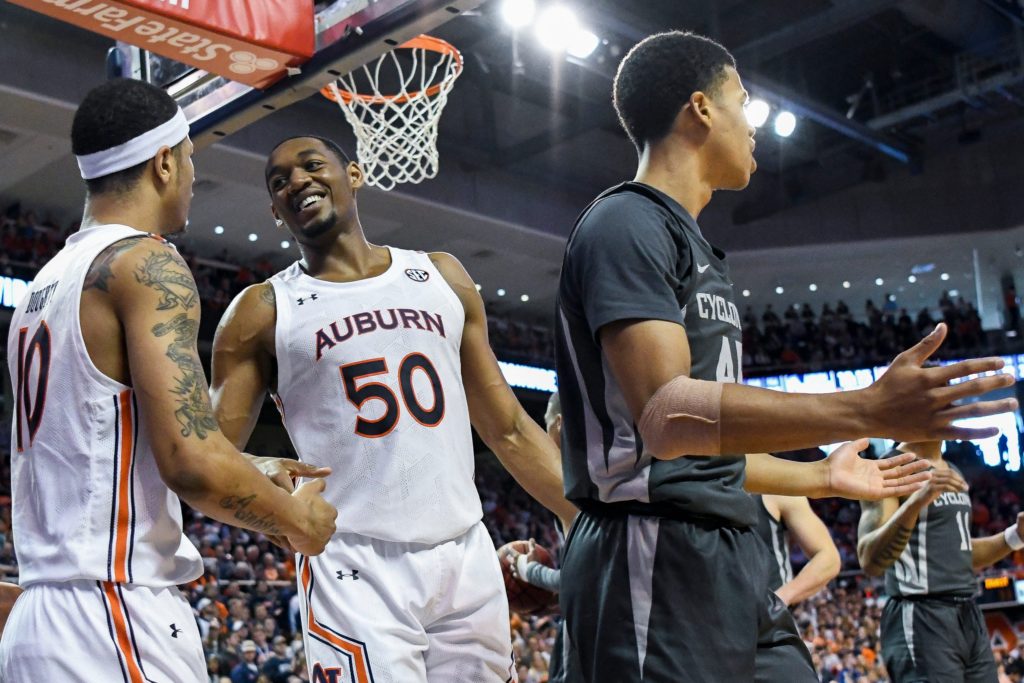 Isaac is going to get the majority of the credit, but Samir Doughty had a real nice game on Saturday. Scoring 18 points and being the primary defender on Haliburton is no easy task. It was nice to see Samir get back on track after struggling the past couple of weeks. He's the leader of the team and Auburn is going to go as far as Doughty can carry them.
Of those 18 points, 7 came from the free throw line. This may not seem like a big deal but it is, with only a couple of reliable free throw shooters on the team, Samir is going to be taking all our late game free throws this year, much like Jared Harper did last year. Going back to Samir's defense, he held Haliburton to only 12 points, which is about 6 points below his average. That's what I love most about Samir, he's not afraid of anyone. I loved the story about him talking trash to Okoro in Auburn's first practice, just shows the kind of player Samir is!
Week 14 Preview
This week has Auburn going to Ole Miss on Tuesday, who just got their first conference win of the season over the weekend at Georgia. As always, there's no easy win in the SEC, especially on the road where Auburn has struggled this year in conference play. It would be great to come away with a win before Kentucky comes to town on Saturday.
Speaking of Saturday, College Gameday is coming for the first time for a basketball game!! Depending on how Auburn decides to operate during the show, I encourage anyone that can make it for College Gameday to show up at Auburn Arena bright and early. This is what Bruce envisioned for the program when he first arrived. These are the kinds of games that get Auburn on the map with potential recruits (looking at you Jalen Green).
The game itself should be a lot of fun. I'm sure Coach Cal hasn't forgotten that this Auburn team beat him in the NCAA tournament last season. I'll be fascinated to see what Bruce Pearl does against Ashton Hagans, arguably the best point guard in America.
However the game turns out, I expect Auburn Arena to be the loudest it's been all season with the support of the best fans in the country!