National Signing Day is dead. Early Signing Day is the place to be. Seriously. Auburn got 22 guys today. How many more do they need? Actually there are two more on the way, and possibly another deciding a little later. Then there will be a handful in February. But really, this is a really, REALLY good class already. Needs were met. Stars were stolen. Rivals were spurned. It was a good day.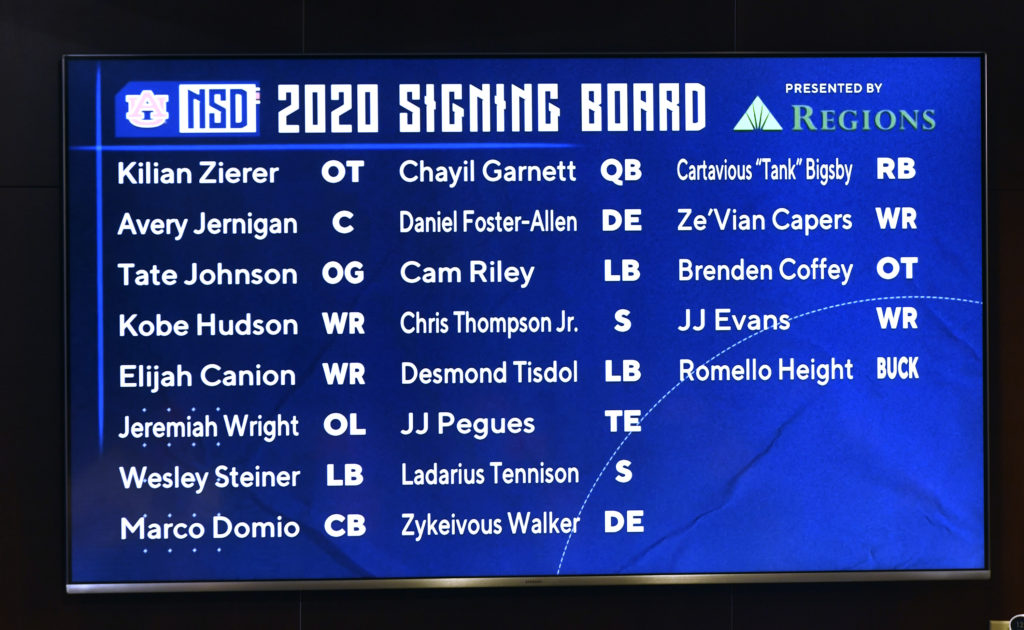 As it stands right now, here are the 2020 class rankings from the big three:
Let's meet the new Tigers.
---
Cartavious "Tank" Bigsby
RB, 6-0, 209; Callaway HS; LaGrange, GA
Top five-rated running back nationally … rushed for 1,636 yards and 27 touchdowns as a senior for Coach Pete Wiggins, leading the Cavaliers to the state semifinals … 2018 Class AA state and region offensive player of the year after rushing for 2,221 yards for a team that finished 11-3 and reached the state semifinals … Under Armour All-American Game … AJC Super 11 … also a track and field letterman … five-star prospect rated nation's top RB by Rivals … top 7 recruit in Georgia by 247, Rivals, ESPN, PrepStar
Elijah Canion
WR, 6-4, 201; Chaminade-Madonna HS; Sunrise, FL
Talented big-play receiver who averaged more than 21 yards per catch during his career for Coach Dameon Jones and the Chaminade Lions, winning three consecutive Class 3A state championships … first team all-Broward County as a junior and senior … also a track and field letterman … ranked among the top 75 prospects in Florida and the top 80 receivers nationally by ESPN, 247, Rivals … PrepStar all-Southeast
Ze'Vian Capers
WR, 6-4, 192; Denmark HS; Alpharetta, GA
Tall, talented target at wide receiver … 45 receptions for 922 yards, 10 TD as a senior for Coach Terry Crowder at Denmark High … first team all-state, all-region, all-county … Forsyth County News offensive player of the year as a junior, with 60 catches for 1,182 yards and 11 scores … AJC Super 11 … also a basketball letterman … ESPN, 247, PrepStar rank him among top 15 players in Georgia
Brenden Coffey
OT, 6-6, 264; Butte (Calif.) CC; Paradise HS; Paradise, CA
Elite blocker with a top 5 juco rating … two-year starter at tackle for Coach Rob Snelling at Butte College in Oroville, Calif., earning all-conference honors … CCCAA state and Golden Valley Conference shot put champion … for Coach Rick Prinz at Paradise High … three-sport competitor for the Bobcats who was a state qualifier in shot put … ESPN rates him the No. 2 juco offensive line prospect … top 5 California juco recruits by 247
Marco Domio
CB, 6-1, 172; Blinn (Texas) JC; Heights HS; Houston, TX
One of the nation's top-rated junior college defensive backs … 26 tackles, 8 PBU as a second team all-conference selection for Coach Ryan Mahon at Blinn College … first team all-district in 2017 and 2018 at Heights High for Coach Stephen Dixon … also competed for the basketball and track teams … top 5 juco DB prospect by ESPN, PrepStar, 247 … No. 3 among Texas juco players by 247
JJ Evans
WR, 6-2, 192; Montevallo HS; Montevallo, AL
Speedy receiving prospect with dynamic skills … consistent playmaker for Coach Brandon Wilcox, helping the Bulldogs to the Class 4A playoffs … 74 receptions for 1,706 yards and 18 TD as a junior … Class 4A Back of the Year finalist … 38 catches for 617 yards, 7 TD, during an injury-plagued senior season … Alabama-Mississippi All-Star Game … 247 ranks him No. 5 among state recruits, ESPN and Rivals No. 7
Daniel Foster-Allen
DE, 6-4, 264; St. Paul's HS; Saraland, AL
Explosive defender who recorded 53 tackles, 7 TFL, 3 sacks, 13 QB hurries as a senior, helping Coach Steve Mask's Saints advance to the second round of the Class 6A playoffs … Alabama-Mississippi All-Star Game … also a basketball letterman … ranked among the top 25 overall recruits in the state by ESPN, 247, Rivals, PrepStar
Chayil Garnett
QB, 6-1, 211; Lakeland HS; Lake Wales, FL
Highly rated dual-threat quarterback prospect … injury limited his play to eight games as a senior for Coach Bill Castle … passed for 2,028 yards, 18 touchdowns as a junior at Lake Wales High … Lakeland Ledger Super 16 … honor student … ranked among the top 15 prospects at his position by PrepStar, ESPN … Florida top 60 by ESPN
Romello Height
Buck, 6-4, 217; Dublin HS; Dublin, GA
Tall, agile defensive prospect … set a school record for sacks as a junior and senior playing for Coach Roger Holmes at Dublin High … led the Fighting Irish to the 2019 Class AA state title … GACA all-star classic … second team all-region … also a basketball letterman … top 30 prospect in state of Georgia by ESPN … 247 ranks him 28th nationally at his position
Kobe Hudson
WR, 6-0, 185; Troup County HS; Pine Mountain, GA
Ultra-talented athlete who projects as a wide receiver prospect … 62 catches for 1,424 yards, 13 TD as a freshman and sophomore for Coach Tanner Glisson and the Troup County Tigers … AJC Super 11 … Class 4A state player of year and Region 5-AAAA player of year as a junior QB, passing for 3,386 yards, 32 TD, and rushing for 1,410 yards, 18 scores … passed for 1,629 yards, 18 TD and rushed for 976 yards, 7 TD as a senior … All-American Bowl … also a basketball letterman … top 10 recruit in state of Georgia by 247, ESPN, PrepStar … Rivals, ESPN, 247 rank him among the top 20 nationally at his position
Avery Jernigan
C, 6-3, 306; Pierce County HS; Blackshear, GA
Explosive offensive line prospect … first team all-region and all-state for Coach Ryan Herring as a junior and senior … honors student … also a basketball and track and field letterman … rated among the to p20 at his position nationally by 247, ESPN, PrepStar
Tate Johnson
OG, 6-3, 325; Callaway HS; LaGrange, GA
Versatile, hard-working lineman with great size and skills … outstanding leader as a senior for Coach Pete Wiggins, spurring the Cavaliers to the state semifinals as a junior and senior … GSWA first team Class AA all-state … Pro Football Hall of Fame World Bowl … ranked among top 15 at his position nationally by Rivals, ESPN
JJ Pegues
TE, 6-2, 298; Oxford HS; Oxford, Miss.
Versatile offensive threat who projects as a tight end at the collegiate level … led Coach Chris Cutcliffe's Oxford Chargers to the Class 6A state championship as a senior … Alabama-Mississippi All-Star Game … Clarion Ledger Dandy Dozen … also a basketball letterman … top 10 prospect nationally at his position by 247, Rivals, ESPN … ranked among top six recruits overall in state of Mississippi
Eric Reed Jr.
CB, 6-0, 195; Calvary Baptist Academy; Shreveport, LA
Highly rated cornerback prospect … all-state performer for Coach Rodney Guin, helping the Cavaliers to the state playoffs … Shreveport Times Top 10 … also a basketball and track letterman … 247, Rivals and ESPN all rank him among the top seven recruits in Louisiana … rated among the top 15 nationally at his position
Cam Riley
LB, 6-4, 207; Hillcrest HS; Evergreen, AL
Productive linebacking prospect with a quick first step … 112 tackles as a junior for Coach Clinton Smith … Jaguars won a state title his sophomore year … Alabama-Mississippi All-Star Game … also a track letterman … rated among the top 15 prospects in the state by 247, ESPN, PrepStar, Rivals
Wesley Steiner
LB, 6-0, 226; 6-0, 226; Houston County HS; Warner Robins, GA
Powerful defender with great commitment and dedication … recorded 81 tackles, 6.0 TFL as a senior for Coach Ryan Crawford and the Houston County Bears … Under Armour All-America Game … HHJ multi-sport athlete of the year … two-time state champion in the discus and a wrestling letterman … ESPN rates him the No. 6 prospect in Georgia … top five nationally at his position by 247, PrepStar, ESPN
Ladarius Tennison
S, 5-10, 195; Rockledge HS; Rockledge, FL
Hard-hitting athletic safety prospect … recorded 98 tackles, 24.0 TFL as a senior for Coach Wayne Younger's Raiders … Space Coast Daily player of the year … all-Space Coast team … also a track and field letterman … ranked as the No. 4 athlete nationally by 247 … top 15 at his position by Rivals, ESPN, PrepStar
Chris Thompson Jr.
S, 6-1, 201; Duncanville HS; DeSoto, Texas
Physical defender who was a punishing tackler for Coach Reginald Samples at Duncanville High, helping the Panthers advance to the Class 6A state semifinals as a senior and finals as a junior … Under Armour All-America Game … second team TSWA all-state as a junior … preseason SportsDay area defensive player of the year … also a track and field letterman … MaxPreps All-American … ESPN rates him the No. 2 safety prospect nationally … top 30 player in Texas by 247, ESPN, PrepStar
Desmond Tisdol
LB, 6-0, 210; Wilcox County HS; Rochelle, GA
Terrific athlete productive on both sides of the football … first team all-state linebacker for Coach Rob Stowe's Wilcox County Patriots … All-American Bowl … Region 2-A defensive player of year … also a basketball and baseball letterman … ESPN and 247 rank him among the top 25 overall recruits in Georgia … rated No. 6 nationally at his position by ESPN
Zykeivous Walker
DE, 6-4, 267; Schley County HS; Ellaville, GA
Aggressive pass rusher who led the Schley County Wildcats to the playoffs … 85 tackles, 11.0 sacks, 29,0 TFL as a senior for Coach Darren Alford … GHSA regional player of the year as a junior with 10.5 sacks … GSWA all-state … also a basketball and track and field letterman … 247 ranks him the No. 7 prospect nationally at his position … top 15 recruit from Georgia by 247, Rivals, PrepStar
Jeremiah Wright
OL, 6-5, 340; Selma HS; Selma, AL
Sizeable offensive line prospect with plenty of potential … played offensive tackle and defensive tackle for Coach Willie Gandy and the Selma Saints … Selma Times-Journal all-Dallas County … ESPN ranks him the No. 13 player nationally at his position … top 30 prospect in Alabama by ESPN, 247, PrepStar
Kilian Zierer
OT, 6-7, 284; College of Canyons CC; Hohenkirchen, Germany
Top-rated junior college offensive line prospect … starting tackle for Coach Ted Iacenda, helping the Cougars to the Southern California championship game … SCFA all-league second team … started playing football at age 16 … ESPN and 247 rate him the No. 1 juco prospect nationally at his position … Rivals ranks him No. 11 overall among juco recruits