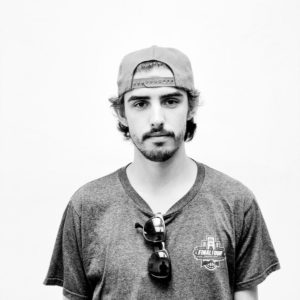 James Voss is a former astronaut that attended Auburn University. Wait, this is a different James Voss? Yeah that makes more sense. This James Vos (one s) is an Oregon alum, self-proclaimed college football fanatic, and a born-and-brainwashed Duck. He is a freelance contributor to AutzenZoo, and he also writes/rants about sports and pop culture on his own personal blog. He's on twitter as @WhosTheVos and he even occasionally tweets something funny and/or insightful.

1. What are an Oregon fan's thoughts about Auburn football historically and what about the program right at this moment?
I think there's no denying for Oregon fans that Auburn is part of a long SEC and southern football tradition, and of course y'all had a great deal of recent success right around the same time that the Ducks did. Both teams went to two National Title games. Both lost at least one of them. We both faced Jameis Winston. One of us ran him out of the building. And so on.
And of course, there is definitely plenty of trauma/anger/saltiness associated with Dyer being down, but I'm sure we'll get to that later.
As of right now, I think I can honestly say that the "big scary SEC aura" has probably faded for Oregon fans when it comes to Auburn. It happened with us within our own conference over the late-Helfrich/Taggart struggles. I think watching last season unfold for y'all, and the divide over Malzahn and his hot seat, really made Auburn fall into the "beatable" category in many Oregon fans' minds.
2. After a year and change, what's the vibe on Mario Cristobal? Are Oregon fans happy with him?
The fan base respects the hell out of him. The team petitioned for him to be the Head Coach after Taggart left, and the Athletic Department heard them loud and clear. He comes from the Saban school of coaching and has brought that discipline and class to the program. Chip was a big brain that was always cheeky. Mark Helfrich was an Oregon man. Taggart was Taggart. But Cristobal is a shaper of talent and young men.
I'm not entirely sure that people define him as an innovative or particularly remarkable "Head Coach" but he trusts his coordinators and has surrounded himself with a support staff of people that just help the program run so well.
3. Besides Cam Newton, who are you two favorite Auburn Tigers of all time and why?
My favorite Auburn players of all time would probably be the referees for the 2011 BCS National Championship Game. You just have to tip your hat to guys like that for their undeniable impact on the outcome of the game.
4. Which two Ducks should Auburn fans look out for and why?
For Auburn fans that aren't too familiar with the Ducks, I'd first tell them to watch for junior cornerback Thomas Graham Jr., number 4 on defense. He has been pretty much starting since he was true freshman, and is the most experienced player in the secondary. While our secondary has kind of hovered somewhere between "tolerable" and "okay" over the last two years, I expect Graham to bring a veteran attitude to the unit that will finally help bring them over the top in 2019.
Another guy to look for would probably be junior TE Cam McCormick. He has been hurt on and off throughout fall camp, but the Ducks are optimistic about his ability to play in the opener. Justin Herbert has a tendency to lean on his tight ends more often than not. Our receivers are kind of banged up and young going into this game, so I wouldn't surprised if Herbert and his sure handed tight ends look to connect early and often.
5. In which positional matchup do you see Oregon excelling against the Tigers?
I know that a lot of media attention has given to the battle between Oregon's offensive line and Auburn's d-line, and I'm sure it'll be a worthy clash, but—if we're being completely honest—I think the Ducks just have the edge. On paper, this is Oregon's best o-line of all time, but it's so much more than preseason watchlists and hype. When the o-line was healthy last year, it changed games entirely.
The whole group is given special attention by Cristobal himself, and so along with their size and skill, they're also incredibly smart. I firmly believe that they'll control the line of scrimmage and give Herbert time to do his thing, as well as let us get the downhill run game going.
6. Where will Oregon struggle against Auburn?
I mentioned it a little before, but I think our receiving group has a pretty big challenge ahead of them. Just briefly looking into Auburn's returning starters, it looks like a good number of experienced corners and safeties are going to back there this year. The Ducks added outside receiver Juwan Johnson from Penn State this year, but he's a bit banged up. Everyone got super stoked on true freshman slot, Mycah Pittman, right up until he hurt his shoulder in a scrimmage and will be out until the middle of October. We also lost our senior receiver, Brenden Schooler, who was one of our leaders and definitely a reliable target.
Herbert is certainly talented, but we saw last year just how hard it can be for him to succeed if he doesn't have receivers out there he can trust. It definitely doesn't help that you guys return a well-seasoned secondary, either.
7. Michael Dyer was not down. That's it. That's the question.
I'm not entirely sure what you're talking about. From what I remember, the 2011 BCS National Championship Game ended in a historic 19-19 tie.
8. What's your prediction/analysis of the game?
Like I said before, I expect the Ducks' O-line to control the line of scrimmage, and I think that will provide enough opportunity for Herbert and the run game to do what they need to do to score enough points. I don't know if it'll be incredibly exciting, but I think they'll be efficient.
I don't exactly know what to expect from Bo Nix and the Auburn offense, but just like last year, I fully expect the Ducks' front seven to be stout and disruptive on the young quarterback. Nose guard Jordon Scott (AKA "Fat Mac") will clog up run lanes. True freshman phenom Kayvon Thibodeaux will show off his speed in the edge pass rush. And senior linebacker/defensive captain Troy Dye will lead the game in tackle, just like he'll end up leading the conference and maybe even the nation in that category by the end of the year.
Our secondary might bend a little, but it I don't believe it'll break.
34-24, Oregon.
9. Where will Auburn and Oregon end the season?
With a win over Auburn, I believe that the Ducks have a shot at winning 9 or maybe even 10 games in 2019. If they go 10-2 in the regular season, I think that'll come with a loss to a real challenge, like Stanford, and a loss to a team we really shouldn't lose to, like Arizona, because we always lose to Arizona.
I expect to beat whatever team comes out of the Pac-12 South in the title game, and as an 11-2 conference champ, I think a New Year's Six bowl is realistic. A playoff appearance might be a tougher sell based on the lack of strength in the Pac-12 overall, however. It just depends how many teams are left at the top at the end of the year.
Auburn obviously faces a much more treacherous schedule after playing Oregon this weekend. It think you guys will beat Texas A&M, LSU, and probably Florida. I'm not sure any of those teams are the real deal. But then you look ahead and see Georgia and Alabama on the schedule, and—while those are rivalry games—I still can't confidently say I think those will end in your favor.
When predicting season records, I usually always account for "dropping a game that you aren't supposed to drop." So I think Auburn could end at 9-3 or 8-4 if Mississippi State shows up for some reason. At 9-3 with only losses to, Alabama, Georgia, and (hopefully) a NY6 Oregon team, I don't see any reason why you all wouldn't also have a strong argument for a NY6 bowl too.
10. There's been some confusion over here. On your helmets, is that an O for Oregon or a zero for the number of national championships y'all have?
That joke was as original as the current Toomer's Corner trees.