Week 2 is in the books and the Tigers are still undefeated. Auburn overcame a rowdy South Alabama crowd in Mobile to snatch victory out of the jaws of defeat. Isaac took the first big step into becoming into an Auburn folk hero, scoring the game winning basket against South Alabama. It wasn't as much of a challenge on Friday against the CSUN Matadors, but the offense finally going for the first time this season. Doughty scored a career high, to go along with other Auburn records being broken.
Game 3 at South Alabama
Another game, another close win against a quality opponent. Auburn snuck out a one-point win against the Jaguars on a last second Isaac Okoro shot. For the 20 people that have ESPN+, you witnessed a very exciting game.
On a night where shots weren't falling, the Tigers ramped up the defense. Auburn held South Alabama to 69 points, 23 of which came from one player. The defense held USA to less than 45% shooting on their home floor.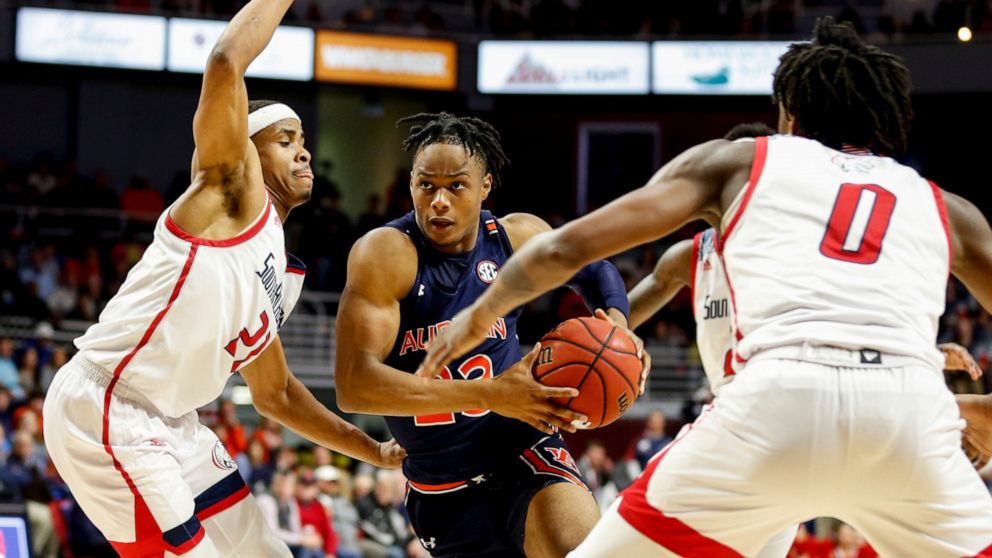 Isaac Okoro, in addition to making the game winning shot, also played brilliantly on the defensive end. The freshman lead the team in scoring with 15, while also adding 6 rebounds and 6 assists. I'd encourage anyone to just watch Isaac for a few minutes a game on defense. He's one of the best college defenders I've seen. He doesn't commit dumb reach in fouls, and I don't think anyone has gotten by him yet this season. He's truly special, and he won't be here for long.
Okoro is going to get all the credit for this game, but Jamal Johnson deserves a lot of credit here. To come off the bench and score 14 points in a hostile environment is impressive and Jamal deserves a lot of praise. He was the only one that could hit three's consistently, and he really spread the floor well for us.
Anfernee McLemore also had a huge night, especially with Wiley somehow fouling out in only 10 minutes of playing time. Mac scored 14 points and brought down 4 rebounds, to go along with bringing one more human into the Auburn Family. We welcomed Maverick McLemore into the family later that night. Side note, this is what I love about Bruce. A lot of coaches claim to love their players, and I'm sure a lot do, but Bruce is one of the few that I've seen that shows that love. He went to Georgia after the game to be with Mac and his family, and to also get an initial scouting report on little Mav.
Moving forward, Auburn has got to find a way to shoot better at the free throw line. Going 12-22 just isn't going to cut it. I know it was a hostile environment, but that is going to cost the Tigers games if they can't find a way to make their free throws.
The Tigers also need to find more reliable scoring from the perimeter. 10-24 as a team isn't bad, but Jamal Johnson isn't going to go 4-6 every game. Danjel, Samir, and Isaac went a combined 1-7 from downtown. If the Tigers are going to consistently win on the road, that number has to be better, especially from Samir and Danjel, who are projecting as two of our top marksmen.
After three tough games to start out the season, it will be nice to play a team in Cal State Northridge that has not looked impressive so far this season.
Game 4 vs. Cal State Northridge
Now this was a fun game. Auburn came out of the gate scorching hot and beat CSUN 116-70 in front of a great crowd. Here are the things we learned from that game: Samir Doughty needs to wear a headband every game, and J'Von McCormick is pretty good at passing the ball.
Doughty scored a career high 33 points, and honestly if he played his normal number of minutes, he could have gone for 45 with the way he was shooting. I'm not sure if CSUN just didn't know that Samir could shoot, or if that was the game plan going in, but once he got hot it was over. Samir also picked up 8 rebounds and went 7-7 from the line (more about that later).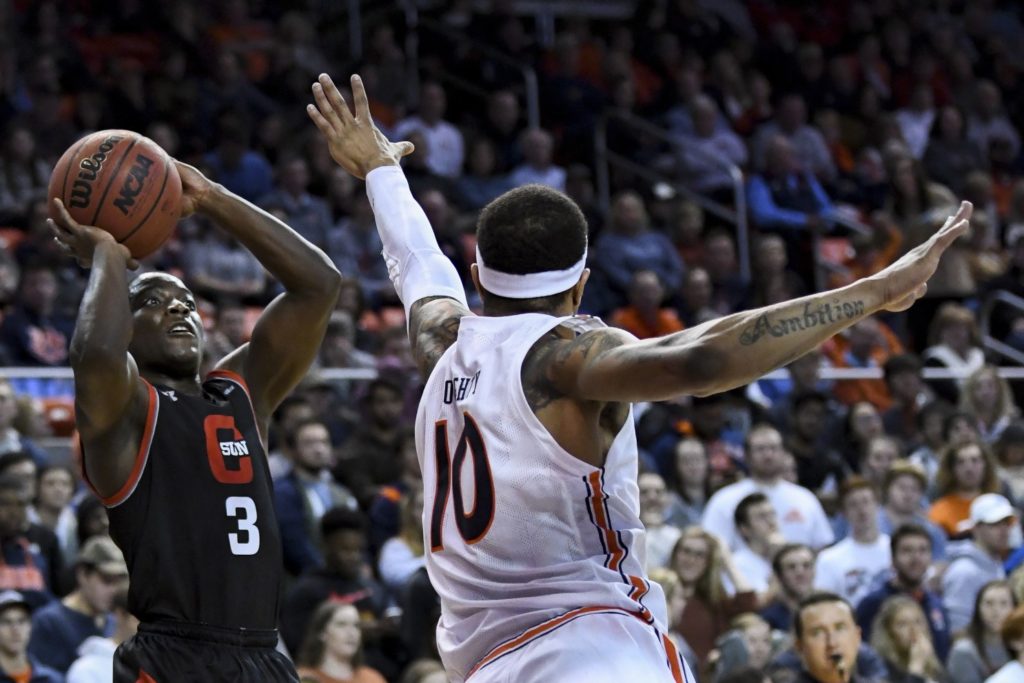 J'Von McCormick wrote his name in the history books on Friday, breaking the Auburn single game assist record with 16! J'Von was nothing short of masterful running the offense. To me, that's the biggest difference in J'Von and Jared Harper. Jared was so good scoring the ball, but J'Von is so good at setting up his teammates, playing that more traditional point guard role. 16 assists are so impressive, but he also only had 1 turnover.
I could go on and on about the offense: Okoro had 17, Danjel Purifoy had 16, Wiley had 10 and Devin Cambridge and Mac both scored in double figures off the bench. It was an offensive clinic on Friday, with the Tigers making 17 three-pointers and going 15-16 from the free throw line. By far the best game of the season from the line for Auburn, this should provide a nice building block for the rest of the season. Granted, it's a lot different shooting free throws being up by double figures for most of the game against an inferior opponent, but this will hopefully give the guys some confidence.
With Colgate the only game this upcoming week, Auburn will get a nice game before heading into the Thanksgiving break. Look for the Tigers to build on Friday's win against CSUN and continue to improve on the offense.