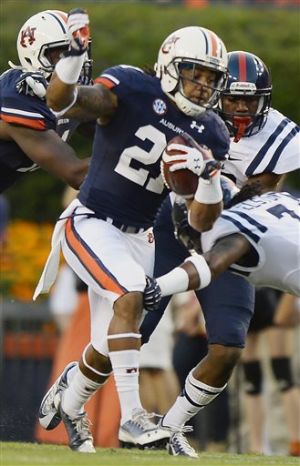 It really was in hand from the start, wasn't it? Sure, it got a little interesting there around the end, but even then it felt like Auburn had control of the game the whole way through. It started with a perfect offensive drive to go up 7, err.. 6-0 and ended with multiple perfect defensive stands to seal the win. It felt like Auburn vs. Ole Miss. It was Auburn vs. Ole Miss, as it should always be.
Nick Marshall is an athlete. We've known that. We know he has a cannon, and we know he has wheels. It wasn't until Saturday night that he showed us that he's riding on 24's.
Aside from one fumbled exchange that ended a drive deep in Rebel territory (that sounds Militaristic – and it was Military Appreciation Day!), the zone read was run perfectly almost all night. Yeah, it got a little tiresome watching it over and over in the 2nd half, but Malzahn admitted to going a little conservative. And without the two weird fumbles (the other by Artis-Payne), the game would have been put away early in the 3rd quarter. Nevertheless, whether it was self-induced or not, the offense went into a little bit of stall mode, which caused the defense to step up late one more time.
The Auburn defense leads the SEC in opponents' 3rd down conversion percentage SEC games in. Think about that. Had Auburn stopped a third down attempt in the last decade? Even the 2010 Auburn defense was awful at stopping 3rd downs. This team is the best in the SEC in SEC games. Ellis Johnson, everybody.
Not only that, but they have only given up 13 points in the 4th quarter through five games, all of those coming against arguably the two best teams they've played. They may give up lots of yards – LOTS of yards – but they hold teams to field goals or nothing most of the time. When they get bored with that, they just pick the ball off and run it back 78 yards like Robenson Therezie did.
I tweeted Saturday (follow me) that he goes by Cadillac, but nobody really calls him that because Auburn has already had pretty famous Cadillac. If he continues to be the most versatile player on Auburn's defense, we might at least call him something close. "Caddy" or "lac" maybe?
And while I'm talking about defense, I'd like to mention the dominant performance by the biggest recruit of the 2013 class. I'm off course talking about Robert NKemd….. oh wait, that's right. He didn't really do anything. I meant to say the true #1 national recruit of the 2013 class, the man-beast, Carl Lawson.
Lawson was in the back field all night. He wore out the more experienced Ole Miss offensive line and showed what we are going to see for the next two years. Yes, probably two.
I thought it was somewhat of a fitting coincidence that on the night that a former #55, Takeo Spikes, was in attendance and gave the team's pregame speech, that the new #55 showed out for the world to see. Lawson has already garnered Freshman and Defensive players of the week in just his 5th collegiate game, so we should expect more of that in the future.
As I said in my game preview, a 7-6 season in Freeze's first year and one year of good recruiting does not change anything about Ole Miss just yet. One terrible season by a fired coach that made a terrible hire does not change anything about Auburn.
Auburn is Auburn and Ole Miss is Ole Miss. Auburn should always beat Ole Miss in football, and if things keep trending the way they are, Ole Miss can't rise quick enough to change that.
It will be interesting to see how well their hype machine runs with a 3-2 record that will most likely be 3-4 in two weeks. My guess is that it will run as well as Auburn's 2012 Loeffler-led offense.
Auburn should be AT WORST 6-2 at the end of October. I want 7-1, but 6-2 will do. We'll see how it goes. Now it's time to rest a few guys in a game against a team that gave up 62 points to Samford. From then, it's on to College Station, but let's just enjoy the next two weeks while we can.