Texas A&M doesn't scare me. Watching them play Clemson, I know our defense can stand the test. The question is, does our offense have enough in it to overcome the Aggie defense. Does Auburn's offense have enough in them to get over the inevitable letdown that is the 2-3 drives at the beginning of the game and the first drive after half time the defense will fall apart on? Texas A&M wasn't much worse than Auburn's defense in 2018. I'd imagine a bit of a defensive battle in this one. Honestly, it may look a lot like the Oregon game.
This game, look for the last 2 weeks to pay off. To win this game, Auburn will have to lean on their identity that was hopefully established in the last 2 games. Auburn will have to stop Kellen Mond and Co. which shouldn't be too hard. Also, Auburn will have to win in a place they've never lost.
1. Kellen Mond
The Aggies signal caller was almost a Tiger. If you remember, it came down to Mond and Jarrett Stidham (who is from Texas). Some say that Stidham only went to Auburn because he knew Mond was going to A&M, but I don't believe it. Honestly, I'd take Stidham over Mond every day of the week. Mond, to me, isn't accurate when faced with pressure – which is all Kevin Steele's defense wants to do. Auburn will force Kellen Mond to beat them, which will require his line to hold up for 60 minutes against the best defensive line in college football.
Last season, Mond threw for 3,107 yards and 24 TDs with 9 INTs. So far in 2019, Mond has thrown for 878 yards and 7 TDS with 3 INTs. This is a bit skewed because his 2 best days were against Texas St. (barely a FBS team) and Lamar (not a FBS team) where he threw for 643 yards and 6 TDS with 2 INTs. Against Clemson, Mond had a passer rating of 107.44.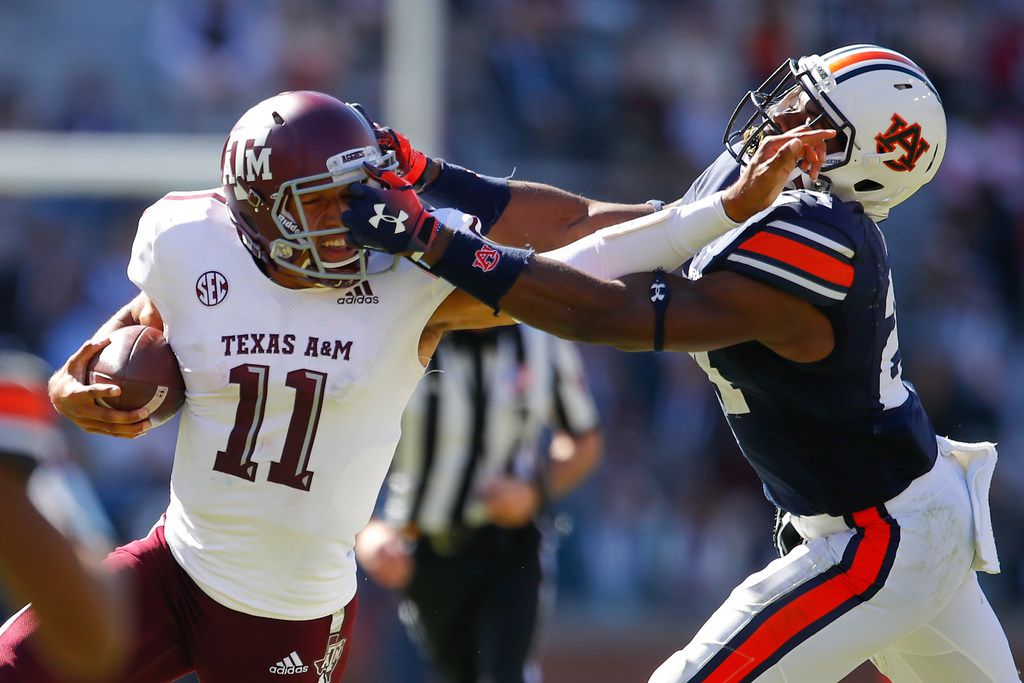 I'll say it again, put pressure on Mond, and he will miss his receivers. If Auburn's defense is able to do something they've not been too good at this season – force turnovers, the Tigers will walk away with this one.
2. Auburn @ Texas A&M
This series has an interesting history. The first time the Aggies and Tigers played was in 1911 in Dallas (0-16 Aggies win) followed by a match in the Cotton Bowl in 1986 (16-36 Aggies Win). Most records will say these two teams didn't meet again until 2012, but I don't recall Auburn playing that season. Either way, the series record is Auburn 4 wins and Texas A&M 5 wins. Auburn played in College Station in 2013, 2015, and 2017 – all victories by Auburn. Now, there is some idiot reading this saying "AUBURN EINSTIEN SAID AUBURN NEVER LOST IN COLLEGE STATION – HE JINXED US WERE GONNA LOSE". Don't be that person. That's not what I'm saying. The previous games have no bearing on the upcoming game. It is an interesting trend worth pointing out though, same with the fact that Auburn has won as many Iron Bowl games in Bryant Denny as Alabama has.
Texas A&M is known for its traditions. They have traditions for tradition sake. Here are their most famous traditions – Thank you to The Crunch Zone for this awesome list:
The 12th Man

As you know, 11 players are on the field for any given play during a football game.  Aggie Football fans refer to themselves as the '12th Man' symbolizing their support and impact of their presence during the game.   Texas A&M students stand for the entire game on their seat, the only exceptions are if a player is injured or when the band plays the 'Aggie War Hymn' or 'The Spirit of Aggieland'.

The tradition of the "12th Man" began at the Dixie Classic (known today as 'The Cotton Bowl') on January 2, 1922 vs. Centre College (Danville, KY).  A&M was the underdog and suffered so many injuries in the 1st half that Coach D.X. Bible summoned student E. King Gill from the stands, a current student who had left the football team to play basketball to suit up.   Though he didn't play, his readiness & willingness to participate symbolized the support all Aggies have for their team and has since fostered an environment of similar support for A&M fans everywhere.  Texas A&M went on to beat Centre 22-14.

Corps of Cadets

Military participation at A&M became voluntary in 1965, but throughout its history the Corp of Cadets are known as the "Keepers of the Spirit" and vigorously protect traditions at Texas A&M. The Corps of Cadets is the largest uniformed student body of any non-service academy institution and many become military officers.  Being in the Corp does not obligate its membership to the military but a high number of Cadets do enter service.  Many of the Traditions at Texas A&M revolve around the Corps of Cadets.


Yell Leaders

Texas A&M began as an all-male military school so there were no cheerleaders.  Instead, A&M adopted the tradition of 'Yell Leaders'.  These guys have developed a series of hand signals, known as 'pass backs' that tell the student section which 'Yell' or cheer is coming for the student section to chant in unison.   Once the signal is passed through the crowd the Leaders give the signal to 'hump it' where the crowd leans forward and places their hands on their knees to maximize the noise.  There are traditionally 5 'Yell Leaders' – 3 seniors and 2 juniors.

Starting in 1913 the corps would come together to practice the "Yells".  As a result A&M cheers are often quite overwhelming and specific due to their precision. Yell Leaders walk back and forth because one particularly famous Yell Leader "Peanut Owens" had feet that were too big to fit on the steps of the YMCA building where the corps would hold "Yell Practice".  He paced to keep his balance and other Yell Leaders adopted it.

Midnight Yell

The night before games (typically Fridays for Saturday games) Aggies gather in huge numbers at Kyle Field or a specified location for away/bowl games to practice yells.  There are also jokes and insults about the opponent.  Up to 50,000 people have shown up for the Midnight Yells for A&M home games.

Gig Em

Gig 'Em is the universal sign of approval for Aggies. It started at a Yell practice before a game vs. TCU in 1930 (The Horned Frogs).  The sign is a fist with a thumb extended up, meaning that they were going frog hunting.  Gig Em has extended throughout every day vernacular at A&M and can be applied as a sign of encouragement for other Aggies.
Honestly, one of the coolest things is that they have Trevor Lawrence as a live mascot.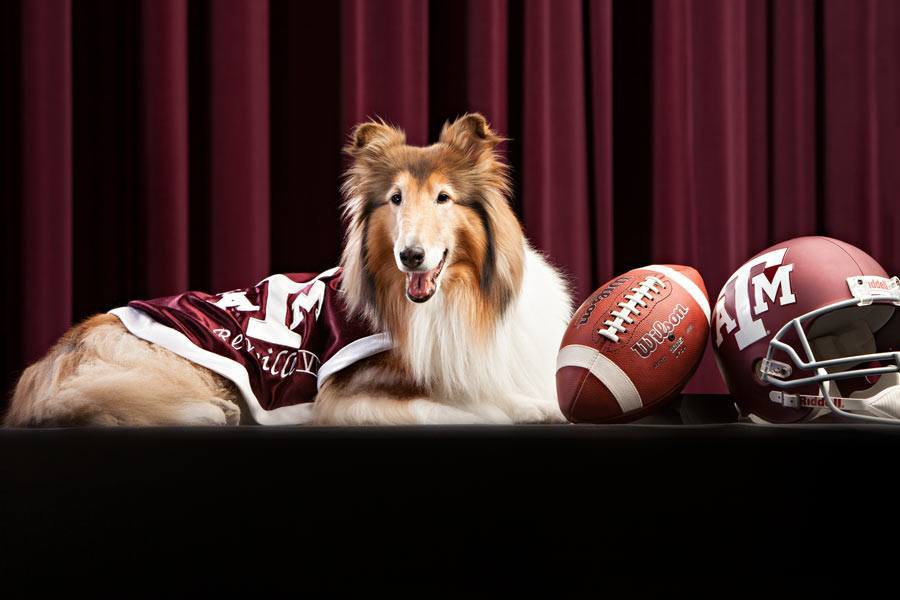 @AUBURNEINSTEIN's PREDICTION
Auburn has the talent to win this game. I don't know why Texas A&M is as hyped as they are, but everyone is expecting them to lose at least 4 games. Auburn is expected to lose some games too, but I think that the hardest part of Auburn's schedule is still ahead of them after the open week.
Also, I'm not sure why people think Jimbo is a good coach. Sure, someone will chime in that he won a National Championship, but so did Gene Chizik. When Gene left Auburn, the program wasn't in horrible shape. When Jimbo left A&M – they were in the middle of a dumpster fire that they won't get out of for a few more years minimum. This is all thanks to Jimbo – he saw the writing on the wall that they were going down so he bolted to A&M.
I think Auburn pressures Kellen Mond to force 2-3 interceptions and comes away in a slugfest 21-17.