Auburn lost on a heartbreaking last-second field goal to a top 10 team. The only good thing to come from the game, in my eyes, is the unintelligent dolts in the fan base that want to whine and moan about the state of the program, completely disregarding any context of this game or the career of the coaching staff. Obviously, I want Auburn to win every game, but the fact is, they aren't going to. The season is far from over, Auburn still has everything to play for that they did before the game. Honestly, Auburn could still lose to Alabama and have a bye week into the College Football Playoffs.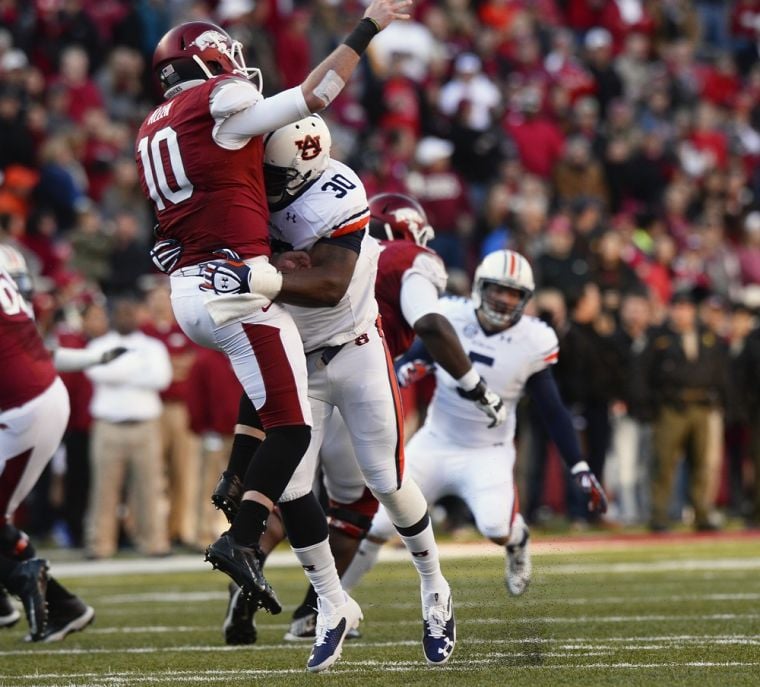 The season turns now to Arkansas. Gone is Bret Beliema. Gone is the physical, ground focused, grind it out offense, and in its place is a Gus Malzahn Lite Offense. Chad Morris, Arkansas's first year Head Coach, literally flew to Fayetteville when Malzahn was up there to get notes and apply it to his high school team. Here are 5 points to the game:
1.  How mad is Auburn?
Auburn was made uncomfortable against LSU. The defensive line, that is used to pushing people around, couldn't get a solid pass rush. Auburn's offensive line was hit or miss. They had very good plays and they had very bad plays. Take the good with the bad, Auburn lost on a last-second field goal. That stings.
It stings the fans, but I guarantee you that it stings the players and the coaches more. Auburn has a home game against a football team that doesn't have an identity on offense or defense. Honestly, it looked like Arkansas gave up against North Texas. Auburn needs to play angry, angrier than Kevin Steele was before the Washington game. Auburn still has plenty to play for, it begins against Arkansas and, honestly, I feel bad for the Hawgs.
2. Arkansas probably won't score.
Kevin Steele blamed himself for the loss. He didn't beat himself on penalties. He said, "It's my job to make sure people don't score 22 points in Jordan Hare Stadium." Kevin Steele has been the model of consistency in his time at Auburn. Betting on him to be successful is to be successful. He's going to have his defense ready. Look for this game to be similar to the Alabama State game. the only reason that Alabama State scored in that game was due to problems caused by the offense. It's possible to say that if the offense cleans their act up, the defense will pitch a shutout.
3. How well coached is Arkansas?
PLAY TO THE WHISTLE Honestly, I think the first Auburn punt returner gets lit up out of principle from the Arkansas coverage team.
4. Auburn is still a good team.
We knew coming into the season that Auburn had a tough schedule. Arguably the toughest schedule in the nation. There is a very good chance that Auburn will play three playoff teams for the second year in a row. Last season, Auburn lost to Clemson in week 2, LSU in the middle of the season, AND STILL had a chance to be in the College Football Playoffs. Auburn has the same coaches and more depth than they did last season. Jarrett Stidham had a bad game, but is still the best quarterback in the conference.
5. Recent success in the series
Gus hates Arkansas. Gus lost to Arkansas once, in 2015, in quadruple overtime. Since then, Auburn has outscored Arkansas 108-20. Gus isn't shy to run the score up on his old employer. The question is, does Gus like Chad Morris enough to take it easy on him? Does Gus like Chad Morris more than he hates Arkansas? Quick answer: No.
@AuburnEinstein's PREDICTION
Gus will run the score up on Arkansas. Arkansas has no identity. They have no QB to run their system. They have no line to protect their QB. Their defense is coached by John Chavis, who coached Texas A&M last year. Gus runs the score up which is good for me because I bet 2 co-workers lunch that Auburn would beat Arkansas by 25. Auburn starts fast, goes fast in the middle, and finishes fast. Auburn wins 56-0.