The original, and now less exciting National Signing Day is over (and so is the 2018 National Signing Running Post), and it was just as the last few. Auburn got mostly what they wanted, finished in the top 12, and will go about their business. Auburn signed 15 in the early signing period and 9 yesterday. For those not good at math, that makes 24. For reference, they signed 23 total last year.
Just yesterday, in terms of a positional breakdown, Auburn signed 2 WR, 2 DL, 1 ATH, 1 Buck, 1 RB, 1 DB, and 1 P. That brings the total numbers to 4 WR, 3 LB, 4 DB, 2 OL, 3 DL, 1 QB, 2 RB, 1 DE, 2 ATH, 1 Buck, and 1 P.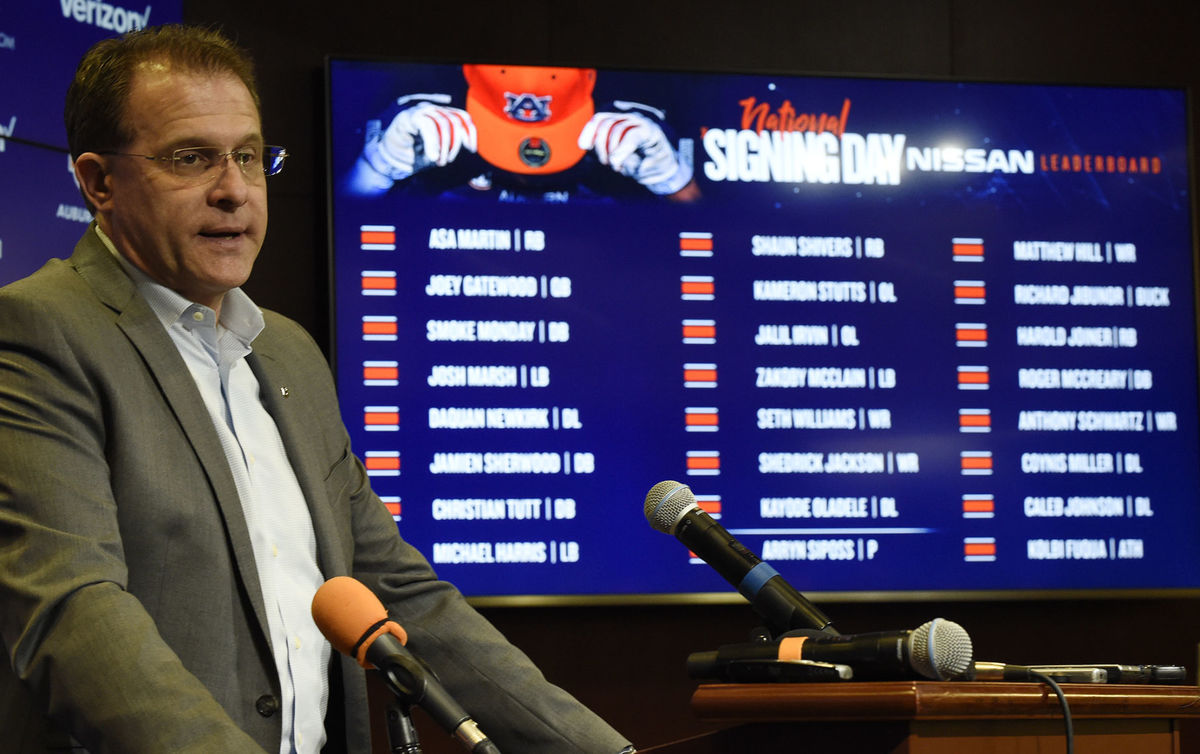 When all is said and done, Auburn's class is ranked as so:
That's what you would call a consensus #12 class, which would be Gus Malzahn's lowest overall at Auburn, but it's also his first Top 3 class in the SEC at Auburn. I don't really care if Penn State or Miami or teams like that are up there. It's all about winning the SEC (or not if you're Alabama).
But without further adieu, here are the gentleman who have agreed to spend their college football career at Auburn University. We'll start with the 9 that signed today.
---
Signing Day Signees
---
Kolbi Fuqua
3-star ATH, 6-1, 210; Cordova HS; Cordova, AL
Versatile athlete who played both wide receiver and defensive back for Coach Jimmy Gay at Cordova High … selected for Alabama-Mississippi All-Star Game … ASWA first team all-state as a sophomore, junior and senior … ESPN, Rivals, 247Sports three star … also a basketball letterman
Matthew Hill
4-star WR, 6-2, 185; Brookwood HS; Snellville, GA
Explosive wide receiver who led the Brookwood Broncos to an 11-3 record and the Georgia state Class 7A final four … also played strong safety for Coach Phillip Jones … Under Armour All-American Game … Atlanta Journal-Constitution Super 11 … GSWA all-state and Gwinnett Daily Post offensive player of the year … Rivals, 247Sports, ESPN four star … Rivals No. 7 athlete nationally … Scout No. 14 overall prospect in Georgia … also a track and field letterman
Richard Jibunor
4-star Buck, 6-3, 215; Athens Christian School; Athens, GA
Defensive prospect who played on both sides of the football for Coach Chris Williams at Athens Christian High … first team GSWA Class A all-state … terrific athlete with great work habits … ESPN, Rivals, 247Sports four star … native of Nigeria … also a track and field and basketball letterman
Caleb Johnson
3-star DL, 6-3, 260; Northside HS; Columbus, GA
Productive talent who recorded 104 tackles, 16 TFL, eight sacks, two blocked kicks and three defensive touchdowns as a senior for Coach Morgan Ingram's Northside Patriots … GSWA Class 4A state co-defensive player of the year … Columbus Ledger-Enquirer All-Bi-City big school defensive player of the year … first team all-state as a junior and senior … Rivals, ESPN, 247Sports three star … also a baseball letterman
Harold Joiner
4-star RB, 6-3, 210; Mountain Brook HS; Birmingham, AL
Versatile offensive threat from Birmingham's Mountain Brook High … scored 16 touchdowns as a senior for Coach Chris Yeager … U.S. Army All-American Bowl … Alabama-Mississippi All-Star Game … also a basketball letterman … Rivals, 247Sports four star … 247Sports' No. 4-ranked player in Alabama
Roger McCreary
3-star DB, 5-11, 180; Williamson HS; Mobile, AL
Versatile cornerback prospect with unlimited production … eight interceptions and more than 100 tackles as a senior for Coach Dedrick Sumpter at Williamson High … also had more than 2,100 offensive yards … first team Class 5A all-state … Rivals, 247Sports three star … also a basketball letterman
Coynis Miller Jr.
4-star DL, 6-2, 300; Jackson-Olin HS; Birmingham, AL
Imposing defensive tackle prospect from Jackson-Olin High in Birmingham … high school coach was Tim Vakakes … Under Armour All-American Game … Alabama-Mississippi All-Star Game … Rivals, 247Sports, ESPN four star … No. 12 defensive tackle nationally by Rivals, No. 13 by 247Sports, No. 14 by ESPN … also plays basketball
Anthony Schwartz
4-star WR, 6-0, 180; American Heritage HS; Fort Lauderdale, FL
Dynamic deep-play receiver … helped the American Heritage Patriots to back-to-back Florida Class 5A state titles under Coach Patrick Surtain … Under Armour All-American Game … Rivals, 247Sports, ESPN four star … No. 10 WR nationally by ESPN, No. 28 by 247Sports, No. 31 by Rivals … No. 18 prospect in Florida according to ESPN and No. 25 by 247Sports … Broward County track and field athlete of the year as a junior and an all-USA sprinter … set a world youth record with a 10.15 100m in the Florida Relays
Arryn Siposs
2-star P, 6-2, 200; Melbourne, Australia
Punter who trained with Pro Kick Australia and Coach Nathan Chapman … played five seasons of professional soccer with St. Kilda in the Australian Football League, scoring 22 career goals … graduate of Hallam Senior Secondary College in Hallam, Victoria
---
Early Signing Day Signees
---
Joey Gatewood
4-star QB, 6-5, 230; Bartram Trail HS; Jacksonville, Fla.
Talented quarterback who will enroll in January … led the Bartram Trail Bears to the Florida state Class 7A finals … passed for 1,468 yards and 12 TD and rushed for 1,100 yards with 16 scores as a senior … high school coach was Darrell Sutherland … Elite 11 finalist … Under Armour All-American Game … ESPN, Rivals, 247Sports four star … also a sprinter in track and field
Michael Harris
4-star LB, 6-2, 215; Tucker HS; Tucker, Ga.
Explosive linebacker prospect who led the Tucker Tigers to the Class 6A state semifinals … high school coach was Bryan Lamar … first team all-state as a junior and Clayton News-Daily defensive player of year … ESPN, Rivals, 247Sports four star … 15th-ranked OLB nationally according to ESPN
Jalil Irvin
4-star OL, 6-3, 300; Stephenson HS; Stone Mountain, Ga.
Outstanding offensive line prospect … played for Coach Ron Gartrell at Stephenson High … helped the Panthers to an 8-4 record and the Georgia Class 6A state playoffs … Offense-Defense All-American Bowl … Rivals and 247Sports four star … No. 5-rated center nationally according to ESPN
Asa Martin
4-star RB, 6-0, 205; Austin HS; Decatur, Ala.
Productive running back who will enroll in January … rushed for 2,228 yards and 33 TD as a senior … Alabama state Gatorade Player of the Year for Coach Jeremy Perkins at Austin High … led the Black Bears to the Class 6A quarterfinals … Alabama-Mississippi All-Star Game … ESPN, Rivals, 247Sports four star … No. 9-rated RB nationally by 247Sports … also a track and field letterman
Zakoby McClain
4-star LB, 6-0, 205; Valdosta HS; Valdosta, Ga.
Physical linebacker prospect … high school coach at Valdosta High was Alan Rodemaker … 123 tackles, 20 TFL as a junior, leading the Wildcats to a state title … nominated for U.S. Army All-American Bowl … ESPN, Rivals, 247Sports four star … ranked No. 12 outside linebacker nationally by ESPN
Smoke Monday
4-star DB, 6-3, 190; Carver HS; Atlanta, Ga.
Physical safety who plans to enroll in January … led the Carver High Panthers to the Georgia state Class 5A semifinals … high school coach was Darren Myles … Under Armour All-American Game … ESPN, Rivals, 247Sports four star … No. 8-ranked safety according to ESPN and No. 9 athlete nationally by 247Sports … also a track and field letterman … given name is Quindarious
Kayode Oladele
4-star DE, 6-5, 250; Champagnat Catholic School; Miami, Fla.
Relative newcomer to American football … attended Champagnat Catholic School in Miami … coach was Dennis Marroquin … ESPN, Rivals, 247Sports four star … ESPN's No. 19-defensive end prospect nationally … native of Nigeria
Jamien Sherwood
4-star DB, 6-2, 200; Jensen Beach HS; Jensen Beach, Fla.
Terrific safety prospect who plans to enroll in January … high school coach was Tim Caffey … Offense-Defense All-American Bowl … nominated for U.S. Army All-American Bowl … all-state and all-area … ESPN, Rivals, 247Sports four star … also a track and field letterman in the sprints
Shaun Shivers
4-star Ath, 5-7, 175; Chaminade-Madonna Prep; Fort Lauderdale, Fla.
Electric all-purpose back from Chaminade-Madonna Prep … led the Lions to the Florida Class 3A state championships … high school coach was Dameon Jones … rushed for more than 6,000 yards in his prep career … all-Broward defensive player of year … ESPN, Rivals, 247Sports four star … state runner-up in the 100 meter dash
Christian Tutt
4-star DB, 5-11, 195; Thomson HS; Thomson, Ga.
Outstanding cornerback prospect for Coach Rob Ridings at Thomson High … led the Thomson Bulldogs to a 10-2 record and the semifinals of the Georgia 4A state playoffs … compiled 51 tackles and had 522 yards of total offense with 11 touchdowns as a senior … U.S. Army All-American Bowl … ESPN, Rivals, 247Sports four star … nephew of former NFL linebacker Danny Verdun Wheeler
Seth Williams
4-star WR, 6-3, 215; Bryant HS; Cottondale, Ala.
Versatile contributor at receiver and safety who helped Bryant High to an Alabama Class 6A state playoff berth … high school coach was Eldrick Hill … Alabama-Mississippi All-Star Game … ESPN, Rivals, 247Sports four star … fifth-rated player in Alabama according to 247Sports … ranked as the No. 10 athlete nationally by ESPN …also an all-state honoree in basketball and a state medalist in the long jump and high jump
Shedrick Jackson
3-star WR, 6-1, 185; Hoover HS; Birmingham, Ala.
Wide receiver who will enroll in January … helped Hoover Buccaneers win Alabama state Class 7A championship … high school coach was Josh Niblett … Alabama-Mississippi All-Star Game … ESPN, Rivals, 247Sports three star … nephew of Auburn great Bo Jackson
Josh Marsh
3-star LB, 6-2, 215; Decatur HS; Decatur, Ala.
Speedy linebacker with great production … high school coach was Jere Adcock … led the state of Alabama as a junior with 206 tackles … nominated for Alabama-Mississippi All-Star Game … ESPN, Rivals, 247Sports three star … also a track and field letterman … active in mission work
Daquan Newkirk
3-star DL, 6-3, 280; Mississippi Gulf Coast CC; The First Academy, Orlando, Fla.
Nation's top-ranked junior college defensive end prospect who will be a January enrollee … recorded 48 tackles, 9 TFL at Mississippi Gulf Coast Community College last fall … ESPN, Rivals, 247Sports three star … nationally ranked as a Top 10 overall JUCO prospect by ESPN and  247Sports … played at The First Academy in Orlando for Coach Leroy Kinard … Class 3A all-state … Florida Athletic Coaches Association all-district at running back and defensive line … Blue-Grey All-America Game
Kameron Stutts
3-star OL, 6-4, 330; Brooks HS; Killen, Ala.
Agile offensive line prospect … helped the Brooks Lions to the Alabama state Class 5A playoffs … high school coach was Brad Black … Alabama-Mississippi All-Star Game … ESPN, Rivals, 247Sports three star