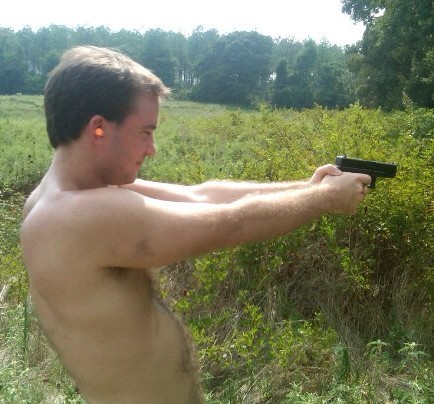 Rick Muscles (@rickmuscles) is an Alabama fan and recovering Ole Miss fan boy, who is making his 9th appearance on the Other Sideline series. He claims it's his 17th. He has written for EDSBS, Friends of the Program, and Roll Bama Roll, and does a podcast called Ham Radio. In real life, he's married to an Auburn grad, loves to lift weights, and see rock concerts.

1. What is an Alabama fan's first thoughts of Auburn football right now?
My first thought is Auburn is a good team. They have good line play, a good QB and a good running back. This is the first conventionally good football team Auburn has had since Cam Newton. This isn't an Auburn team that's caught lighting in the bottle, it's a good football team.
2. Has Alabama played anybody?
It's not Bama's fault that Mercedes Benz stadium's turf wasn't ready for play! Week 1 Bama lost two guys for the season and it's even worse that FSU lost their QB. It'd be nice if Florida State was a top 10 team right now for sure but I don't think anybody could foresee the Noles imploding like the Georgia Dome.
3. Do you own any jeans with holes in them? Were they self-made holes, and if not, would you wear them around Coach Saban?
I have many jeans with holes in them but they're the honest, hard earned holes of a Bama sidewalk fan.
4. Which positional matchup are you most interested in watching?

There are so many angles to this game and the pundits will tell you this game is about the line but I think this game is about QBs. I'd sell this game as Stidham vs Hurts if I ran CBS. If Stidham can spread the field with a few deep balls then Kerryon can run all day. However, can Auburn win if Hurts can gobble up 8 yards on every run? We shall see.
5. Who are two Tiders that aren't big names that Auburn fans should look out for?
Joshua Jacobs is the most exciting running back on the Tide. He's been banged up this year but when he gets the ball, fun things happen.
Dylan Moses, an all world linebacker recruit, is making his second start at middle linebacker. Gus and Chip will target him in this game and test his mettle. He absolutely must have a big game for the Tide. Hope he's watching film.
6. Are there any guys on the current Auburn roster that scare you and why?
Auburn's whole offensive line. It's possible they could steam roll Bama's front 7. The Mississippi State game exposed Bama and Tide have to improve.
7. On a scale of 1-10, with 10 being Hitler, where would you put these Auburn personalities on your hate scale (assuming you really hate Hitler):
– Gus Malzahn: 1
– Jay Jacobs: 10 (I"m not a fan of that softball thing.)
– Cam Newton: 1
– Chris Davis: 1
– War Blogle: 1
I have nothing but respect for everyone of these Auburn men! You can't have a great rivalry without respect!
8. What's your prediction/analysis of the game?
I think Auburn wins by two with a walk off safety. It's going to be a dark day for the Tide as Bama's just too banged up.
9. Where will Auburn and Alabama end up this season?
Auburn will beat UGA but will get left out of the college football playoff due to two losses. Alabama will win the Capital One bowl against Michigan. It will be a long, cold winter in Alabama.
10. What makes you respect Auburn the most?
The Fans! There's no fan base that is more welcoming, kind or friendly than the Auburn Family!