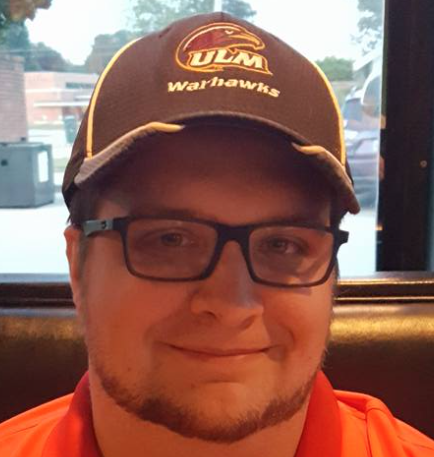 Keifer Price (@WarHawkReport) is the publisher for WarhawkReport.com, part of the Rivals network. He is a fan-turned-journalist that calls things the way they are for ULM athletics, while trying to keep fans from thinking the sky is falling (harder than you think). This all sounds very familiar…

1. What's a Monroe fan's thoughts on Auburn football right now?
They think Auburn is pretty good, but that loss to LSU made a lot of people hesitate. Beat Bama and that changes. But really, how did they manage to lose to THAT LSU team?
2. I hear the Warhawks have an offense. What makes it go?
The big nasties up front. That O-Line opens up some big holes for the RBs to run through and gives QB Caleb Evans some time to throw. Evans also makes some crazy escapes and finds guys downfield to keep drives going.
3. Who are you two favorite Auburn Tigers of all time and why?
As much fun as Cam Newton was to watch in 2011, Nick Fairley's domination as a D-lineman was a blast to watch, so he's #1 for me. I'm going to go with Tre Mason as my second. He always looked ready to bust a big play.
4. Which two players should Auburn fans look out for and why?
RB Derrick Gore and starting RT Eastwood Thomas are both Alabama transfers, so probably those two.
On a serious note, WR Marcus Green may be the Sun Belt Offensive Player of the Year. He also has three kickoff returns for a touchdown on the season and can make a big play anytime. Gore has also been a stud at starting RB this year.
5. In which positional matchup do you see the Warhawks excelling against Auburn?
ULM's O-Line is their best group on the field. It'll be fun to watch that battle in the trenches. "Excel" may be a strong word, but I doubt they get dominated.
6. Where will UL-Monroe struggle against the Tigers?
Defensive…everything. As many as five true freshmen will play on that side of the ball, and it's been a steep learning curve for those guys. No telling how big their eyes will get on the Plains.
7. What are your thoughts on Auburn's performances this season?
They've over-performed, to me. I thought they would crumble after the LSU collapse but they've bounced back nicely and have a shot at the playoff. That defense is the real deal and the offense has developed more than I expected.
8. What's your prediction/analysis of the game?
It's going to be closer than expected if ULM handles the pressure of the big game well. National TV in the biggest environment most of these guys have played in. ULM will keep it close for the first half but Auburn's depth should come out on top in the end.
Warhawks cover the spread, but these two teams absolutely destroy the Over.
54-31 Auburn. 
9. Where will Auburn and UL-Monroe end the season?
Auburn wins their last two before losing a rematch to Georgia in SEC title game and end up in a NY6 bowl.
ULM beats Arkansas State at home then upsets Florida State to reach 6 wins and make their second bowl game in school history.
10. ULM will always be my go-to when making fun of Alabama. For that, I thank you.
Still the last non-SEC school to beat Bama in the regular season. Don't forget, though, that the Warhawks took Auburn to OT in 2012.
2007…Alabama
2012…Arkansas
2017…Auburn??? Why not.