Well, the regular season didn't go to well. It was probably my worst ever. I'm not really sure why. Maybe I took too many chances. But as Steve Harvey says, you have to take a leap. It's time to make this right.
Bowls: 6-4 (60.0%)
Regular Season: 94-45 (67.6%)
Overall: 100-49 (67.1%)
Bowls are always tough. The teams have weeks off. They spend the week leading up to the game partying and attending events. It's hard to see who is going to show up. It's never harder than these first games that feature many, many 6-6 teams. But enough whining, let's do this.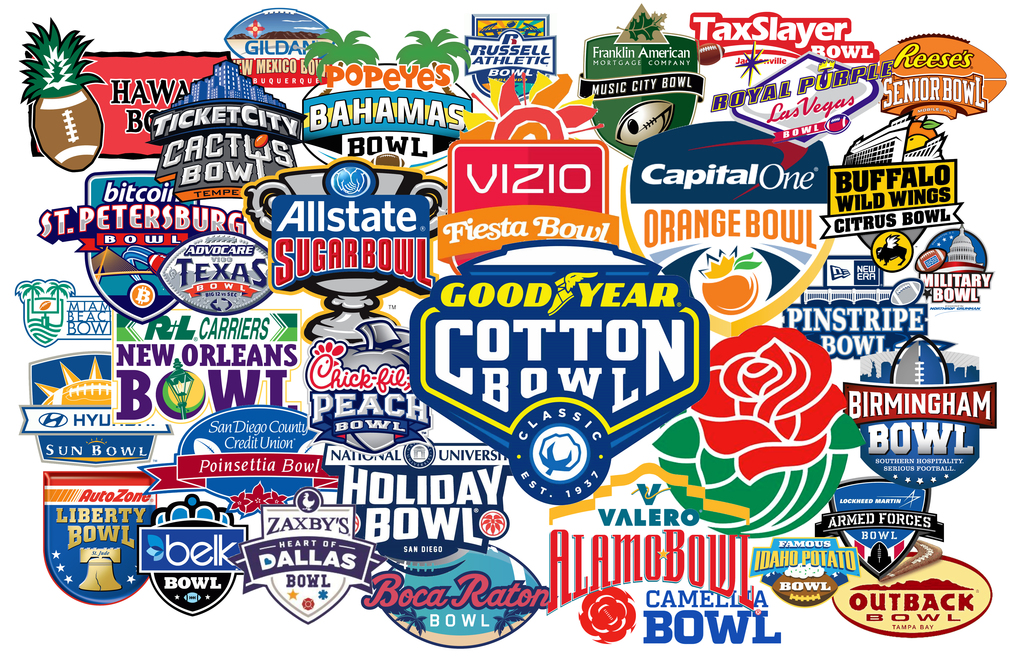 12/17
Air Force Reserve Celebration Bowl (11 a.m. ABC)
North Carolina Central vs. Grambling – This is actually a pretty good matchup to start off the bowl season. North Carolina Central won the MEAC and Grambling won the SWAC. Grambling was one loss (against Arizona) from a perfect season. Central had two losses, and this is their first ever bowl game. Given Grambling's tradition, I'm going to go with them.
Grambling 34, North Carolina Central 17
Grambling 10, North Carolina Central 9 – SUCCESS!
Gildan New Mexico Bowl (1 p.m. ESPN)
New Mexico vs. UTSA – I can't figure out if it's cool to always play your bowl game in your home stadium or not. I'd say no. UTSA is making their first bowl appearance, but it's basically a road game with a few gifts.
New Mexico 28, UTSA 17
New Mexico 23, UTSA 20 – SUCCESS!
Las Vegas Bowl presented by Geico (2:30 p.m. ABC)
Houston vs. San Diego State – Houston was ranked in the top 10 this season, but now has an interim coach. San Diego State was ranked at one point, but lost to South Alabama (Mississippi State fans rejoice). Houston still has the talent edge even without a true leader.
Houston 48, San Diego State 20
San Diego State 34, Houston 10 – FAILURE
Raycom Media Camellia Bowl (4:30 p.m. ESPN)
Appalachian State vs. Toledo – 334 stand up! App State makes their second straight appearance in the Gump and is coming off a 9-win year. Toledo is adding another mid-major bowl to their resume, but it may be weird for them to play a game on a Saturday. These are both good teams at their level. I'll toss a coin.
Toledo 21, Appalachian State 20
Appalachian State 31, Toledo 28 – FAILURE
AutoNation Cure Bowl (4:30 p.m. CBSSN)
UCF at Arkansas State – Arkansas State started the season 0-4 and then ended the season with a 7-1 run. UCF had an up and down year, but had two very close losses to good teams like Houston and Temple. But the Red Wolves have Trooper Taylor.
Arkansas State 41, UCF 31
Arkansas State 31, UCF 13 – SUCCESS!
R+L Carriers New Orleans Bowl (8 p.m. ESPN)
Southern Miss vs. Louisiana-Lafayette – Both of these teams are 6-6 and it got them a trip to Bourbon Street. Let's just hope they don't mess it up before Auburn gets there a few weeks later. Southern Miss beat Kentucky in Week 1 and that's pretty much the best thing either one of these teams did.
Southern Miss 27, Louisiana- Lafayette 23
Southern Miss 28, Louisiana- Lafayette 21 – SUCCESS!
12/19
Miami Beach Bowl (1:30 p.m. ESPN)
Central Michigan vs. Tulsa – The Chippewas are 6-6. Tulsa is 9-3 and Gus Malzahn once coached there. That's all I need to know.
Tulsa 34, Central Michigan 14
Tulsa 55, Central Michigan 10 – SUCCESS!
12/20
Boca Raton Bowl (6 p.m. ESPN)
Memphis vs. Western Kentucky – Lane Kiffin is soon to be a resident of Boca Raton, so you female Memphis and Western Kentucky fans beware! Freshwater is on the loose! But for real, Western Kentucky is good. Memphis is just aight.
Western Kentucky 38, Memphis 21
Western Kentucky 51, Memphis 31 – SUCCESS!
12/21
San Diego County Credit Union Poinsettia Bowl (8 p.m. ESPN)
BYU vs. Wyoming – The longest bowl name in history returns! Seriously, how much money does that credit union have? BYU had a typical BYU year. Wyoming sorta came out of nowhere. Pat Dye coached there, so I'll go with the Cowboys.
Wyoming 23, BYU 21
BYU 24, Wyoming 21 – FAILURE
12/22
Famous Idaho Potato Bowl (6 p.m. ESPN)
Idaho vs. Colorado State – Anybody else hungry? Writing this at lunch time was a bad choice. And Idaho is in the game? You can't make this up. They have to be tired of potatoes, though. You think they call it a vegetable up there? The Vandals get to play on the blue field, and if I had to guess, they probably hate that. The Rams will capitalize.
Colorado State 35, Idaho 10
Idaho 61, Colorado State 50 – FAILURE 
Now that I've picked the bowls, you should go join the bowl pick'em. Just make sure you have them in prior to each game, but go ahead and do them all so you don't have to worry about it. There's prizes and stuff.