Congrats to chamb018 for taking Week 13 of the 2015 War Blogle Pick 'em and winning a War Blogle sticker and button and whatever else I want to get out of the mancave. Want any of that? Send me $3 and your address.
If you're like me and don't see your name, go check out the scoresheet (select Week 13).

And with that, we have concluded the regular season for real conferences in college football. That means we have our full season winner, so congrats to roderickconnell for totally being that guy. He was won something big from the mancave. I'll decide what that is soon. Probably some Auburn-centric art or something. I'll let you know so you'll know what you didn't win this season.
If you're like me and don't see your name (I finished 99th), go check out the overall scoresheet.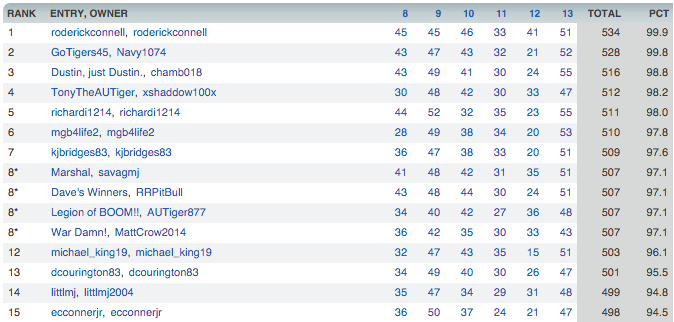 Thanks to everyone of you that played. This was the biggest turnout of the pick 'em yet. If you're upset about your results, the Bowl Pick 'em will be up soon. Then we'll do the March Madness one after that. Always a contest on the 'Blogle. For more contests, follow me on Instagram.