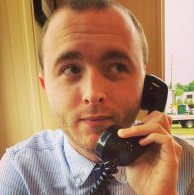 Zack White is the chief editor and technical lead for CockyNation.com (@CockyNation). He enjoys long walks on the beach, a juicy Cecil's cheeseburger, and Gamecock football. Starting in radio with co-editor Austin Faulkner at JSU's campus radio station, Zack has covered JSU sports since 2011 at various media outlets. Zack reports on JSU football, the Marching Southerners, and administers the geeky underbelly of Cocky Nation. He works in IT by day.


1. What are the common JSU fan's thoughts on Auburn football?
Being an FCS school in the heart of SEC country, 99% of JSU fans are also fans of at least one SEC program. I'm a lifelong Bammer that married into an Auburn family, so I've been following Auburn closely since the Malzahn era began. Most fans have a ton of respect for Auburn's football program and the university in general. The non-delusional fans know this game is about Auburn preparing for their SEC schedule and JSU getting a paycheck and exposure.
2. What's the vibe like in Jacksonville for the 2015 season?
The experts and casual fans alike know we have something special at JSU with the current team. The previous graduating seniors were a part of the team that upset Ole Miss a few years back, and the seniors now are the first recruiting class after that win. JSU has a former Rush Propst protégé coaching the team in John Grass, a local guy that's down to earth but incredibly smart in strategy and recruiting.
Since the departure of Jack Crowe (yes, the same man that coached Bo Jackson), Jacksonville State has gone from an occasional conference champion to a FCS national title contender overnight. In the three years John Grass has been a part of the coaching staff (one as OC under now UAB coach Bill Clark), Jacksonville State has reached the playoffs every year. The Gamecocks went undefeated last year in the Ohio Valley Conference, and they're the favorite to win it again this year. The team had a deep playoff run last year and have a goal of making it to the title game.
3. Name two Gamecocks that Auburn fans will need to look out for.
On offense, we have a rare talent in running back Troymaine Pope out of Anniston. He's a senior with great speed and uncanny strength for his size. He was a big time recruit that went under Alabama and Auburn's radar (a common factor with many of the guys on the team). He shares carries with other backs, including former Kentucky RB Josh Clemons, but he's the bell cow of the Gamecock offense.
On defense, a familiar face to the Tigers is our greatest threat to opposing offenses – defensive lineman Devaunte Sigler. After leaving Auburn, he's had tremendous success under defensive coordinator David Blackwell. He was the conference defensive player of the year in 2014, and he's a preseason All-American this year.
4. Where do you see each team having an advantage over there other?
Auburn has a huge advantage in Duke Williams. JSU has some great defensive backs, but they struggled against big, tall receivers in the playoffs last year. If Malzahn was smart (which he is), he would make attacking our secondary his top priority.
I'll be honest, the only advantage JSU has against Auburn is being a relative unknown. We have played in a few televised games in the past few years, but there's very little public game film on the Gamecocks. If fans want a preview of what they can expect on Saturday, they can view last year's playoff loss to Sam Houston State here. Almost all of the players are back this year from last year's team.
5. Most UAB graduates are Alabama fans. What are most JSU fans?
JSU fans are split primarily between Alabama, Auburn, and Georgia (in that order). Settled in East Alabama, most JSU alumni are from the surrounding counties between Birmingham and Atlanta.
6. Who are your two favorite Auburn Tigers of all time and why?
Bo Jackson was an incredible running back. After going back and watching his film, it's understandable why he has such a large following even twenty-five years after he took off the pads.
And as a lifelong JSU fan, my other favorite is Jack Crowe because of what he did for our program. Prior to his arrival, Jacksonville State was still the "new kid on the block" in the FCS. We made an ill-advised move up from D-II after wining the national championship in 1992, and we struggled to compete at the Division I level until he came to Jacksonville. He laid the foundation for our current success, and even though most fans won't admit it, we wouldn't be where we are now without him.
7. How many Gamecock fans do you see making the trip to Auburn?
JSU fans travel very well for being a school with less than 10,000 students. We have a large following for our internationally known marching band, the Marching Southerners. While that sounds corny, this is a legitimate part of the university's identity and public image. They are so well-known, Queen Elizabeth chose them to lead her Diamond Jubilee (50th anniversary as the monarch of England) parade a few years ago, and our staff includes some of the members of that year's band.
With that said, the football team has a big following as well, and JSU has sold all 3,000 of its tickets for the game. Expect a lot of red in the stands on Saturday.
8. What's your analysis and prediction for the game?
Similar to previous games against SEC opponents, JSU will put up a good fight in the first half, but depth will become an issue after halftime. Last year, Michigan State exploited our secondary's aggressive nature and scored early and often. I don't see Auburn passing as much as previous opponents, but the Jeremy Johnson hype will likely grow after this week is over.
With that said, Jacksonville State has a great offense and one of the better defenses in the FCS. Auburn wins 45-20.
9. Where do you see Auburn and JSU ending up this season?
For Jacksonville State, the sky is the limit. After beating nationally-ranked Chattanooga on the road (pretty handily despite the score), the national FCS news sources have JSU making another deep run in the playoffs this year as long as we get through this weekend without any major injuries.
Anything less than getting to Atlanta would be a disappoint for Auburn.
10. I am from the same hometown as former Gamecock Caleb Lawrence. That sure was a big belly, huh?
The biggest. #FearTheBELLY