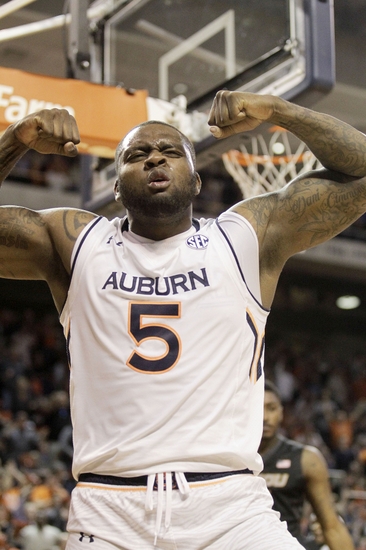 As has become customary around the two week point prior to football, the SEC has released the men's basketball schedules for their 14 member institutions. We've known Auburn's non-conference opponents for a little while now, but now we know just exactly what faces Auburn after the new year. Let's take a look.
Fri. Oct. 30 – Brevard College (exh.), TBA – I can honestly say I've never heard of Brevard College, and that doesn't really happen that often. Apparently they are in North Carolina?
Thur. Nov. 5 – Univ. of Indianapolis (exh.), TBA – I guess I should've assumed Indianapolis probably had a college, but I had never heard of them either.
Fri. Nov. 13 – UAB, TBA – Auburn's SEC Championship season begins with the state team that people love to love. This will be a huge boost if Auburn can knock off the Blazers… if Alabama lets them play this game. This is the night before the football team hosts Georgia, so that could be fun.
Tue. Nov. 17 – Colorado (ESPN), 2 pm – Auburn had to travel to Boulder last season to play the Buffaloes at midnight as part of ESPN's 24 hours of basketball thing. Now Colorado returns the favor, but gets to play at 2 pm on a Tuesday when half the students will be in class and all the adults will be at work.
Fri. Nov. 20 – Georgia Southern, TBA – A nice little out-of-conference matchup against a team you've heard of, and this one is the night before football hosts Idaho.
Fri. Nov. 27 – Northwestern State, TBA – The Demons beat Auburn in Tony Barbee's final year on the Plains by a score of 110-92. Auburn needs to fix that. This one is the night before the Iron Bowl. It should be huge.
Wed. Dec. 2 – at Coastal Carolina, TBA – Bad is having to travel to Coastal Carolina (Cliff Ellis or not). Worse is this being a revenge game because the Chanticleers beat Auburn last year.
Sat. Dec. 12 – at Middle Tennessee State, TBA – Auburn's second road game is not actually at MTSU. This one is actually being played in Bridgestone Arena in downtown Nashville. That's where they won a few games in the SEC Tournament last season.
Tue. Dec. 15 – Mercer, TBA – Mercer beat Duke in the NCAA Tournament a few years back, but meh…
Sat. Dec. 19 – at Xavier, TBA – One of the biggest wins of last season came against the eventual Elite 8 Musketeers. They might not welcome Auburn too nicely in Cincinnati, but the big white guy in the Rec Specs did graduate.
Diamond Head Classic (Honolulu, Hawaii
Tue. Dec. 22 New Mexico (ESPNU), 1:30 pm
Wed. Dec. 23 BYU/Harvard (ESPNU), 1:30/3:30 pm
Fri. Dec. 25 Oklahoma/Northern Iowa/Hawaii/Washington State (ESPN2), TBA
I discussed Auburn's scheduled appearance in this tournament a few weeks back.
Sat. Jan. 2 – Tennessee (CBS), 1 pm – This is interesting. Auburn hosts Pearl's old team to open the SEC season, and they're doing it on national television during college bowl games. Fun.
Tue. Jan. 5 – South Carolina (SECN), 6 pm – South Carolina used to hold hands with Auburn in the cellar, but they seem to be joining the Tigers on the way up.
Sat. Jan. 9 – at Missouri (ESPN2), 8 pm – Missouri was BAD last year. Hopefully that continues.
Tue. Jan. 12 – at Vanderbilt (ESPNU), 8 pm – Auburn hasn't beaten Vanderbilt in basketball since I honestly can't remember. This one is being played in the biggest gimmick in sports. It's time to break the streak.
Sat. Jan. 16 – Kentucky (ESPN/2), 3 pm – You know they'll be good, but you never know what you're going to get with Kentucky because it's always a different team. Auburn always plays Kentucky well in Auburn. National television. Why not?
Tue. Jan. 19 – Alabama (SECN), 8 pm – Four days after beating Kentucky, Bruce Pearl gets to show everyone how he compares to Avery Johnson, AND the Iron Bowl trophy returns on the same night. This is a nice little homestead, isn't it?
Sat. Jan. 23 – at Florida (SECN), 7 pm – The last time Auburn beat Florida at Florida was when I was in high school. I graduated from high school 15 years ago. Florida has taken steps back, and now they are Donovan-less. This could be a big win over a down Florida.
Wed. Jan. 27 – at Ole Miss (SECN), 6 pm – It just ain't the same without Marshall, is it? But Andy Kennedy does try.
Sat. Jan. 30 – Oklahoma State, TBA – As part of the SEC/Big 12 Challenge, the Cowboys visit the Plains mid-SEC season. I'm pumped about this one. College basketball can get a tad boring after a few weeks of being locked into the conference. And I love Oklahoma State's colors, so that's awesome, and I'm a 7 year old girl.
Tue. Feb. 2 – LSU (ESPN/U/SECN), 6 pm – Auburn ended LSU's SEC Tournament stay after only one game last year in one of the most exciting endings for Auburn basketball in a while. Oh look, it's Groundhog's Day. Same result I guess.
Sat. Feb. 6 – at Georgia (SECN), 4:30 pm – Georgia has been on the up the last few seasons, but Auburn beat them on the road last year, so why can't they this year?
Tue. Feb. 9 – at Tennessee (SECN), 6 pm – Bruce Pearl goes back to his former employer. I'm ready for that storyline to be done. Every time I hear Tennessee, I have a feeling Bruce is going back. But they did just hire the guy from Texas so I guess we're good for a few years.
Sat. Feb. 13 – Vanderbilt (ESPN/2), 5 pm – Two wins over the Commodores in one year would be really nice. Doing it on national television would be even better.
Wed. Feb. 17 – at Arkansas (SECN), 6 pm – Arkansas was really good last year. A lot of that left, but it feels like they'll be Nolan Richardson good for a while. At Arkansas is NOT fun.
Sat. Feb. 20 – Ole Miss (SECN), 4 pm – By my calculations, Auburn will be 25-0 at this point.
Wed. Feb. 24 – Georgia (SECN), 6 pm – By my calculations, Auburn will be 26-0 at this point.
Sat. Feb. 27 – at Alabama (SECN), 4 pm – The major men's sports of Auburn will be 3-0 against Alabama in the 2015-16 academic year following this trip to Tuscaloosa.
Tue. Mar. 1 – Texas A&M (ESPNU), 8 pm – The Aggies were good and then fell apart last season. They beat Auburn twice in the regular season, but then were part of Auburn's SEC Tournament run. By this point, a number one seed might hang in the balance.
Sat. Mar. 5 – at Mississippi State (SECN), 1:30 pm – WOW. We have to wait all season to play Mississippi State just once? This is the game I love to hate because Auburn always plays down to Mississippi State. Last year was the worst offense ever. Let's not talk about it.
Mar. 9-13 – SEC Tournament (SECN/ESPN), TBA – It's going to be weird not playing until Friday. I just realized that I've gotten extremely cocky and confident as this has gone on.
So for those counting at home: Alabama (2), Georgia (2), Ole Miss (2), Tennessee (2), Vanderbilt (2), Arkansas (1), Florida (1), Kentucky (1), LSU (1), Mississippi State (1), Missouri (1), South Carolina (1), Texas A&M (1).
It's going to be a fun year. This is an extremely fun schedule from start to finish.