For those traveling to Atlanta to watch Auburn take on Louisville in the Chick-Fil-A Kickoff Classic, every bit of your pregame plans have been made. From Friday night until kickoff on Saturday, Blogle got you the hookup on the happenings around Hotlanta.
On Friday night, you take yourself over to the lovely Buckhead area and you participate in the 2015 Buckhead Bar Bash Block Party. As of today, tickets are $10 (cost goes up $5 each week) and gets you a catered dinner (Big Sky), some comp drinks/shots, $3 $2 $1 drink specials, bands/DJs, and admission into 12 venues: Big Sky, 5 Paces Inn, Churchill's Pub, Dive Bar, Red Door, Genki, Hangovers, Lost Dog, Rock N Taco, Stagecoach, Stillhouse, and Stout.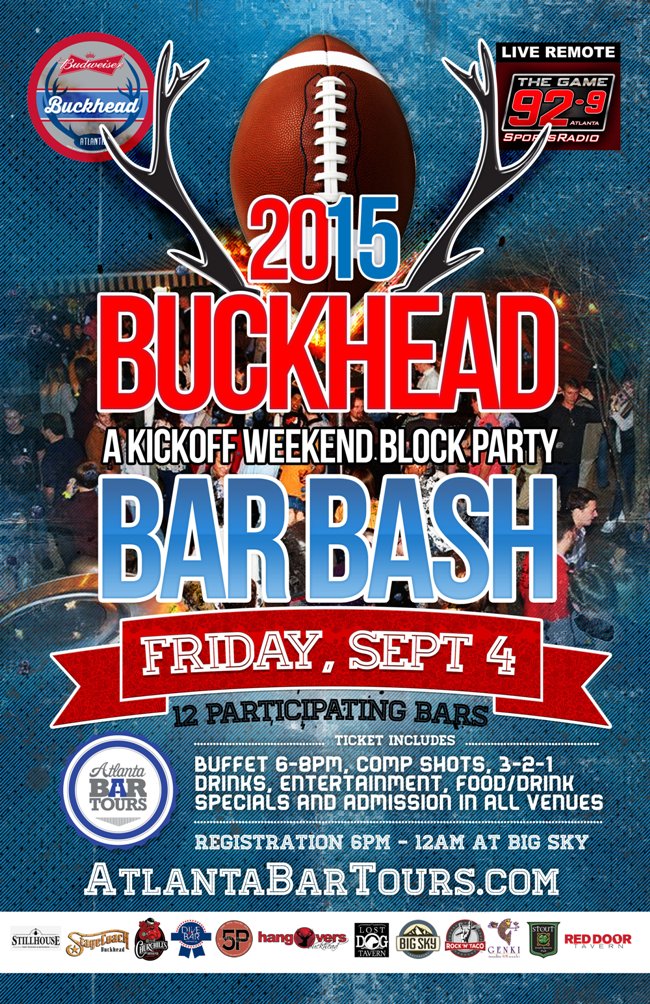 Once you've slept that off, you'll wake up Saturday morning ready for football, and more importantly ready to tailgate. But who knows where to tailgate outside the Georgia Dome? I never do. Oh wait, now I do: The College Kickoff Tailgate.
AuburnLyfe has put together the best tailgate outside of the Dome, and when I say outside the Dome, I mean outside the Dome. 100 feet from the Dome. No tailgating in a parking deck or trying to fire up a grill on the MARTA. Tailgate at the Dome.
The cost of the tailgate is $60 and gets you catered BBQ, UNLIMITED beer, and a stage with bands/DJs. And did I say it's right by the stadium? Oh, and I should also tell you that if you use promo code WARBLOGLE, it'll knock $20 off the cost. So, as of right now, for $40 bucks your entire pregame food/drink/tailgating worries are taken care of completely. It's stupid not to do this. And you should hurry because each week that discount goes down 5 bucks. Don't wait. Just do it. I'll be there.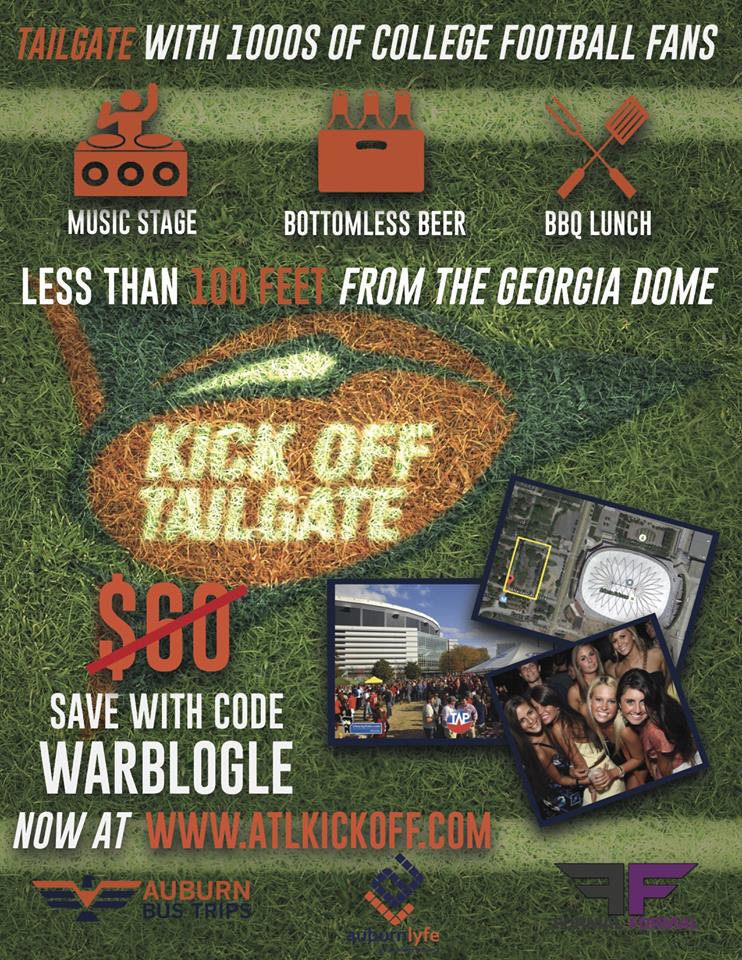 I don't know about you, but this sure is a lot of stress off my back. Literally everything you could want to do before a 56-7 win over Louisville is right there. Be sure to click both flyers above to register. All information for both events will be emailed to the email address you provide.