With a 14-0 lead in the series-deciding game against Ole Miss, Damon Haecker slid home in what was a for-sure 15th run to continue the beat 'em down. But nope, the home plate umpire called him out. But was he out? Not according to this photo from @ITATJason.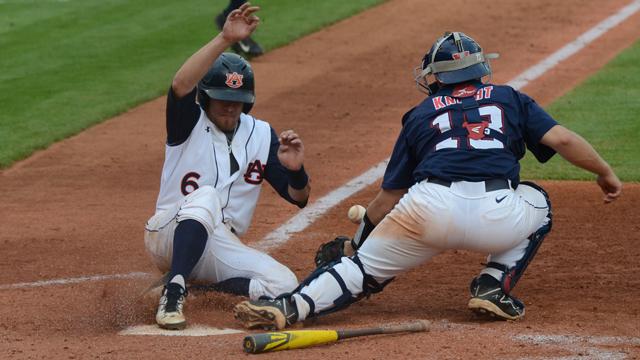 Haecker was basically beginning the process of popping up at the end of his slide and the ball hasn't even been caught yet. Yet the SEC umpire called him out. Had this been an important run, Sonny Golloway had grounds to do whatever it took to be thrown out of the city.
Ok, so big deal. It was a bad call with a 14-run lead. But there's more…
Less than a half-mile away, Auburn softball was trying to salvage the series by avoiding a sweep at the hands of Alabama. Alabama led the game 5-0 in the 1st inning, but Auburn battled back and had a chance to tie the game in the 4th with this play at the plate.
Before you say that the runner went out of the baseline, that's not the case. The runner has three feet both ways. Plus, the umpire didn't call her out because of that. He called her out due a tag that never happened. Not even a little bit.
The awful call did end up getting assistant coach Myers thrown out, and Auburn was able to come back and win the game 13-12 in the 8th inning. So neither call ended up meaning anything, but they are both really, really bad calls by officials of the best league in the land. That's not good given how bad SEC officiating looked in basketball and football this past year.
Do better, SEC.