I haven't done one of these roundtables with former players since the week of the 2011 Iron Bowl. I'm not sure why. It's either laziness or the lasting effects of what happened that day. But it's time to bring it back, and after reading what these three Auburn men of Kodi Burns, Andrew McCain, and Cole Cubelic say about Auburn and specifically the Iron Bowl, you'll be glad I did.
---
What does the Iron Bowl mean to you? What was your favorite Iron Bowl moment and game?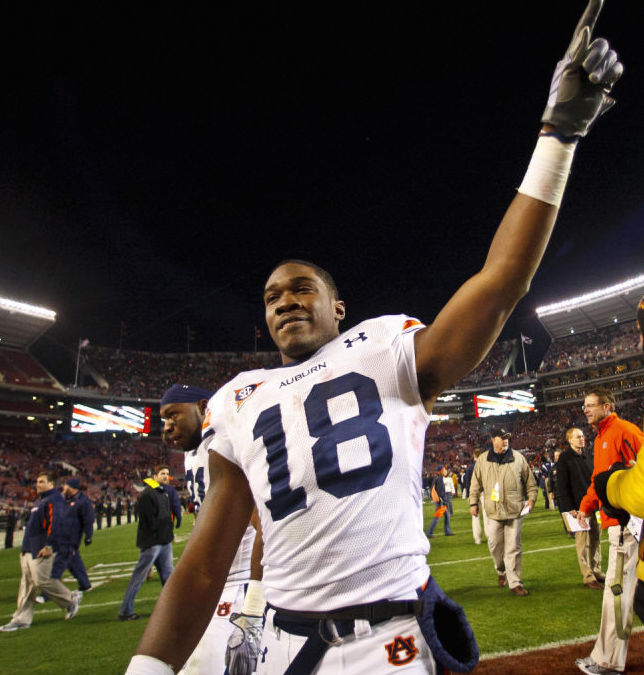 Kodi Burns: The Iron Bowl is bigger than football. It is not just another game that you look at on the schedule. The Iron Bowl is about pride, honor, grit, and so much more. I was able to be a part of history to represent the Auburn Family in four Iron Bowls. As a player, you come together with your teammates and rally to try and find a way to win the game.
My favorite Iron Bowl moment was the Kick Six. I was part of the Auburn team that beat Alabama six years in a row. I was part of the 2010 National Championship team that was down 24-0 on the road in the Iron Bowl and came back to win. With that being said, the 2013 game was not only just amazing because of the way it ended, but it had to be one of the best games, Iron Bowl or not, that I have seen.
My favorite Iron Bowl I played in was the 2010 Iron Bowl. What looked liked no hope, and no chance to win the game, we as a team knew that was not the case and we would not be denied.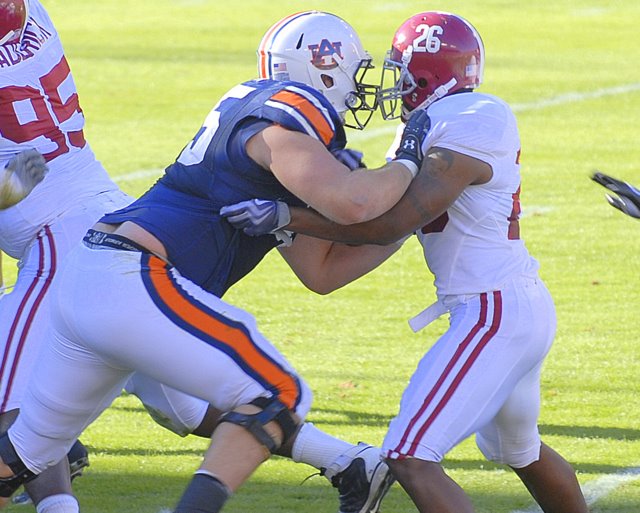 Andrew McCain: I grew up in Birmingham, AL, so just about every single day of my childhood served as a small piece of my Iron Bowl education. The day I put on an Auburn uniform, much of my thought process surrounding the game changed.
It was no longer about reminding them that the 70s were over and that we now held the upper hand. It wasn't about breaking their hearts or shutting up a delusional fan base and a biased sports media. It was about Auburn. It was about us. It was about the locker room full of men that worked their ass off together year-round. It was about giving Auburn what Auburn deserves. It was about former players. It was about classmates. It was about a campus full of brick buildings and all of those that have ever walked there, and learned there, and taught there. It was about family. It was about winning at all costs, but with class and sportsmanship, because that's what the Auburn Family deserves.
My favorite Iron Bowl moment is hard to track down. I think that as time continues to offer more clear perspective on the "Kick Six", we will all realize how very special that moment was. Still, I hold a special place in my heart for the '93 Iron Bowl. That team was Auburn. They had nothing to play for but themselves and their university. No TV. No bowl game. Just Auburn.
I thank God that I somehow had the wherewithal, at 7 years old, to comprehend what I was watching that year. It was at the Iron Bowl in 1993 that I committed to play football for Auburn University. They didn't know that, and it would be another decade before Tommy Tuberville would offer me a scholarship, but on that day, I became an Auburn Tiger.
It's because of that team that I made a decision that would help me build the greatest relationships of my life, one of which was cut short this summer when Philip passed away. For this reason, the 2010 Iron Bowl is also very special to me. That was the day that I got to see my little brother shine, and the day that the Auburn Family began to realize what many of us knew all along- that kid was special. I love you, Philip.
My favorite Iron Bowl I played in has to be 2009. I know, we lost. In the grand scheme, that year was average, some huge highs and disappointing lows. That day we were outgunned and outmatched. But our fans showed up, we showed up, and we kicked their asses for 58 minutes. Something changed that day with respect to the modern Iron Bowl era. I'm blessed to have been a part of it.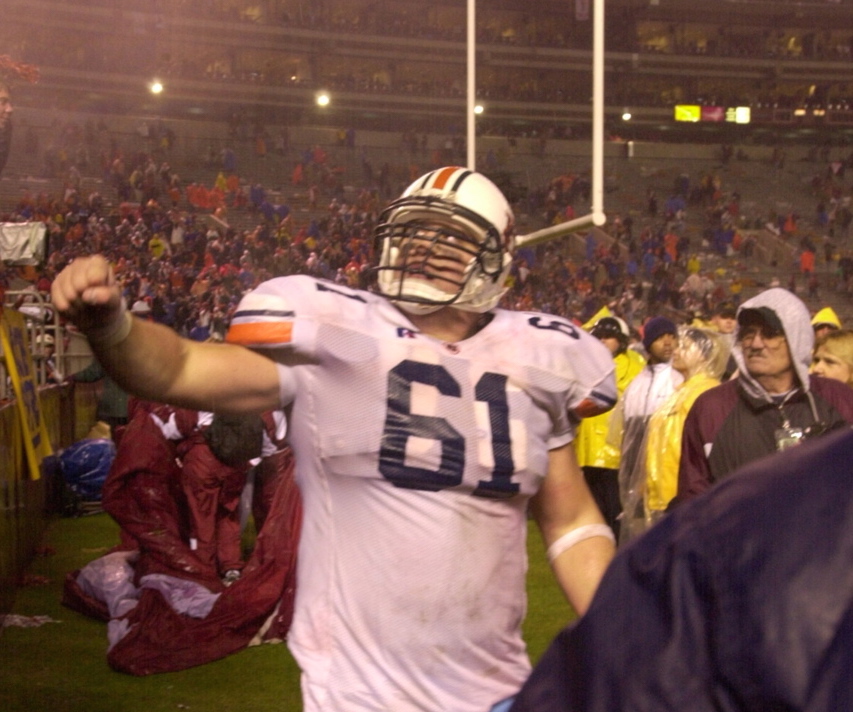 Cole Cubelic: My favorite Iron Bowl by far was 1998. Having grown up in Homewood, AL and that close to Legion Field, I would take the Max bus for $.50 and just go be a part of the tailgating. Legion Field was really and truly the football capital of the South to me just like it said on the upper deck. My parents went to South Carolina, and my aunt was a Hall of Fame basketball player at Clemson, so for me the 1998 Iron Bowl, the final one at Legion Field, and my first Iron Bowl start, is without a doubt the best football memory I have in my lifetime.
The Iron Bowl, to me, really just means a game where the results will have to be dealt with for 364 days. It means more to more people than any other game you'll be a part of as an Auburn football player. You look at the rivalry and traditionally the better football team usually does win, as much as people want to say it's crazy and different things happen.
It's a much more quiet game when you're playing, not near as much trash talking. I think that's because most kids are more laser-focused on their individual tasks in this football game. I know for me personally, specially playing center, we went shotgun a little bit 99 and 2000. You didn't want to be the guy that did made a mistake in this game because that was gonna be magnified and you were potentially going to be remembered for that for the next 2030 or 50 years. So for me just being focused, dialed in, and a part of what the end result potentially was going to be really made you have a better understanding of what was being asked of you.

---
What are you thoughts on Auburn's chances in this year's Iron Bowl?

Kodi Burns: Auburn is really good team this year. What the outside world looking in does not understand is that Auburn a year ago won close games against Georgia, Alabama, Texas A&M, Mississippi State, and Ole Miss. Everything went our way and we found a way to win. It easily could of gone the other way and we could be in the same position we are in this year. We have to remember that this is the SEC and the SEC West at that, and I don't care who you are, it is tough to win.
Auburn is sitting 8-3 right now with losses essentially to three top 10 teams. If you ask me, that's a pretty good year considering losing the second overall pick in Greg Robinson, the best fullback in the country Jay Prosch, and All-American and Heisman Candidate Tre Mason. Losing Carl Lawson, one of the better pass rushers in the SEC, and Dee Ford, the best pass rusher in country to the NFL, changes your defense as well.
I think Coach Gus Malzahn has done an unbelievable job with the road schedule they have had. I also think that coach Ellis Johnson and Rhett Lashlee have done a tremendous job this year knowing they are deficient in some areas.
Now with all that being said, this year's Iron Bowl is going to be tough. But when is it not? That is why it is the Iron Bowl. Bama is playing some of their best ball right now with a confident quarterback, who in my opinion is one of the better quarterbackss in the country. Cooper is a beast and that's a guy that you can't stop, and only hope to slow down.
Finally, Alabama is Alabama because of their defense and they will be ready to go. Coach Malzahn has a plan and knows what he needs to do to try and steal one on the road. He has done it every year and this year is not different.
Andrew McCain: We have a tall task this year. That's no secret, but that's okay. We're Auburn. Playing the favorite in Tuscaloosa isn't really our thing. Winning is. To do so, we need a group of men to know that they are each walking into dozens of fist fights. One of them on every single play.
We have to rally together and win more of those fights than we lose. It's as simple as that. Aggressive but under control. Violent but calculated. Pissed off but having fun. The game plan will be perfect. Our coaches are that good. The rest is on the guys in white jerseys. Let's go do this, Auburn. 
Cole Cubelic: I think Auburn can create some space and run the football. The yards that I see Auburn getting are through the air and outside on the perimeter, but not so much east and west. It will have to be outside the tackle box, but then quickly north and south.
I think Nick Marshall could have a big day, but I thought he could have a big day against Georgia, too.  I think Gus Malzahn needs to stay dedicated to the run game and dedicated to the zone read because that's what's gotten this team where they are. It's what works best for this football team. I think that you'll see Alabama dedicate extra guys to the box to try and take away the potential run on defense.
I think Auburn's front four have potential to hold their own, but you have to find a way to neutralize Amari Cooper. To me, Amari Cooper is the explosive device and if you don't want to get hit by the shrapnel, which is all the other players like OJ Howard, TJ Yeldon, or Derek Henry, you must defuse the bomb.
I think the biggest thing for Auburn in this football game is minimizing mistakes. In the second half of the season, this football team has really struggled with turnovers, penalties, and busts. I think all of those things combined have made a couple of deficits very difficult to overcome, and obviously made some very talented football teams very difficult to overcome.
I think they do have a shot, but all in all at the end of the day this game is about pride. It's about bragging rights, and more than anything, not having to hear a bunch of sh!t from Alabama fans for 364 days. Not having to hear about how great they did, and what they did, and what they accomplished and what they were going to do, because at the end of the day, none of us really did anything. It's about the two teams and their 85 players on scholarship.
It's one game you deathly pay attention to and you deathly want to see good things happen to Auburn more than any other, but at the end of the day the better football team usually wins this game, but that's not to say that men with potential to make plays won't make some things happen.