It felt a lot like the Mississippi State game. The hype was there for Georgia fans. They hadn't played at home in over a month. The scene was electric. Auburn's loss to Texas A&M gave them hope. Todd Gurley was returning. They had everything on their side.
For Auburn, it definitely started better than the Mississippi State game. The offense moved the ball down the field, converting on some 3rd downs to quiet the barking. Leading up to the game, it was said it would a shootout because of the lack of defense on both teams. It at least looked like it on the first drive.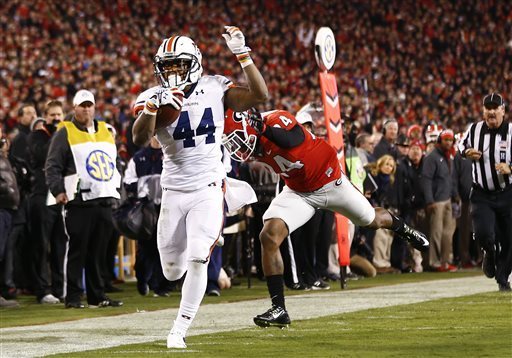 Gurley then came on the field and took his spot near the goal line to accept the kickoff. He had returned to college football after breaking the rules, knowingly breaking the rules. He caught the ball deep in the endzone, but everybody knew he wasn't going to take a knee. He proceeded to run the ball 100 yards untouched. But oops, someone on his team broke the rules. It broke the Dawg fans' spirit for a bit.
Then their offense sputtered, and they were forced to punt. Good job, Auburn defense. Oh, what's this? Great, they're running a fake punt and the dude is wide open. But oops, another Dawg broke the rules. It really broke the Dawg fans's spirit.
Auburn then had the chance to go up 14 and really put them out of it. You could tell Georgia fans expected Auburn to score on every play by the way they were cheering when the Tigers only gained five yards. 14 points would have been enough to do it.
But Auburn had to punt, and then Georgia went 3-and-out, and it was looking good. Here was Auburn's 2nd chance to go up two scores. The Dawgs were reeling. There was doubt all around me in that freezing upper deck.
"That Georgia guy sure is getting close to Quan," I thought two seconds before Quan fumbled the punt. "Where's the halo?" Oh, that's right. It doesn't exist anymore. It didn't matter. Quan fumbled the punt, and the stadium exploded. It was everything they had hoped for. It was everything they needed to win the game.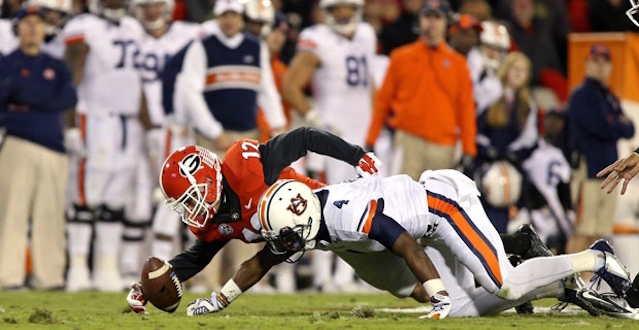 I'm not putting the game on one guy, but I will put it on that play. After that, it was Georgia's game. They were somehow, all of a sudden the better team. They had the better running backs, the better defense, the better everything. They didn't, but that's what it felt like.
After that, nothing went right for Auburn. There was one glimmer of hope when the Tigers forced another punt, but a roughing the kicker penalty extended a drive and gave the Dawgs another touchdown. It was terrible. It was awful, and I don't just mean the hospitality.
Georgia has owned Auburn in the last decade, and there is no reason for it. Since 2005, other than the two years Auburn went to the National Championship game, the Dawgs have won every one. That makes no sense. We're talking unranked Georgia teams, we're talking about 5-win Georgia teams, we're talking teams that were blown out by an awful Florida team two weeks ago. It makes no sense.
Auburn is the better team, as they have been many of those years, but they just didn't play like it. They had their chances, and they let it get away in the worst way imaginable.
It ended Auburn's playoff hopes, but it didn't end the season. Samford is up next. It will be nice to see Kodi Burns and Pat Sullivan return.
After that, you know what's next. It's the thing that can make all things right. If Auburn can play like we know they can, it will be made right. But for now, just forget Georgia. It's best in all things.