The Southeastern Conference released the 2015 schedules for each member team earlier this week on the SEC Network. With Auburn being off this week, there's no relevant football to talk about, so let's jump ahead about one season and see what the 2015 Tigers will face.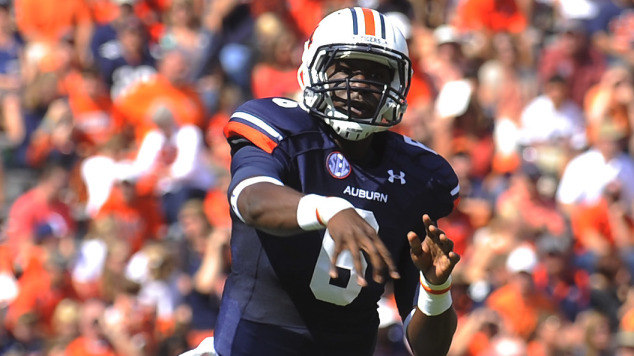 Let me start out by reminding you that we know nothing about the rest of the 2014, so we really have no clue about 2015, but I'll try to go off of some fact-based assumptions for next year.
9/5 – Louisville (Atlanta) – Auburn opens up in Atlanta against Bobby Petrino and the Louisville Cardinals. I guess we can finally settle the debate of the last coaching search. It's me vs. the PLs (Petrino Lovers). No, but really, that debate has been settled. Louisville will be a fine team and it will be a nice opening test on a national stage. Auburn will only miss playing Michael Dyer by one year, as 2014 is finally his senior year.
9/12 – JACKSONVILLE STATE – Jacksonville State comes to town as just one more in-state opponent that Auburn will play and Alabama won't. This just leaves Troy and South Alabama on the list. I'm sure we'll see them soon now that Troy is off the no-win list (beating them is nothing, but they could beat you in an imperfect world).
9/19 – at LSU – Assuming Jeremy Johnson is the starting quarterback, he'll be making his first road start in Baton Rouge, just as Nick Marshall did last season. As we've seen this season, the thrill of Saturday Night in Death Valley is gone. LSU should have a little more experience next season with Brandon Harris getting a few games under his belt this season, but Auburn should be the better team. This will be the first real test.
9/26 – MISSISSIPPI STATE – It's on. 9/26. Mississippi State. Assuming Auburn doesn't get them in the playoff later this season, this is revenge for 2014. I want vuvuzelas handed out at the gates. They won't be as good. Dak will probably go pro, and they just aren't as elite as they look as I write this.
10/3 – SAN JOSE STATE – The Spartans of San Jose State are coming back for the 2nd consecutive season. I like their colors and their logo.
10/10 – OPEN
10/15 – at Kentucky – For the 2nd year in a row, Auburn's first bye week is followed by a Thursday night road trip. I'm not sure who's idea this was. Maybe ESPN liked the ratings from Auburn's trip to Kansas State. I don't like this, though. I mean, it's Kentucky, but they don't look terrible right now, and it's Thursday on the road. That's always a little closer than it needs to be. This feels like a setup game.
10/24 – at Arkansas – Traveling to Fayetteville is never fun for multiple reasons. Arkansas is getting better, and Bert will still treat any game against Auburn as his Super Bowl until he wins one. The games in this series are only going to get tougher until that happens. Oh, and this will be the 3rd straight week outside of Jordan-Hare Stadium. Great October, SEC!
10/31 – OLE MISS – Ole Miss is always at Halloween, isn't it? It really was for almost a decade, save last year. But this year, the game actually lands on All Hallows' Eve, so I guess I can write off trick-or-treating. Halloween games are fun, though, because people dress up at the stadium, and I'm a kid that likes that kind of stuff. Ole Miss will be replacing the prolific Bo Wallace so it may be a tougher year for Ole Miss.
11/7 – at Texas A&M – Auburn travels to Texas A&M for the only road game in November. Johnny still won't be there, so it's a little less scary than 2013, but if things are going well, there will be quite a few Aggies in that new-ish stadium out there. It won't be Jeremy Johnson's first rodeo on the road at this point, though.
11/14 – GEORGIA – FOR SOME REASON, Georgia is coming back to Auburn next season, which continues the Home-Home/Away-Away thing with Alabama. This needs to be fixed. Auburn needs to go to Georgia next year and set this thing straight. They came here in 2012 and 2013, so we need to return the favor and make this thing right. I mean, yeah, it'll be good to have both games at home next season, but it'll suck again the following year. Fix it, SEC.
11/21 – IDAHO – The Vandals of Idaho take Samford's place as the team played between Georgia and Alabama. They're bad. It will be a nice tune-up.
11/28 – ALABAMA – The Tide will return to Jordan-Hare for the first time since the Kick Six. If every angle of that play isn't shown 100 times before that game, something is wrong. But really, this could be the worst Alabama team since 2007. They are losing a lot after 2014.
All in all, it's not too bad. There is only one stretch of back-to-back road games, and it's Kentucky/Arkansas with 10 days in between. The toughest games are seemingly at home, and there's a name opponent to start the season that should result in a win, but will look impressive.
We don't know anything, but after what Auburn has to face this year, I'm actually happy with this schedule. Now let's win 2014.