I'm not sure if you know this, but the BCS Championship Game is a big deal. It's such a big deal that ESPN is giving it the most extensive coverage of all time. I mean, when you use something called "spidercam" you know it's getting real.
Here's the full press release for ESPN with all of the details. There will be zero reason to not have any information about the game in your face at all times.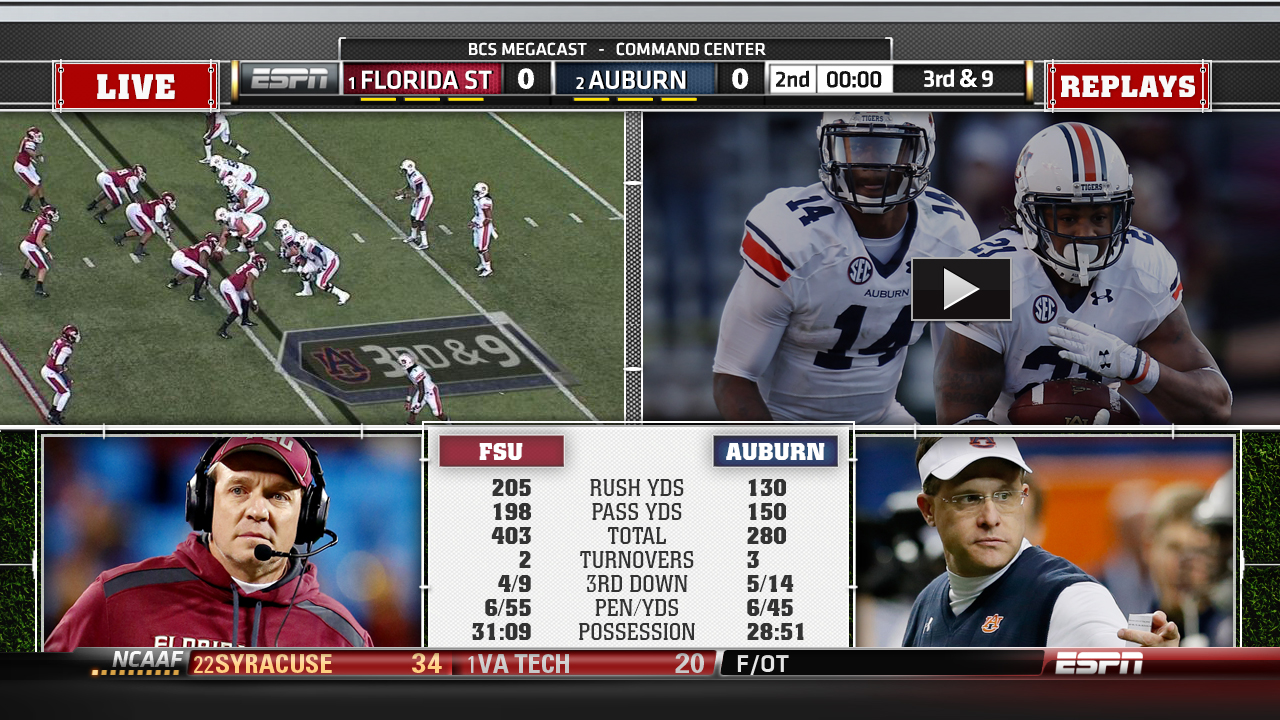 Traditional game coverage will be available on ESPN, ESPN Radio, ESPN International networks and in Spanish on ESPN Deportes. Some details are still being finalized but Megacast concepts currently include:
"BCS Title Talk" on ESPN2 will allow fans to eavesdrop on the casual and organic conversations of ESPN college football analysts and special guests such as coaches, players and celebrities discussing the game from an on-site room. On-screen graphics will incorporate game statistics and information as well as a "social stripe" that will provide live social media feedback throughout the telecast.
"BCS Film Room" on ESPNEWS will feature ESPN experts as well as guest coaches and players providing in-depth X and O analysis of the game as it happens from a film room equipped with multiple camera angles and touchscreens.
ESPN Classic will provide a "Sounds of the BCS" presentation featuring only the natural sounds of the game. The telecast will couple ESPN's on-screen game coverage with the audio originating from numerous microphones located within the stands, field and more as well as the in-stadium sound system. Classic's coverage will include the halftime performances of the Florida State and Auburn marching bands.
"BCS Command Center" on ESPN Goal Line will provide a split screen application with live game action and immediate replays of every play. The coverage will use the ESPN Radio broadcast call and incorporate live game statistics on the screen.
ESPN3, in cooperation with IMG College, will offer separate "Auburn Radio Call" and "Florida State Radio Call" presentations. The Florida State- and Auburn-specific coverage will feature the team's home radio broadcast with an on-screen presentation providing fans with the game feed plus isolated cameras on key coaches and players from that team. The coverage will include the halftime performances of the Florida State and Auburn marching bands.
"BCS Campus Connection" on ESPN3 will showcase live fan reactions from various watch parties within the home markets of Auburn and Florida State into the game coverage.
Fans will be able to watch the entire game from the above stadium camera angle with the "BCS SpiderCam" presentation on ESPN3.
ESPN The Magazine will extend its popular image-driven "1 Day 1 Game" showcase of an entire day around a specific event with a live feed of pictures posted across the platforms and ESPN social media accounts during the Championship game.
In addition to ESPN.com's extensive lead-up, in-game and post-game coverage, the PlayCenter application will serve fans with in-progress highlights from the site's homepage.
ESPN will use also use its various social media accounts on Facebook and Twitter within the coverage. Potential content includes behind-the-scenes insights, statistics and information, interaction with fans, and more.
ESPN International networks will televise the BCS in Australia/New Zealand (ESPN Pacific Rim); Latin America North & South; Brazil; Caribbean; Japan (via J-Sports) and Canada (via TSN and RDS).  ESPN's broadband service, ESPN Player will provide live and on demand coverage in to more than 40 countries in the UK, Europe, the Middle East and Africa, while ESPN syndication partners will televise the BCS in the UK, parts of Europe, Africa, the Middle East, Southeast Asia, the Philippines, Malaysia, India and China.
Each of the ESPN, ESPN2, ESPN3 and ESPNEWS presentations will also be available through WatchESPN, accessible online at WatchESPN.com, on smartphones and tablets via the WatchESPN app, through ESPN on Xbox LIVE to Gold members, on Apple TV and Roku to fans who receive their video subscription from an affiliated provider.
————————
Guys, Auburn is playing in the national championship game.