This cartoon from Dusty Higgins (@thedustyhiggins) of ArkansasOnline.com just has everything from the Auburn-Arkansas rivalry of the last few years, doesn't it?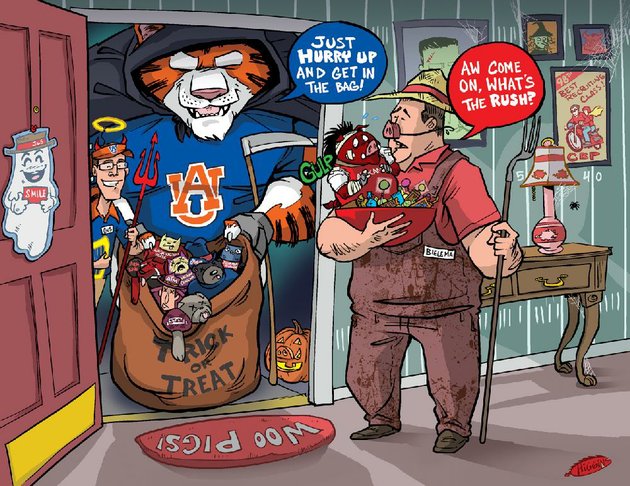 At first glance you have the obvious mean ol' Tiger trick-or-treating with his bag full of dead mascots while trying to coax the Razorback to get into the bag as quickly as possibly (hurry up, get it?). Then there's that scared fatty Bret Bielema wanting to slow things down with some real American footb, err… trick-or-treating.
Oh, and then there's the angelic Malzahn poking his head in donning devil horns and a pitchfork, how I'm sure some Arkansas fans see their native son.
Check out the John L. Smith ghost on the door just trying to get people to smile, and the jab at Petrino and his less-than-stellar recruiting classes in the picture on the wall.
Great work., Mr. Dusty Higgins.
Props to @AUBlog and @AUPPL for the find.