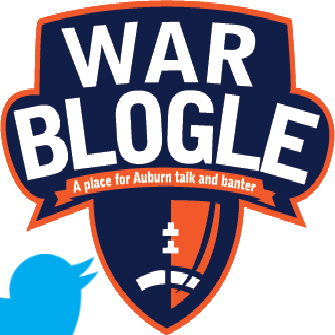 The Auburn-Texas A&M game was my first to watch on TV this season. Sometimes that's nice. Sometimes it's terrible because you have no control over what's happening in the stadium. Sometimes you feel terrible during the biggest game of the season so far, and can't manage more than a fistpump during the big plays. I was the latter yesterday. It all worked out in the end, though. Other than my phone dying at halftime, which hasn't happened at a stadium this year.
Pre/during game:
I'm at Kyle Field… or am I? WE @bdirectorkmo: War Damn Eagle @WarBlogle http://bit.ly/1gsXDQX
The ESPN Gameday crew did not pick the Auburn-Texas A&M game because it's going to be a blowout… by Auburn. #wareagle
Josh Holsey is out for the season with an ACL injury. Injury occurred on last play of Auburn's last practice this week. Get better, Josh.
The Texas A&M gameday thread is up on the Barn. Post your thoughts. Free AND uncensored! http://bit.ly/19hRzo4  #auburn #wareagle
You want me to hate you, Texas A&M? WE @AUAthletics: Fans were held outside the stadium perimeter for Tiger Walk. http://bit.ly/18wGNe1
The Auburn-Texas A&M game starts on CBS in an hour. Georgia-Vanderbilt is on CBS with 9 minutes left in the 3rd quarter. Radio anybody?
A little better. WE @VoiceofAUTigers: 245 kick now…per CBS. #AUVoice
WHO CARES ABOUT RED LOBSTER!!! SWITCH THE GAME!!!! #auburn
There have been 7 commercials since UGA-Vandy ended. In that span, Texas A&M has already scored. Beyond furious.
Auburn. Charter. WE @MattScalici: @WarBlogle where are you watching the game that they didn't show you the Auburn game on CBS?
GET OFF MY COATES!!!! #auburn
Auburn just had 242 yards in the first quarter. For comparison's sake, Florida had 151 against Missouri today… in the entire game.
Jason Dufner walking on the Auburn sideline. Looks pumped. #wareagle
Mike Evans makes great runs after the catch with the assistance of blatant holds. #auburn
Auburn beat Texas A&M. #wareagle
Postgame:
This game was the scariest on the schedule for me. There is NO REASON Auburn can't win them all. #wareagle
I've felt terrible all day. When Dee sacked Manziel I ran outside and almost passed out. Looked like Grandpa Joe from Chocolate Factory.
Forgot to place bet… WE @CrittendenAU: Drinks on Blogle RT @WarBlogle I love free money. WE @CrittendenAU: Texas A&M 12 pt fav against AU.
Cleaning up Toomer's already, but longest roll of the season. #auburn http://twitpic.com/di0qo5
My phone died in the 2nd half but I'm sure one of you made a Bud Kilmer joke when Manziel went into the tunnel and came out able to throw?
Man, I'm glad Auburn won so that we can fully appreciate and celebrate that Sammie Coates shove off for the rest of time.
"We KILLED Texas A&M and Johnny Manziel! War Eagle!" –@BabyBlogle #auburn https://vine.co/v/hdhTp1pVY7l
I said that in my game preview, among other predictions that came true. http://bit.ly/19YZI1z WE @espn: "Johnny Who?" – The Auburn Tigers.
Josh Holsey got to go to Toomer's tonight. http://bit.ly/18xE2cH  (via @mpdavis_15) #auburn #wareagle
Auburn has scored 107 points in the two games that Gus Malzahn has worn his white visor and blue vest. #auburn #wareagle
Jake Holland "Dufnering" in the background. WE @FootballAU: Pregame talk from guest coach @JasonDufner #WarEagle http://bit.ly/18xF8oL
I 'bout cried. WE @brownbw: .@ITATJason's post game video. Watch around 1:35 for @NosaE94. AUsome. http://bit.ly/18xHSCr
With LSU's loss, Auburn now fully controls their own destiny. The Iron Bowl could very well be for the SEC West title. #wareagle
Takeaway from @SportsCenter highlights of Auburn-Texas A&M: should have been horse collar (showed 1 angle), Alabama has clear shot to title.