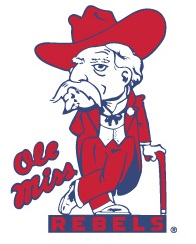 Ever since Ole Miss romped to an impressive 7-6 record last season, including a monumental win over Pitt in the Birmingham Bowl, the pundits have been all over the Ole Miss Rebel Bear hype wagon for 2013.
You see, it happens every year. A team that has been historically bad gets a new coach. That coach generates excitement on campus with a stronger than expected recruiting class. That coach wins a few more, but not many games overall, than anyone expected in his first year. Then people start their talking. The hype machine starts a-going. Over the offseason, it hits full throttle with preseason national rankings and labels of "dark horse." That's what's going on at Ole Miss and Vanderbilt right now.
In the case of Ole Miss, the hype machine went into overdrive earlier this season when they beat the Texas Longhorns 44-23. Impressive, right? Well, it's just that the week before the same Texas gave up 550 rushing yards in a 40-21 loss to BYU. That's Brigham Young University. 550 rushing yards. That's the same numbers you'd see if the Patriots played Auburn High School. This is arguably the worst Texas team in decades, so I think we can take this win out of the impressive list, but let's look at what else they've done.
In week one, they needed a last minute touchdown to beat Vanderbilt. Oh, but Vanderbilt is on the rise. Shutup. Better than normal does not mean good. A head coach you like because he seems to be the first person not to hate coaching at Vanderbilt does not mean good.
In week two, they beat South East Missouri State 31-13. When I am referring to a terrible team that has a ridiculous directional state school name, I always use Southeast Missouri State. I didn't even realize it was a real team. And 31-13 against a FCS team? Impressive.
The aforementioned and unimpressive win over Texas was in week 3.
The Rebels then had a week off to prepare for Alabama. Surely the potent and high-powered offense led by superstar Bo Wallace would have the seemingly struggling Alabama defense on their heels. Surely the Rebs would throw up all kinds of points on the scoreboard. Final score: Alabama 25, Ole Miss 0.
So that's where we are now. Following 7-6, which is good for them, but not good for everyone else, they've beaten nobody and scored zero against the first real team they've played. What am I supposed to be hype about?
For Auburn, who has the same 3-1 record against a tougher schedule, they are coming off a very productive and helpful bye week. Following their first loss, in which Auburn proved that LSU in Death Valley isn't a totally insurmountable task for them at this point, the Tigers appear to be full strength for the first time this entire season.
Malzahn said in his weekly press conference that everyone who had been out would be back from injury. That's Chris Davis, Jeffrey Whitaker, Jonathan Jones, Craig Sanders, and a few others. Now, I don't think that means that everyone will be 100% and play as much as they would if they were, but he said it. That has to mean some of those guys are going to play, and that will be a huge step up for a defense that some would say is already overachieving.
Whoever plays, given that these guys have basically seen Ole Miss's offense all summer and fall, I think they'll be alright. The same can be said for Ole Miss and Auburn's offense, but I think what it comes down to there is talent.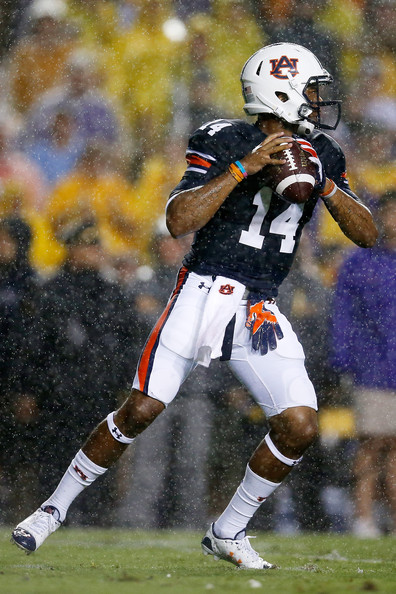 Everbody's making a huge deal about the recruiting class that Hugh Freeze brought in last year. Yes, it was very good (so good that you wonder how a school like Ole Miss did it legally), but it's just one year. Over the past three recruiting classes, Ole Miss has been in the 20's and 30's with one top 10 ranking. Auburn has been in the Top 12 in all three, with almost all of those guys recruited for or by Malzahn. So you've got one really good year of freshmen recruits, led by Robert Robert Nkemdiche (who will be playing with a broken finger) against three years of excellent recruiting classes. That's a difference.
The teams run a similar system, and both systems work, but one works better when you have better players overall. And one of those scored exactly zero points last week.
I know it's really easy and simple to look at these two teams and say that Ole Miss is on the upswing and Auburn won three games last year, and just stop there. That's just lazy.
We love Cinderellas and the little man, but let's not give more credit than is due just because they painted a pretty finger painting last year. Good for Ole Miss is not the same good for Auburn. Had Ole Miss had the same season Auburn did last year, everybody would expect it. Had Auburn had the same season Ole Miss has last year, everyone would have called it a down year.
These teams are not the same. This is Auburn, a statistical elite in college football, flying under the radar, on an upswing from one bad year. This is Ole Miss who won a few more games than people expected last year. They will lose the 2nd of four straight games this Saturday. Will it be enough to slow or even stop the hype machine?
Auburn 38, Ole Miss 23