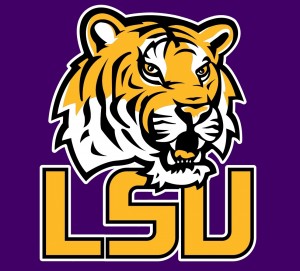 The last time Auburn traveled to Baton Rouge, they were something like a 500-point underdog. The Tigers ended up proving all of the doubters wrong that day and only lost 45-10. Take that, Vegas.
Seriously, though, the score on the scoreboard was bad, but it wasn't the worst part of the game. There were times in that game that I didn't think Auburn would have any players on the team the next week. I figured they would quit or all be left half-dead somewhere in a Louisiana bayou. The score wasn't absolutely terrible, but the good Tigers looked like kids playing with men.
Two years later, I don't have the fear of that happening again. At all.
One thing that this team has gained each week is confidence. Last week's crazy finish gave them the biggest boost they've had since maybe 2010. Sure, Nick Marshall will be leading his team into their first road game in one of the most intimidating venues in all of sports, but when it comes down to it, it's just loud, right?
Have you seen this offense? They use cards, hand signals, and the same 4-5 formations. It's all about variants handled by Marshall. Not to mention that if you saw the game-winning drive last week, you may have been like me and wondered if Marshall was going to fall asleep at any point. He just didn't seem to get rattled. That will help in Death Valley.
At the start of the season, most smart people believed that LSU was going to be slightly down this year. Now after three wins they're ranked #6 and apparently running one of the most prolific offenses in the nation. Guys, they beat TCU (7-6 last season, 1-2 this season with a loss to Texas Tech), UAB, and Kent State. Let's hold off on giving Zach Mettenberger the Heisman just yet.
I haven't seen anything to tell me that he's decidedly better than the guy who led the Purple Tigers to a two point win over the worst Auburn team in half a century last year. I'm not saying he hasn't improved (9 passing TDs this year, 12 passing TDs all of last year), but let's not just look at the name on their jersey and act like they've done anything or have proven that they haven't taken a step back this year.
However, since they have appeared to find the deep ball this season, it would help to have Chris Davis return from his injury that kept him out last week. But now that I think about it, has anybody completed or even thrown a true deep bomb against Auburn this year? I can't remember one.
The key to the game is going to be to stop the run. LSU always has plenty of big, bruising backs. If they can be stopped, I feel confident leaving the ball in the hands of Mettenberger, who is not going to be able to run near as well as the three quarterbacks that Auburn has faced this season.
That's the main issue with this defense. As the games go on, the secondary locks down on the receivers, which leaves the quarterback with no choice but to scramble, and by that time there's plenty of green grass in front of him. Again, Mettenberger won't be able to take advantage of that with his 10.3 40 time.
If the Auburn offense can get an early score, and the defense can get an early stop, the LSU crowd will get out of it. They are loud, but they are just as quiet when things aren't going as well as their inebriated brains would like.
Auburn is 3-0, my predictions are 3-0, so I have to stay with it. Nick Marshall will have two rushing touchdowns, throw one pick, and throw for one touchdown to Trovon Reed. Tre Mason will run for one as well. This isn't last year's Auburn. This isn't every other year's LSU. Auburn hasn't beaten LSU in Death Valley since 1999. That will change Saturday.
Auburn 28, LSU 24