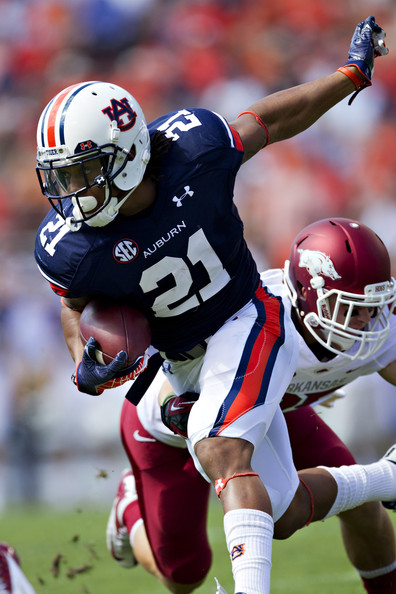 Preseason watch lists in college football are about as pointless as attempting to explain simple arithmetic to a fan of a school that boasts multiple unfounded national championships. However, at this point in the summer, it's something to talk about and it means that football is getting closer.
Last year, seven different Tigers were selected to eleven different watch lists. Understandably, none of them won an award. This year, expectations are a tad lower, given what we had to watch last year, with only six watch lists selecting Auburn football players.
Note: the honorable Hendricks Award for best defensive end has not released their watch list just yet. Spoiler Alert: Carl Lawson will win it before he leaves the Plains for the NFL.
Bednarik Award (Best Defensive Player): Dee Ford
Doak Walker Award (Best Running Back): Tre Mason
Mackey Award (Best Tight End): CJ Uzomah
Lou Groza Award (Best Placekicker): Cody Parkey
Ray Guy Award (Best Punter): Steven Clark
Rimington Trophy (Best Center): Reese Dismukes
Of the six, the last three are probably Auburn's best chances to take an award. Mason could take the Doak, but we'll have to wait and see how the offense turns out in year one of Gus's return.
Parkey and Clark have been on the Groza and Guy (cool band name) lists for at the last two seasons, and Clark was a finalist in 2011. Auburn is one of only eight teams in the nation with kickers on both of these watch lists. KICKER U, right?!
Dismukes is on the Rimington watch list for the second year in a row, and despite offseason troubles early last year, has shown that he deserves to be there. Like Mason, we'll just have to wait and see how the offense goes. The same can be said for Uzomah, who I think could possibly turn out to be a beast if given the chance.
I love Dee Ford. If you follow him on Twitter, you would know that he is basically working to become the world's strongest man to go along with his World's Best Dressed title. I am pulling for him and hope he can finally have a full, uninjured year for his final season at Auburn.
Like I said, watch lists are dumb. They set a precedent and put guys' names in your head before they've even done a thing. On the other hand, they are somewhat of a really late award for the previous season. Given the season Auburn in 2012, I'm just happy these award associations even remember our guys' names.