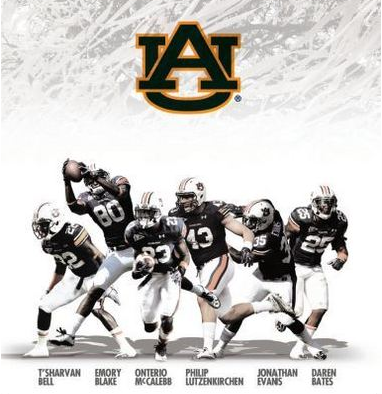 If you would have told me that I would be excited about this game back in mid-September, I would have probably kicked you in the jaw and called you crazy as you fell to the ground. But now I'm actually excited because it should be a game that Auburn can win. I know it means nothing, but a win is a win and wins are fun. Like I said weeks ago, the season is lost, so we should just look at individual games, and if we win, then just be happy.
I understand most of you aren't excited about it at all. You want the season over with and this is just another game in a dismal year. Most of you won't see it, though. You won't go to the game because you think that's some sort of way to boycott. You also won't pay the money to watch it on PPV ( I actually don't blame you on that one). You think you're showing Jay Gouge and Jay Jacobs and Gene Chizik that you won't stand for what we've seen on the field this year. Call me crazy, but I think understand that.
I'd be willing to bet $180,000 that the thought of "well we suck, but the people are still showing up, so who cares" has never and would never cross their minds. They know that Auburn needs to win and that some changes big or small will need to be made for that to happen on a consistent basis again.
So what you're really doing by purposely not showing up in an attempt to let your lack of support be heard is showing the seniors on Senior Day that you don't care about them and what they've done for Auburn. That might not be your intent, but all you're doing is giving them an empty stadium to play in front of on a day that they are being honored.
We're not just talking about some senior class that won a few games. We are talking about integral parts of the National Championship season. Lutzenkirchen scored the winning TD in that year's Iron Bowl. T'Sharvan Bell sealed the game with a huge sack on McElroy. McCalebb put the LSU game out of reach with a long touchdown run. Emory Blake scored a touchdown in the National Championship game. There are many more seniors that were a reason for that championship, and all were just as important.
So don't go to the game where they'll run out of the tunnel one-by-one to a stadium of 60,000 people. That'll show 'em.
I understand it's just Alabama A&M, and driving from far distances just might not work for a game like this. But if you have the ability and the option to go and you're just not going to stop showing support, then you're wrong. Plain and simple. Hate me if you want. But that's not Auburn.
I realize there's no real review here, but it's all the same. Auburn should let the seniors play, give them a nice swan song at Jordan-Hare, then let some young guys play to get experience. Regardless of how bad this year has been, SEC talent should eventually take over and give Auburn an easy win. They shouldn't take it lightly, and given how things have gone, I know they won't.
We're all ready for it to be over, but for a bunch of seniors, their time playing in Jordan-Hare is over. They deserve our support on Saturday as much as any game they've played for you. Give it to them.
Auburn 38, Alabama A&M 10