The start of fall practice brings all sorts of exciting news, but none is more exciting to me than the updated 2012 Fall football roster (I'm only sort of kidding). We find out what numbers the freshmen were given, who isn't on the team anymore, and who's been added. We think we know everything about every player, but the roster finally lays it all out there. Let's start off with a look at the numbers given out to the new guys.
#1 – Josh Holsey – DB
#5 – Jovon Robinson – RB
#6 – Ricardo Louis – WR
#12 – Jonathan Wallace – QB
#18 – Javiere Mitchell – LB
#21 – Jonathan Jones – DB
#28 – T.J. Davis – DB
#30 – Cassanova McKinzy – LB
#42 – Gimel President – DE
#46 – Ricky Parks – TE
#51 – Patrick Miller – OL
#53 – Michael Sulka – DS
#56 – Avery Young – OL
#57 – Gage Batten – LB
#63 – Alex Kozan – OL
#70 – Robert Leff – OL
#74 – Will Adams – OL
#76 – Jordan Diamond – OL
#77 – Shane Callahan – OL
#84 – Darrion Hutcherson – TE
#87 – JaQuay Williams – WR
#91 – Tyler Nero – DL
Right at the top you'll notice one of my least favorite things in all of college football. Josh Holsey will be wearing a duplicate #1, sharing with Trovon Reed. Since they play on different sides of the ball, the NCAA allows it. I don't care. I hate it.
But #1 isn't the only duplicate. The next on the list, #5 Jovon Robinson, will share the number with Jake Holland. Duplicates aside, I've seen a lot of #5 jerseys on the clearance rack in various sporting goods stores recently. I guess Robinson will have his chance to get those out of the "jerseys you want to burn" category.
One duplicate that won't be is that of #14 Erique Florence and #14 Zeke Pike. Pike is still currently listed on the online roster, but Gene Chizik confirmed what we all expected today. Zeke Pike is no longer an Auburn Tiger. I don't know about you, but I'm just happy about one less duplicate. Seriously though, I never thought Pike would get a chance to play. Frazier should have three more years, and there are already a few commitments in future classes that will probably pan out better than Pike would have.
Pike's dismissal now gives last minute signee, #12 Jonathan Wallace, a legitimate chance to battle it out for a backup spot. And yes, Wallace's #12 is a duplicate with Demetruce McNeal if you were wondering.
T.J. Davis takes over the recently abandoned #28, left by the recently dismissed Jonathan Rose. Let's hope there is no residual effect or number curse. Luckily, it is not a duplicate.

That's about it in terms of interesting notes about the freshmen numbers, but there was a surprising newcomer added to the roster that nobody bothered to tell me (or anybody else that would think it's awesome) about. Brian Van Gorder has a son (a few of them actually), and that son is now a redshirt-freshman linebacker on the Auburn Tigers football team. Even better, he has a mane twice as long as BVG. Why weren't we told about this before today?
It appears he was at West Virginia last year, and will be a walk-on at Auburn this year. Welcome, Mack. Keep the hair and add a mustache, please?
Speaking of 'staches… Lutzenkirchen tweeted a pic a few days ago saying he was bringing back the @LutzieStache. There were no mentions or pictures of it today, so I'm not sure if it's still around. Keep it locked here for the latest.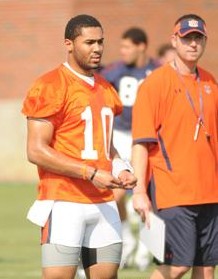 It appears the day of shorts and shells are no more. Now, at Auburn, it appears to be spandex and shells, or bicycle shorts and shells, or well, I could say a lot worse, but I won't.
Either way, it seems like everyone was voluntarily wearing them, so good job for being team players, guys. I'm not really sure what the deal is with these, but I do know that they were old game pants hand-cut by the equipment managers. As far as why, here are a few ideas:
– Under Armour missed a shipment of practice shorts, and Auburn had to make do by cutting off some game pants. But every player has about 50 pairs of workout shorts, so they could have worn them.
– It's a way to get the players used to wearing football pants over their pad shorts (the gray part), without really wearing pants. Probably not. They weren't even wearing pads in the pad shorts.
– They would have just worn the pad shorts, but thought that area needed a little more "coverage."
Given that football practice shorts had recently gone the way of the basketball capri pant, I'm guessing that Chizik decided that it would be best to practice in something more like what you'd play in. Tre Mason is never going to hit the hole with baggy culottes on, so if it means practicing in tight shorts, so be it.
I know it looks a little funny, but I kinda like it. With the white shoes, socks, and short shorts, it almost looks like an old 1980's Pat Dye practice, especially in this video.
However, we can not have Trovon doing this to his jersey when wearing the shorty shorts or when cameras are around. It looks like he's about to play six games of fast pitch softball on a hot August Saturday. It also kinda reminded me of this.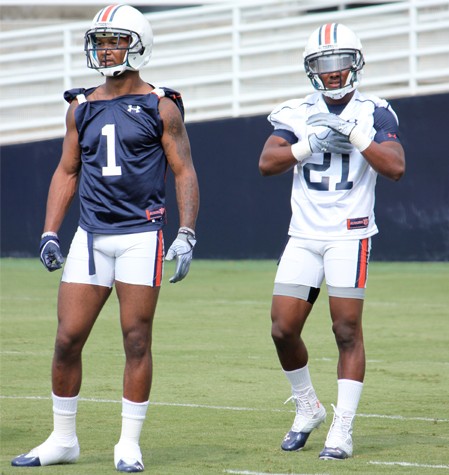 You know how you when you were growing up and went off to some camp, and you and some other guy decided it would be cool if you shaved your head? Well, apparently it continues into college – the junior year of college. Defensive ends Craig Sanders and Corey Lemonier are very good friends on and off the field. They are such good friends that they have gotten "SALT" and "PEPPA" shaved into the sides of their head. I'll let you figure out why they picked those names.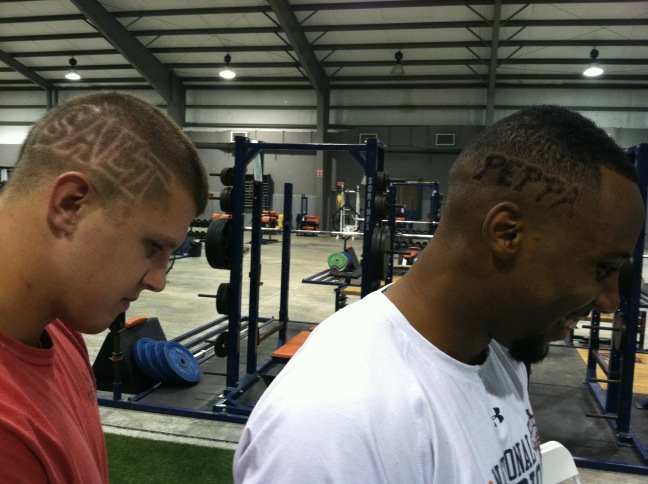 It's stuff like this that makes me think that I'm going to love this team. I know it has only been one day, but everything I've seen just shows that this team is having fun, being laid back, but know they have a job to do. They just already sound so much different from last year.
I like hearing about Jonathan Wallace already acting like a leader when he will most likely be the 3rd-string quarterback. I like that Brian VanGorder has a son on the team, well, just because the more VanGorder's you have, the more awesome you are. I also like a team that's comfortable wearing Daisy Dukes around each other. I'm slightly serious. It shows maturity. How many 20-year old guys do you know would be caught dead in those shorts? Anyway…
I'm just getting a good vibe already. We have a long way to go, and we'll see if that vibe lasts, but I like the start so far.
Pictures from AUTigers.com, AuburnSports.com, and Craig Sanders.