Let me let you in on a little secret about ol' Blogle. I love Kathie Lee and Hoda, otherwise known as the two sexiest cougars on the 4th hour of the Today Show. I don't if it's just my love for live television or what, but I always watch it anytime I get a chance. I'm dead serious. I don't know if you know this but they show a replay of it after Carson Daly's show goes off in the wee hours of the morning. Yes, I'll even watch it then.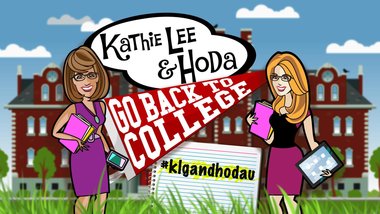 KL and Ho-Dawg, as I call them, but probably not the best nickname for Hoda, are holding a contest where they will visit the campus of the schools that show the most spirit. All it takes is tweeting them on why they should visit, with pictures and videos, including the hashtag #KLGandHodaU. I mean, look at it. The hashtag already ends in AU. It's a no-brainer where they should go.
Entries will be accepted until Sept. 16 at 9 am ET, but don't worry because the lovely ladies of Wake Up Auburn on Eagle Eye TV have already done tons of work to get the vivacious duo to the Plains.  By" tons of work" I mean seven videos showing the hot spots around Auburn (shown below). I think it's a lock, but be sure to help spread the word via Twitter and make this happen. If not for you, if not for Eagle Eye TV, do it for me.
Remember, just tweet the hashtag #KLGandHodaU and why they should come to Auburn by Sunday. Include a link to this post if you don't mind. It will just make it easier, you know? It has nothing to do with me possibly wanting my site viewed by KL and Ho-Dawg.