I'm gonna try something a little different with the mailbag this week. Apparently it has become too big of a chore for some people to open up an email client, enter my email address, type a subject, and then a message, or maybe it's something else that I'll address in one of the questions below.
It basically took me being a whiny baby to get any responses to my request for questions this week, but once I did, I got tons from plenty of nice people on the Twitter. Therefore, none of these came from email, they were all tweeted to me. Call it a tweetbag.
International muscleman of mystery, @RickMuscles, was the first to respond. I guess there are few decent Ole Miss season ticket holder/Alabama fans with a 450lb squat out there.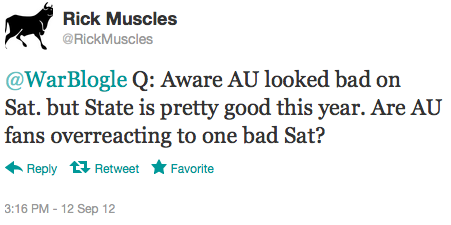 I could write ten posts about this — and I almost have — but in short, yes. There are tons of reasons for the overreaction (being 0-2, Alabama's success, the opponent being usually lowly Mississippi State, Alabama's success, and Alabama's success), but I think the number one reason is the fact that Auburn regressed so much from game one to game two. The performance showed no promise at all, unless that promise was that there won't be very many wins this year.
But as you said, this is probably Mississippi State's best team in years. Not to mention, they had the luxury of preparing for Auburn all summer (their first opponent was Jackson State), and this was basically their Super Bowl. The game lost a little luster because of Auburn's first game loss and the 11am start, but State was playing this one as if it was the only game of the season. Plus, Megan Mullen REALLY needed this one. REALLY BAD.
On top of all of that, Tyler Russell played very solid, made almost no mistakes, and managed the game very well. The running game was working and once the Auburn defense was so tired from being on the field all day (due to the offense's three-and-outs), it became dominant.
All of that being said, State still trailed early in the 3rd quarter before they took the game over. That's what was so frustrating and has only added to the overreaction. Thanks for the question, now get back on the bench.
---
Truman wants to talk about haterz…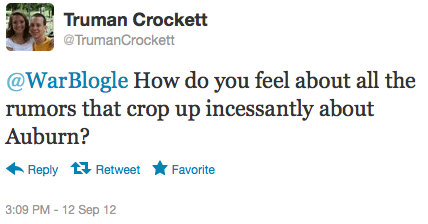 I find that it is a reminder that there are some very sad, stupid people out in this world. EVERY SINGLE rumor that has come out about an NCAA investigation, a hammer, or a ticking clock in the last few years all goes back to Cam Newton and what he did to Alabama fans, Georgia fans, Mississippi State fans, Oregon fans, and all fans that are not Auburn fans. Every one of them.
For some reason, the world has forgotten that Auburn is one of the top programs historically in college football, has more undefeated seasons in the last 30 years than any team in the SEC, and has been in position to play or win a national championship once in each of the last three decades. They show their ignorance in thinking that 2010 was a fluke, and that Auburn was a flash in the pan that didn't deserve to be there because they weren't one of the "big boys."
Sadly, this will likely never go away until the NCAA drops the hammer for Trooper Tayler giving Reuben Foster a reuben at Sunday lunch or some other really hardcore violation like that. Gene Chizik could win four more championships and there would still be those that think that he doesn't deserve it or cheated to get there.
It's a sad, jealous world we live in, and all I can say to do to combat this sad jealousy is to just calmly look at the person spewing hate in your direction, and punch them right in the face. It's what Cam would want. It's what I want. Do it.
---
Preston has a question about boxing history trivia…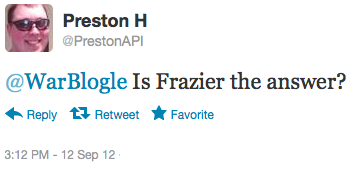 What was the question? If you're asking if Frazier is the answer to the question "Who did George Foreman knock out on January 22, 1973?" then yes, the answer is Frazier. If you're asking if Frazier is the answer for quarterback at Auburn, it doesn't matter. He is the best option at quarterback for Auburn right now.
Look, Clint Moseley is a nice guy, but he's still hurt and he's just not going to cut it as an SEC quarterback. Kiehl is the more talented athlete and is working through the mental aspect of being a starter. We've seen what Clint can't do, and it would have gotten us no better results than what we've already seen. That's it.
We've seen flashes of what Frazier's athleticism is all about. As he gains experience as a starter, it will begin to show in more than just spurts. Believe me. I'm never wrong about this stuff.
---
My boy Chief wants to know if bad football means bad website statistics…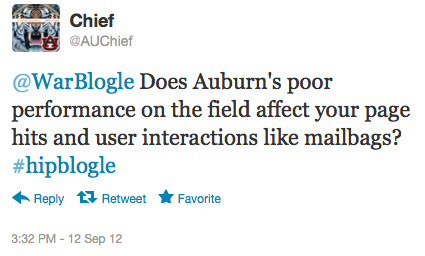 Oh dear Lord, yes. 2010 was one of the biggest years of the 'Blogle. That's because people wanted to read about Auburn from all over the country. But because Auburn was winning, Auburn fans wanted to read everything they could about the Tigers.
As Auburn struggled through 2011 and has gone winless in 2012 so far, site hits are a lower than I'd like. Why? Because right now, Auburn fans don't want to be reminded of what's happened so far. They want it out of their minds. Therefore, they don't do Google searches for "Auburn football" or click their bookmark to their favorite Auburn blog.
As far as the mailbag goes, I see it there too. Like I mentioned earlier, I basically had to beg to get you people to ask some questions. I literally got zero questions the first time I asked. People are tired of wondering about what's going on. They want to see results on the field.
---
Joey is a funny guy. He's responding directly to my small rant because that's the kind of thing Joey does.



Well they were, but a moment of self-loathing on Twitter will apparently resurrect most anything. Think we could get the Auburn offense to create a Twitter account and then tweet a bunch of whiny comments to see if it works there, too?
---
Thanks for the questions. I'm sure the big win over ULM this weekend will spark your interest in Auburn football again.