In doing research for yesterday's post about Under Armour's new sideline shirts for Auburn, I found this completely perfect picture of Coach Pat Dye on EastAlabamaLiving.com. It comes complete with a slight scowl, touched with a little bit of concern. The players, in their huge 1980's facemasks and blood-stained pants, are the perfect accent for an already beautiful portrait of Pat Dye-coached Auburn football.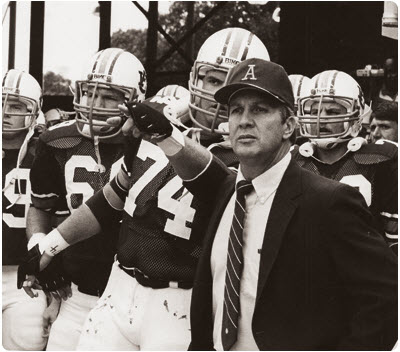 I don't know what year this is, but I am positive it's from the early 1980's. From some good personal deductive reasoning, I think the guy in Coach Dye's ear is David Jordan. I have no idea who Auburn was playing that day, but let's just pretend it was Alabama.
Since we had so much fun with the Nova Dive Bomb Caption Contest back in 2010, I figured it would be fun to do one again. The rules are simple: in the comments section below, enter your name and email address (this is how I will contact the winner), and then enter the best line for whatever you think David Jordan is saying to Coach Dye. It doesn't have to be funny. Just do whatever. My idea yesterday was "that's the one that was talking 'bout yo mama, coach." You can even put what Coach Dye is thinking if you want.
I'll choose the winner sometime next week, contact them, and send them a WarBlogle.com t-shirt sometime in the next three years.
Update: David Jordan has posted in the comments section. He won't tell us what he said that day, but he's ready to see what you think he said.
Note: the title of this post is a little misleading. I mean that the photo is awesome. The caption contest could be awesome, too, if you make it that way.