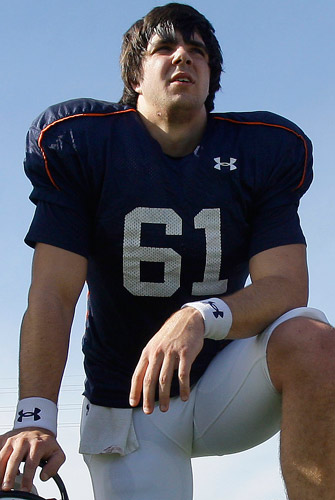 The casual, and uneducated, Auburn fan may not know who Josh Harris is. That's because he hasn't scored any touchdowns or made any tackles. Instead, for the 2009, 2010, and 2011 seasons he began every punt, every field goal, and every extra point with a flawless snap. He was so flawless that he is talked about as the only long snapper to possibly be taken in the NFL Draft, or at worst, the top long snapper in the free agent market. He was also the only long snapper invited to the NFL combine.
Talk about an awesome job. Hundreds of thousands of dollars to be an unheralded, but integral part of a game winning kick? Oh, and he's been a part of a few of those. National Championship anyone?
Josh was nice enough to answer a few questions for us (and wow, did he deliver) as he prepares for a pretty pivotal weekend in his football career. He talks about his past, Auburn, and his future.
1. Everybody knows you as one piece of the game-winning kick in the NCG, but tell us a brief history of Josh Harris, the football player. How did you become a long snapper?
I've been playing football since I was 6 years old and it has always been my favorite sport. 7th grade was when we started kicking field goals/extra points and also punting. During the first practice that year my coach told me I was going to be the snapper. I had never heard of the position, let alone ever tried throwing a ball between my legs while upside down.
The first couple of days were pretty shaky, but it seemed that with every practice I was getting better at it. I never had a coach to really tell me how to do it or anything so I taught myself. When I got to high school, I still thought I was going to be a running back, but quickly realized defense was going to be a better fit me. I played linebacker up until my senior year when I then switched to defensive end to finish up my high school career.
As a sophomore I started at long snapper (but just for punts). It was the only job I had at the time and I did a good job at it. My junior year I started at linebacker while also holding the snapping duties for both punts and field goals. And as a senior I moved to defensive end while also retaining the snapping duties.
To be honest I didn't really take snapping as serious as I did playing defense. I just saw it as rest time being lost during games and certainly had no idea that I would take it as far as I have. The final play of my high school career came with me snapping a field goal that we missed to be eliminated from the playoffs and from there I thought my football days were over. That was until one of our quarterback coaches (who was a walk-on quarterback at Georgia) started telling me to think about walking on as a snapper in college.
I was getting some looks for my defensive play from some smaller schools such as Furman and Samford but as a kid I always knew I was going to Auburn. Auburn was the option as far as schools were concerned for me, and ultimately was the only school I even applied to. I ended up attending the walk-on try out on the morning classes started my freshman year (2007).
About half way through that season I got a call from the coaching staff that they wanted to bring me out. So I got a little bit of a reprieve from my pledgeship duties as a pledge for the Sigma Nu fraternity, because from then on out I was officially a "student-athlete." I red-shirted that year and then was the backup in 2008 under Robert Shiver and then took over after he graduated in 2009 and was the snapper for all punts/FG from 2009-2011.
2. Is it true you were a bouncer prior to walking on at Auburn? if so, did the practice of busting skulls outside a bar help you in football? Ever snapped a guy's head through your legs to another bouncer?
It is true that I was a bouncer during my time at Auburn. I worked as a bouncer at Quixotes downtown for the summer before the 2009 season. I had a blast doing it! My mom hated it! I got to meet a lot of awesome people that I still hang out with to this day.
Fortunately there weren't many big issues during my time there, but that's not to say I didn't have to break up a few scuffles in my day.
3. So what have you heard from scouts/teams? Are you expecting to be drafted or waiting on a free agent deal?
I have heard from 10-15 teams since the combine back in February. They all have had great things to say. I had a private workout with the Falcons last week in my hometown of Carrolton, GA, but snappers rarely get drafted so I'm not holding out to hear my name called in the later rounds. If it happens then great, but more than likely I'll sign a FA deal with a team shortly after the draft ends on Saturday.
The thing with specialists in the NFL is there aren't any back-ups. You're either the starter or you're sitting at home. So I'm just hoping to get a chance to get invited to a camp and compete for a job. Much like a walk-on try out, just with a little more riding on the outcome.
4. Who is the top team you would like to pay for due to selfish fanhood? Who is the top team you'd like to play for reasons that are beneficial to your career?
Growing up in Carrollton, GA (which is only 45 min from Atlanta) I have always been a Falcons fan, so it would be really cool to get to play for them. From what I've heard they are looking for a new snapper, so the likelihood of ending up there is pretty good, but I am not limiting my choices to just them.
As far as the best career choice is concerned, I just want to go to the team that I have the best chance of making the roster. There are other teams that could be in the market for a change at the snapper position, but I won't really have a list of possibilities until the phone starts ringing Saturday afternoon.
5. Did you ever think that snapping footballs would ever lead to a possible NFL career, and when it leads to that career, can I hold a dolla'?
I never thought in a million years that I would be fortunate enough to have the opportunity to pursue an NFL career (let alone as a long snapper). Snapping was something I started doing because my coach told me to and to have come this far has been an amazing ride.  To even have the chance is a blessing in itself because every kid grows up dreaming of playing on Sundays.
If I do make it, I'll let you "hold a dolla" if you give me a shout out on Twitter so maybe I can catch up with you.
While I have you, I have to ask some quick Auburn questions…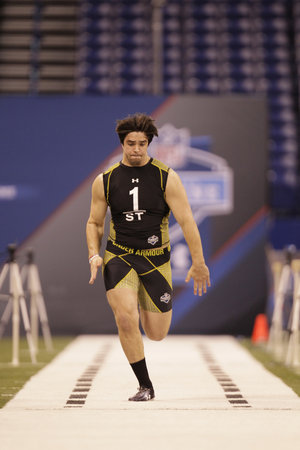 6. Favorite game at Auburn?
That's a really tough question because I feel like I've been a part of a lot of great games. But in the end the answer is easy: 2010 at Bama and the epic comeback that's associated with it. Not only did we win, but toward the end of the game we had to punt from deep in our own territory. It doesn't get much more pressure packed than that; up by one, late in the 4th quarter of the Iron Bowl. A bad snap would have been catastrophic and would have cost us the game, but we executed flawlessly and sealed the victory. 
7. Favorite away stadium to play in?
My favorite away stadium that I played in was Bryant-Denny. Not just for the atmosphere of the Iron Bowl, but for the feeling of singing our version of "Rammer Jammer" after the game in their stadium. I actually got to play in every SEC stadium except the Swamp during my career and none of those stadiums even compare to the game day atmosphere in Auburn at Jordan-Hare.
8. Most satisfying moment of your career?
The most satisfying moment of my career at Auburn was the feeling I had after delivering a perfect snap to Neil Caudle and looking up to see Wes's kick sail through the uprights as time expired in the BCS championship game against Oregon. Nothing compares to that feeling.
As a specialist, we live for opportunities like that and to come through on college football's biggest stage is a feeling that's indescribable.
9. Worst snap you had at Auburn? Was the kick made?
The thing with bad snaps is that I consider myself a perfectionist and many snaps that everyone sees as "good" are in my book just the opposite. For example, I aim to hit the punter on his right hip every time so if the ball hits him on the left hip I'm frustrated with myself when no one else thinks twice about it.
But as far as my worst snap at Auburn, it came during the National Championship game. I had a low punt snap, but the ball was still kicked and we got down the field to pin them inside their own 20. I take pride on the fact that I was not the reason for a missed or blocked punt or kick during my time at Auburn.
10. I would imagine by spending so much time with kickers that you probably have picked up a thing or two. What's the longest field goal you've made?
Spending so much time with the kickers and punters, I have definitely improved my kicking abilities. My career long came last year before practice when I nailed a 52 yarder (non wind aided). Yes it was off the ground, but there was no rush or snap or hold and I cherish that kick to this day.