As they did last year, EA Sports will be allowing the fans to choose who will be on the front of Madden 2013. First round voting (ends March 21st) will take place on ESPN SportsNation's Facebook page and consists of 64 players (two per team) from around the league.
To nobody's surprise, the Great One, Cam Newton, is one of the two representatives from the Carolina Panthers. The other is wide receiver Steve Smith. Prior to last season, Cam's rookie season, Smith had fallen into obscurity and wanted to be traded to another organization. With the addition of Cam, he had one the best seasons of his career. It's obvious why that was, and who you should vote as the Panthers' representative.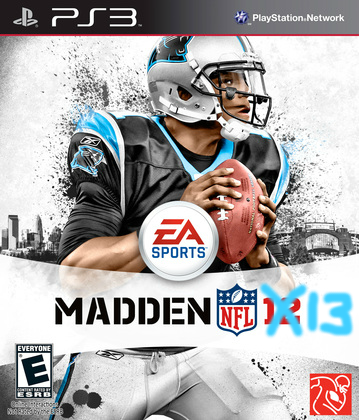 But wait… I'm sure you've heard of the Madden Curse. Do we really want Cam on the front, dooming him to a down year or an injury? We could look at it as another opportunity for him to prove everybody, even a voodoo witchcraft curse wrong. So I say let's do it.
Say the curse is real. Say he has a bad season.Years from now, nobody will remember it after he's won his fifth Super Bowl. But the cover is forever. Let's do it. Vote for Cam.
Note: The image above is just a mock up of what the cover could look like. It is not official by any means and was just created by some random guy. I added the extra-professional spray paint "13" to make it more valid.